August 17th, 2014
Red currant mini Gugelhupf – make red berries on white chocolate
Today it is all about berries. Well, actually the star of the day is a certain berry. Although one should rather say berries, as these always occur in groups. So we have quite many starlets who have their big show today.
Here in Swabia they are known as 'Träuble', in North Germany they are often referred to as 'Ahlbeeren', in some parts of Bavaria they are called 'Ribiseln' and in Italy they are known under the name 'Ribes'. Many names for one and the same fruit: currants. I love these little berries and am happy when they're finally sold on the market, each year. – usually around June 24th, which is the 'Saint John the Baptist's Day' and therefore explains why currants are called 'Johannisbeeren' in German.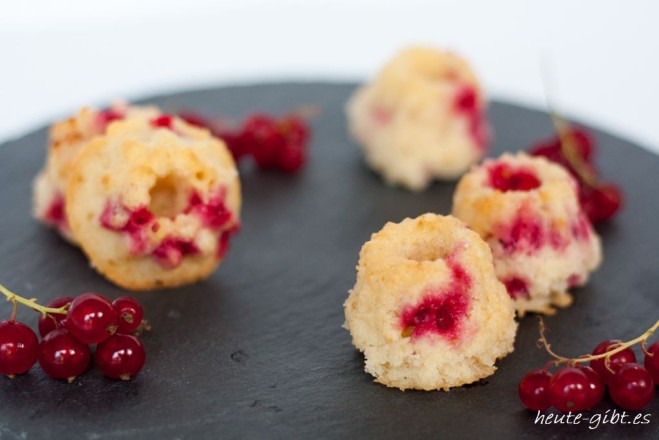 If I not just eat the currants so I used it for desserts, as their tart flavor is very good in combination with the sweetness of desserts. A popular example of this would be the popular red currant cake of south Germany
but for a picnic with friends, I was looking for a treat that is easy to transport and can be enjoyed even without utensils such as cutlery and plates. Since I had already prepared for the picnic savory muffins I wanted to offer the currants in a slightly different form. It quickly became clear: It is geminiguglt 🙂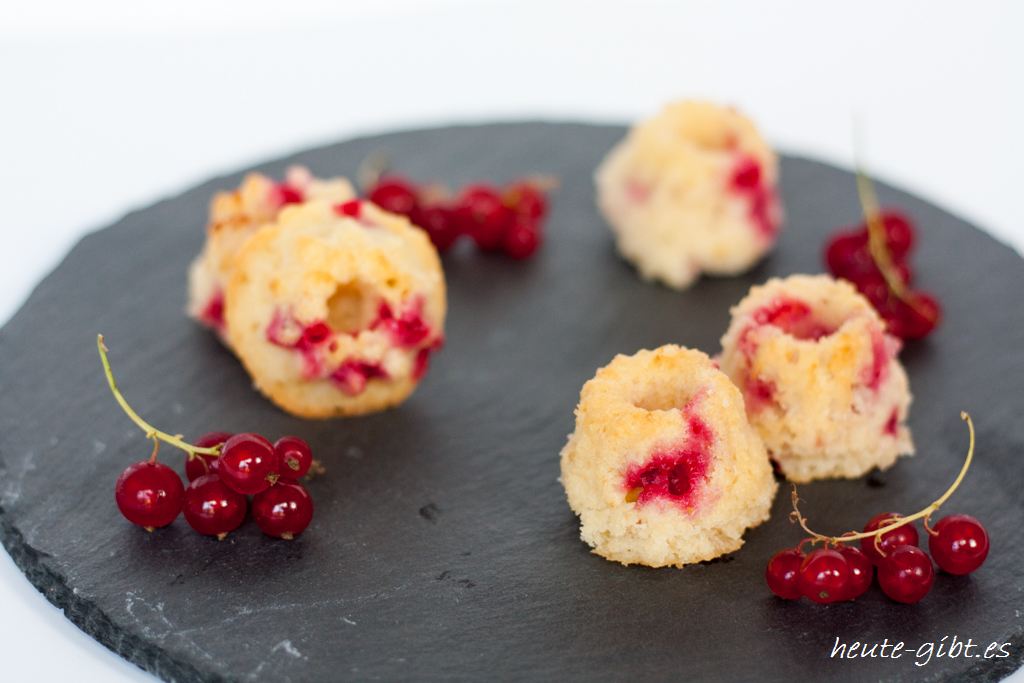 recipe
Red currant mini Gugelhupf
Total time
30min
Red currant mini Gugelhupf
Ingredients

: (For about 15 pieces)
120g soft Butter
80g sugar
1 tbsp vanilla sugar
1 pinch salt
2 eggs
120g flour
1TL backing powder
50g ground almonds
2 tbsp milk
100g red currants
50g white chocolate (grated)
Preparation

:
First, froth up the butter with sugar, vanilla sugar and salt until it is creamy.
Add the eggs one by one and stir.
Now mix the flour with the baking powder and the almonds and stir together with the milk into the butter mass.
Wash the currants, drain and remove from the panicles.
Fold the berries together with the grated chocolate in the dough using a dough scraper.
Finally, fill the dough into the wells of the mini Gugelhupf baking mold and bake for 15-20 minutes in a preheated oven at 160 °C (fan).
The small cakes came accross really well, both regarding taste and visually. They have passed the picnic test, as they were enjoyed with no frills.
Those are exactly the kinds of recipes which Stephanie of the blog "Meine Küchenschlacht (My kitchen battle)" is seeking for her blog event. The motto "Like to picnic?" I can answer with a clear "Yes" and will bring along my delicous mini Gugelhupf to this "digital Picnic" .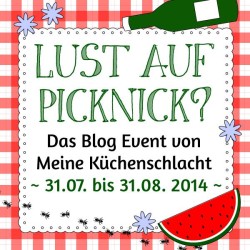 A tasty alternative for people who don't like berries – do those people exist, for real?? – are the Mini chocolate Gugelhupf, which I presented to you last year.
So, get your mini Gugelhupf baking mold and off you go!
Greetings
Elena