December 13th, 2018
Persimmon cake with chocolate chips
I remember to this day how as a child I was often viewed obliquely at school when I opened my Vesper box during breaks. Not infrequently I had something to what my classmates did not know from their daily lives. It was not about any Italian sweets or the like, but mostly to fruit and vegetables that were not buying in a German supermarket this country. Two of my favorites were there in late summer and loquat from November / December persimmons.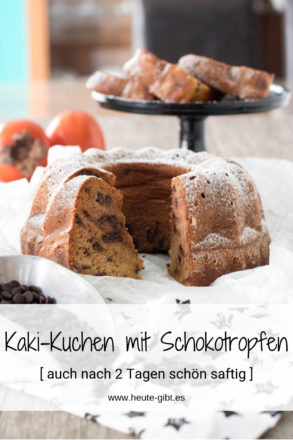 While we got such things previously only in Italian or Turkish supermarket, there are these fruits for a few years in many German stores and since then it is not looked quizzically if you have it as a snack on the go there. It is precisely the Kaki I take gladly washed and cut into wedges, the ideal healthy snack for in between.
If you're new to this fruit, then you should look in the fruit department of your supermarket. They look like very large, orange-colored tomatoes. Pay attention when buying absolutely sure which category is specified, because the one ("Kind"only) tastes if it is very soft and ripe, and the other ("Sharon", "Persimon") Can also be consumed with shell and hard.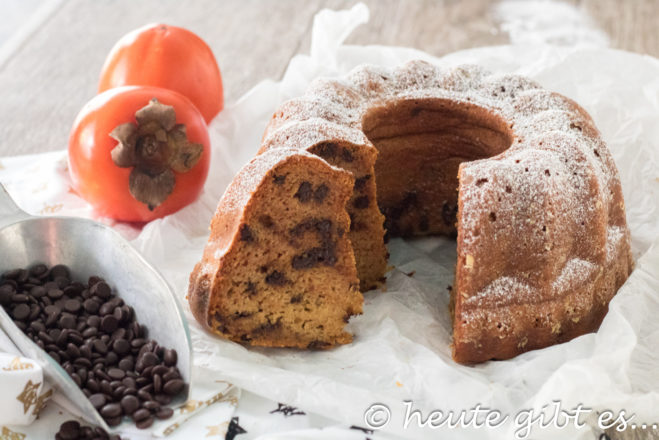 Although the Kaki is most often eaten raw, one can use the ripe fruits as well as desserts or jams. 5 years ago (!), I have been on the blog this yummy winter plum persimmon jam divided where they impress with their taste. In a sponge cake, however, they provide a juiciness which is always very popular with our guests. Dry cake? Not in this case! In combination with chocolate drops, we find this dessert especially delicious, and these can be omitted without hesitation. But hey, chocolate is always! Or what do you mean?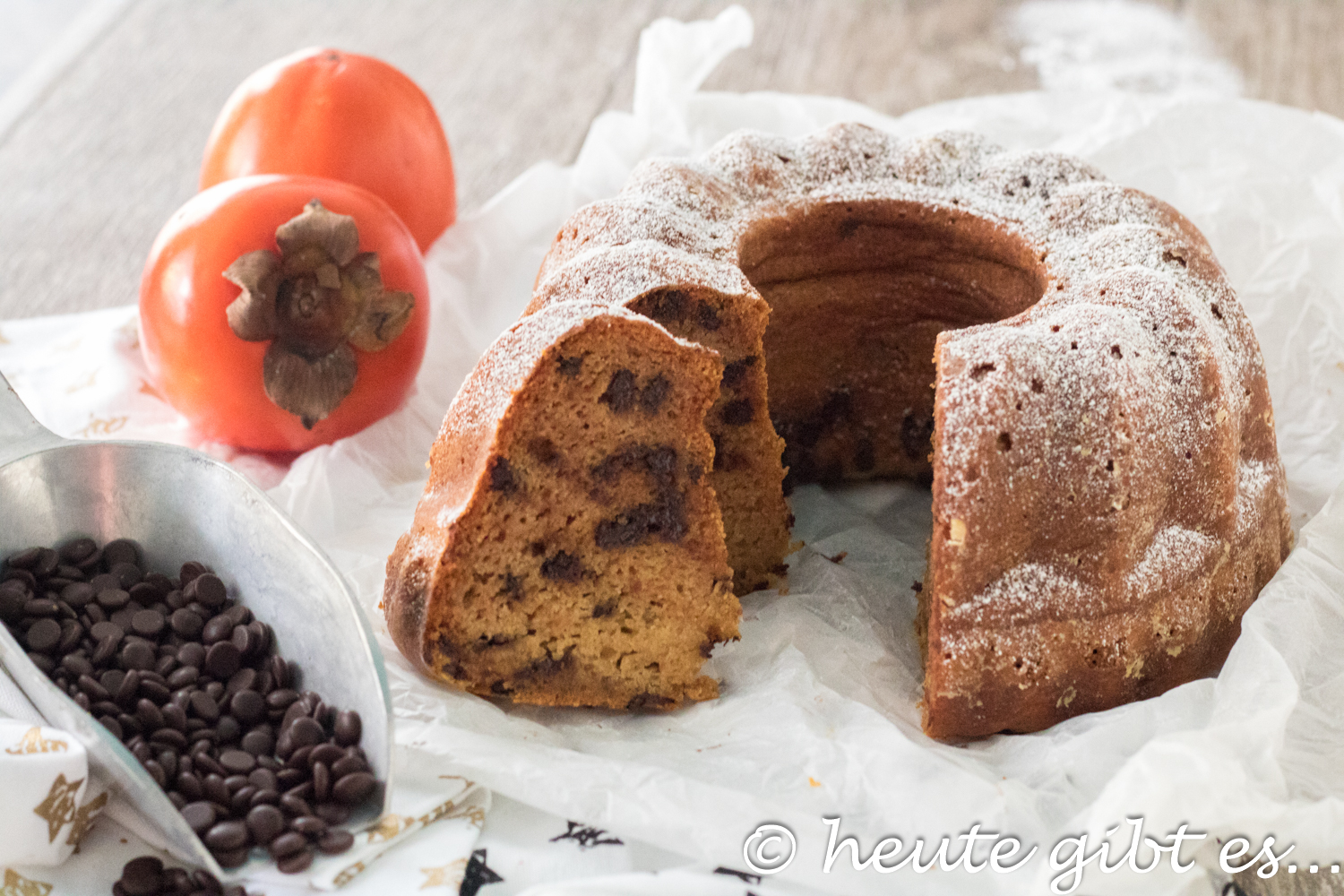 recipe
Persimmon cake with chocolate chips
Total time
75min
Persimmon cake with chocolate chips
Ingredients

: (For 1 standard ring cake)
470g persimmon pulp (about 3 medium fruit)
270g flour
20g baking powder
grated rind of one organic lemon
175g sugar
4 eggs
130ml tasteless oil (e.g., rapeseed oil)
150g chocolate chips
Icing sugar for dusting
Preparation

:
Preheat the oven to 160 ° C (fan) Preheat.
The pulp of persimmon with a hand blender puree.
In a bowl mix flour, baking powder, sugar and lemon zest.
Add the mashed fruit flesh, eggs and oil and mix well with a hand mixer or food processor until a homogeneous dough is obtained.
Then stir in the chocolate chips with a spatula.
Pour the batter into a greased and floured baking pan and bake in preheated oven for about 55-60 minutes. Here, check with a stick and see if the cake is ready!
After baking, the persimmon cake from the oven, after 10 minutes, take it out of the mold, let cool on a wire rack and dust with icing sugar before serving.
Tips:
If you should notice the middle that your cake already has a good color, the baking time but still takes a while to cover it with aluminum foil and then bake.
The cake is nice and juicy and tastes very good even after two days.
The fruits should be absolutely ripe, otherwise they have little taste. However, what variety it is used in this cake this matter.
Now tell me: Have you ever tried persimmons in the raw state? Or maybe even used for baking or cooking?
Parts have liked your experiences and stories with me, I'm mega excited!
Bon Appetite
Elena