November 17th, 2016
Kürbis-Crème Brûlée-Pie – THE highlight at every celebration
Yes all of you have read correctly: Today there is something with pumpkin!
As you already found on many blogs Christmas recipes with me the pumpkin time is far from over. Officially, we are still in the fall and I still have a thing or two that I would like to share with you under any circumstances autumnal dish.
So even today tart. For our third Pop Up Bakery des Kuchenquartetts 0711 – At this point again a big thank you came by to everyone! – I have been looking for months for the right cake.
For this I'll soon as our motto is known all back magazines and books from the shelves, sit down with a good tea and many post-it notes on the sofa and start to be inspired to me.
It is shocking to see again and again how old some magazines are and how little you post baked it or nachgekocht.
This was also the case of crème brulée tart. The original recipe is from the Sweet Dreams by 2014 on Herbstzauber. To be precise come back three of my works for the Pop Up Bakery from old magazines, which proves that it is always worth something to bake it.
The recipe was post of mine, something optimized to my taste and has emerged a brilliant tart, which was felt on the birthday of my sister, the Pop Up Bakery and the College as a highlight. descriptions like "phenomenal", "superb" and "Upper affengeil" but prove that the baking is worth here in any case, right?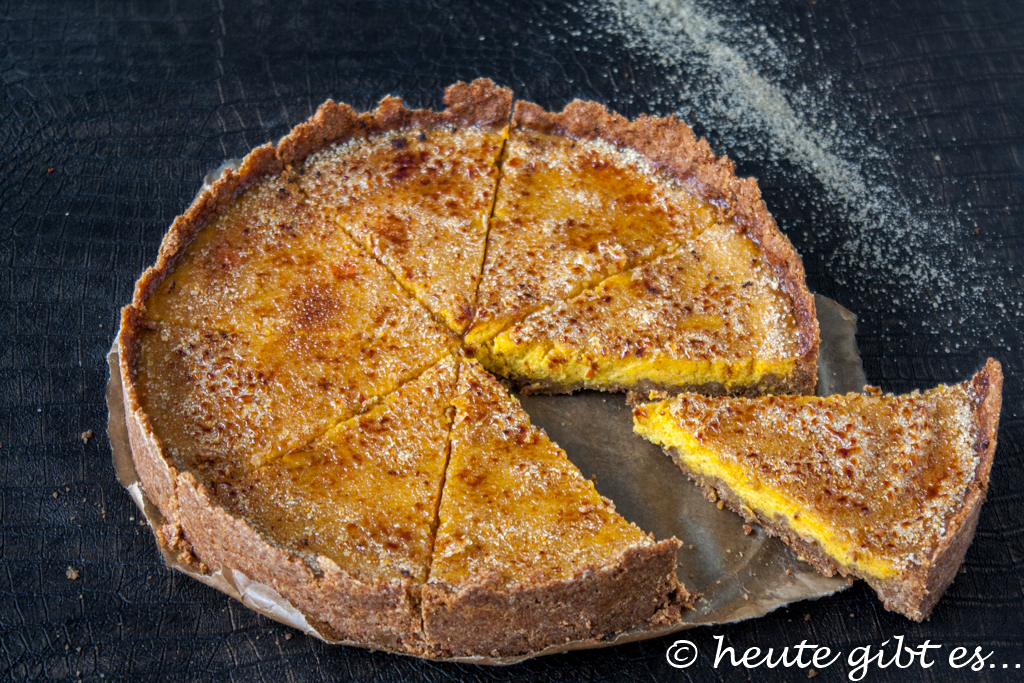 recipe
Total time
9h 20min
Kürbis-Crème Brûlée-Pie
Ingredients

: (A 26er form)
For the base:
200g wholemeal butter cookies
50g sugar
2 THE Ahornsirup
110g Butter
For covering:
115g brauner Rohrohrzucker
225g cream cheese
ca. 230 g Hokkaidokürbis
3 tablespoons water
50ml maple syrup
1 level teaspoon ground vanilla
3 eggs
For the sugar crust:
3 THE brauner Rohrohrzucker
Preparation

:
Preheat oven (at 150 ° C circulating air.
Crumble biscuits fine. This is best place them in a freezer bag and beat with the rolling pin several times that.
Melt butter and add with the sugar and maple syrup to the cookie mix well.
press the ground as soil and approximately 2 cm high edge in a baking paper-laid or greased baking pan. Bake in oven for 10 minutes then remove and let cool slightly.
In the meantime, because cut pumpkin small and cook together with the soft water in a covered pot over medium heat. then puree the pumpkin with a hand blender.
Sugar, cream cheese, maple syrup, vanilla and 200g Pumpkin puree (warm or cold) Whisk in a bowl. The eggs and cook briefly mix well.
Now add the mixture on the pastry and bake for about 45 minutes at 150 ° C. then take it out, let it cool in the mold to room temperature and then set overnight or for at least 8 hours in the refrigerator.
solve before serving the tart out of shape, distribute the sugar evenly over and caramelise briefly with a kitchen torch. If you do not have kitchen torch, you can put just below the preheated oven grill the tart.
NOTE: The sugar can burn very quickly! The burner flame rather somewhat weaker set and let the sugar melt slowly.
As you can imagine, I baked this recipe several times. Overall, a total of 5 times! This tart is really very easy of preparation, which is why it is suitable especially for baking beginners. Only the caramelization caution. But I'm sure you can it at the latest at the smell of caramel not wait to crack the sugar crust with a spoon.
I'm curious how you'll like this pumpkin tart and look forward to opinions!
Have fun baking
Elena