October 20th, 2013
Kürbis Scones
Today it is the first recipe in which my Pumpkin puree is used. I must admit that I have two attempts needed to create a delicious recipe. That's what happens when one makes something to which one does not find much or Useless on the Internet.
For those of you who do not know any Scones: Scones are a British biscuits that there is tea time. Suitable for autumn time I baked a version with pumpkin. Here is the recipe to: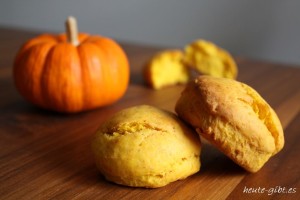 Kürbis Scones
Ingredients

: (For about 12 pieces)
35g Butter (Raumtemperatur)
80g sugar
1 egg
100g Pumpkin puree
50ml Sahne
300g Mehl
3 ½ gestrichene TL Backpulver
1 pinch salt
a little milk for brushing
Preparation

:
Cream the butter with the sugar and the egg in a bowl until fluffy.
The pumpkin puree and cream and mix well.
Flour, baking powder and salt mix, and add everything together with your hands knead into a dough.
The dough is now by pressing lightly with your hands in portions on a floured surface about 1.5 – Designed 2cm thick.
Then, with a round cookie cutter or a glass – Diameter about 4cm – scones form until the entire mixture is exhausted.
Set the oven to 175 ° C (fan).
Place the scones on a lined baking tray, brush with milk and bake for about 20 minutes in the oven.
In an airtight tin kept the scones taste even a few days later.
This autumnal pumpkin scones I want the Blog Event "The taste of autumn" of Naschkatzenalarm and Kulinarikus can participate: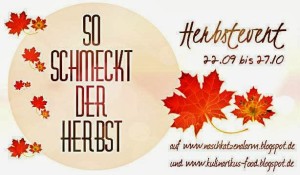 I wish you all a nice rest weekend and a good start into the new week!

Greetings
Elena