November 23rd, 2016
pumpkin brownies – perfect for large parties
Ok, I promise, this will be the last pumpkin recipe for this year. Even though my fall really hard because I love pumpkin so much and still do not have the Christmas spirit. With the thought that on Sunday is already the first Advent, I can not really make friends. Am I really the only one who is it so?
Therefore, there is in my Kürbis-Crème Brûlée-Pie these delicious Pumpkin Brownies (Original recipe from Sweet Dreams 3/14, light adapted)Which are now also become very popular in my circle. The best part is that they even taste better two days later! So perfect if you have a large party, is fully employed and the preparatory phase in the kitchen is several days.
What happens maybe once a year for many, is with us once a month felt the case. So that's just in a typical Italian extended family. A "Small" in our celebration with parents, grandparents and siblings is about 15 people. At a birthday 25 people are not uncommon, and these are not explicitly invited, but – as is usual with us – simply come.
Sure, there are at such celebrations is always something to eat, both a main course with appropriate side dishes, as well as several desserts. What may sound for one or the other like a horror scenario for me meanwhile no problem. For such occasions I always create a selection of dishes that can be prepared with some previously little effort. Organization is everything I say because only!
If interest on your part is how so mastered a celebration with little stress, like leave me a comment, then all I can write a separate article – I will not go beyond the scope yes 😉
Exactly for such an occasion, I have baked these brownies, which are a highlight among guests due to the orange marbling at the first sight!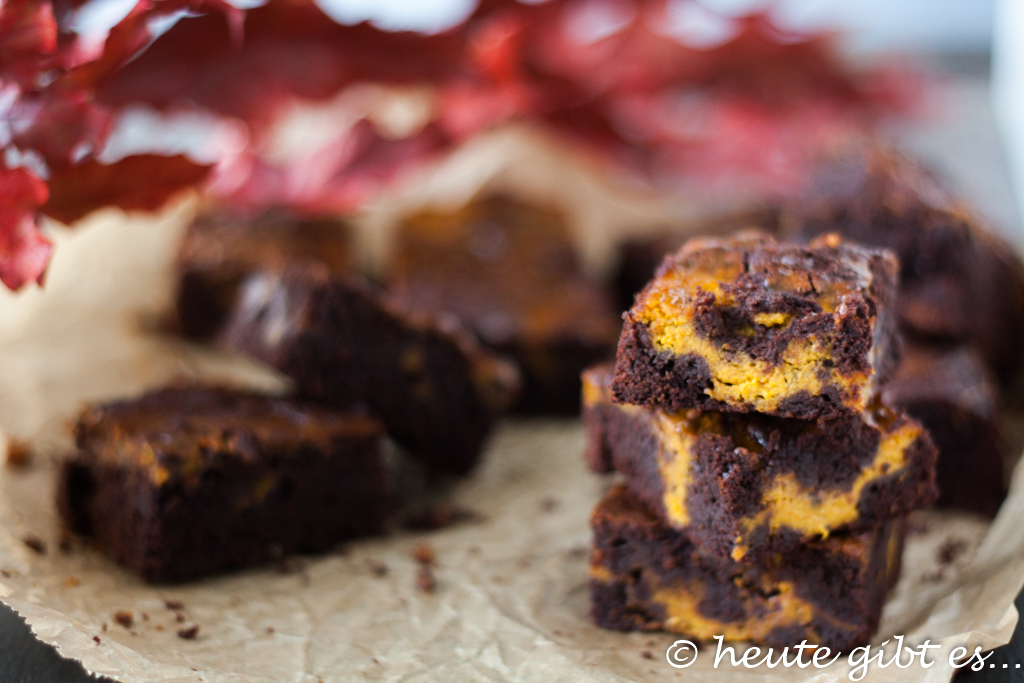 recipe
Total time
1h 30min
pumpkin brownies
Ingredients

: (Form ca. 30cm x 40cm )
500g Hokkaido pumpkin (already cleaned)
6 EL + 300g sugar
2 tsp cinnamon
½ tsp grated nutmeg
10 tbsp water
170g double cream cheese
8 eggs
500g dark chocolate
400g butter, softened
150g flour
100g cocoa powder
1 tsp backing powder
4 pinches salt
Preparation

:
Cut pumpkin into small pieces and place with 6 tablespoons sugar, cinnamon, nutmeg and water in a saucepan and fry very soft over low heat with the lid.
then puree the soft flesh, mix well through a screen painting and the cream cheese and 2 eggs.
Then let the mass cool slightly.
The chocolate chop and melt in a water bath while stirring.
Preheat the oven to 160 ° C (fan) Preheat.
Beat butter with the food processor or an electric mixer until fluffy, add the remaining sugar and the 6 eggs mix well and last a stir in the melted chocolate.
Mix the flour, cocoa powder, baking powder and salt and stir briefly with the chocolate mixture until the dry ingredients are untergemengt. Not much longer, as the brownies are otherwise tough.
Now, spread the Schokoteig evenly in a greased baking pan, then the pumpkin mass tablespoonful to give and easy to undergo with a fork like a marble cake.
The brownies in the oven for about 60 minutes until (Check with toothpick) and then leave to cool on a wire rack in the form before it is removed from the mold.
If you want to bake the brownies for fewer people time and uses a standard large brownie form, simply halve the ingredients and reduce the baking time to about 40 minutes. That would then just work good!
More good news: The Pumpkin Brownies are nice and juicy – what one might fear might – not too sweet. So, if you not big fans of classic brownies should be, I advise you anyway and even more so to try it, it's worth it!
Have fun baking!
Elena