October 9th, 2013
Pumpkin puree – some fall in a jar
Today I want to usher in the fall with this recipe: There are pumpkin 🙂
I'm a big Kürbisfan and love it in all its variations.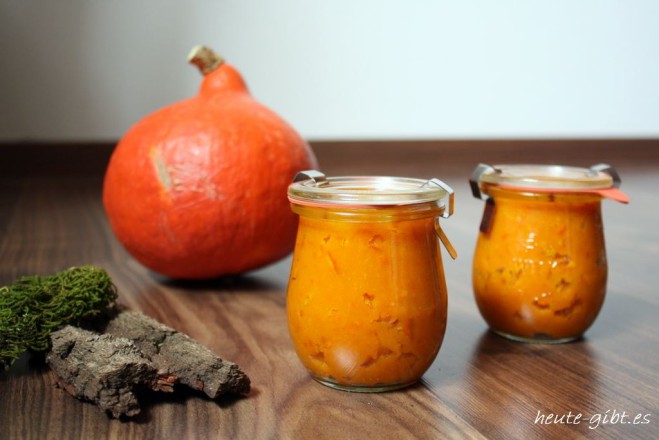 To have even after the pumpkin time something of this delicious fruit – you've read correctly, the pumpkin is botanically a berry – I deal with this on a pumpkin puree and wake it then. So you can still use these even months later. To maintain flexibility in future use, I do not spice my puree. Thus it can be subsequently used for both sweet and savory dishes.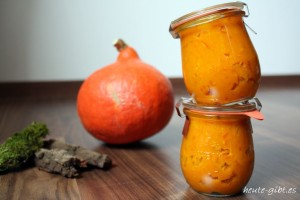 Pumpkin puree
Ingredients

: (For 2 glasses à 220ml)
800g Hokkaido pumpkin (weight after gutting and cleaning)
Preparation

:
Preheat oven to 175 ° C (fan) Preheat.
Seed the pumpkin and cut into wedges.
Then the pumpkin slices lay on a lined baking tray and cook in the oven for 30-40 minutes soft.
After cooking, the still hot pumpkin puree columns with a hand blender.
The still hot pumpkin puree is now filled into sterile jars – I you can sterilize this in my Bananenmarmelade go to item 4.
The jars tightly closed, ask for about 5 minutes on the head and then turn around again.
Please be sure that upon cooling, a vacuum must be created, which you recognize the fact that the cover with a "Plop" easy to bend inward. Whether this has worked well, you can check just by their simple easy presses on the lid. If he can not be pressed inwards, everything is fine.
If you use such as in my case, Mason Jars with clips, not this put over head, but just let it cool so.


Update:

Unfortunately, I discovered that this method is not always sufficient in glass jars. To be safe, you should boil the filled jars in this case also. Exactly how it works, I'll late filing in the next few days.
If someone has made the puree in a jar and it does not work, I apologize for this. Please make sure to eat the pumpkin puree in a timely manner in this case.
Pumpkin puree stored in a cool and dark. So he thinks he's about 4 months, assuming it was clean and worked a vacuum is created.
Using this tasty purees very many things can conjure. One or the other will surely see you soon here on my blog, you are so excited 😉
Because I have to work the rest of the week away, I will not come to blog. I hope you're not all gone after this week, but looking in the future like over here 🙂
All the best and until next week
Elena