November 3rd, 2013
Kürbisrisotto
What is your favorite dish?
With me is No. 1 on the desserts clearly chocolate cake with a liquid center. For that I would do (almost) everything 😉
If however it comes to hearty dishes, then my "number one" an Italian classic. This is not, as one might at first assume to pizza or lasagna, but risotto. Nothing beats a delicious and well-cooked risotto. No matter what variation there is this, whether with mushrooms, asparagus or with anything else: I love him!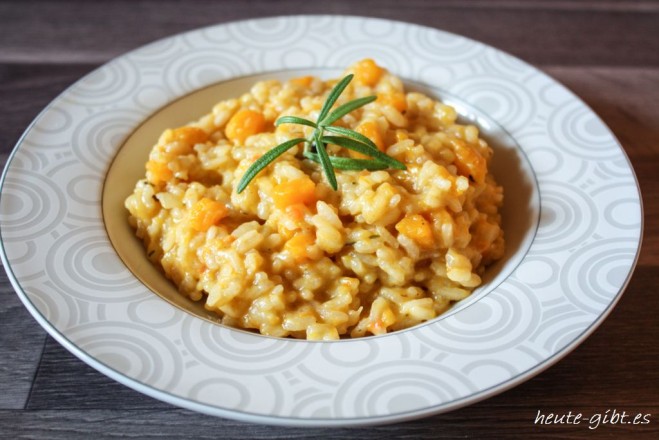 However, many a chef is already desperately to the preparation of a good risotto. The long cooking time and constant stirring are the main reasons why many people do not dare to cooking this dish. Burnt to a fixed or too overcooked rice are the main reasons for the failure.
It is not that hard to make a life-like risotto, if you only know what to look for.
Since we are still in the pumpkin time, I've decided to cook a pumpkin risotto that is typical of the north of Italy. Here I have tried to explain every step carefully and to give useful advice at key points.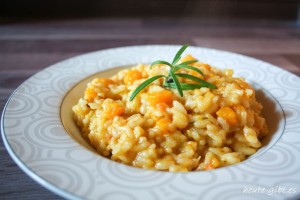 Kürbisrisotto
Ingredients

: (For 3 people)
35g Butter
300g Risotto-Reis
1 onion
300g Butternut-Kürbis
125ml white wine
1l vegetable stock – prefer ready yet about 200ml more
1-2 sprigs of rosemary, well tied with a thread
40g called Butter
50g freshly grated Parmesan
Salt and pepper
Preparation

:

Note at the beginningThe vegetable should be kept hot during cooking in a pot without boiling it.
Peel the pumpkin, remove seeds, cut into small cubes and set aside places.
The peeled onion finely dice. Leave the 35g butter in a saucepan melt and sauté the onion.
Once the onion is glassy, ​​adding the pumpkin diced and fry them with short, until they are tender.
Now add the rice and everything for about 6 minutes

good

Stir with a wooden spoon. The rosemary sprigs in half the time to give to the rice and continue to stir.


Note

The thread is here only to the fact that no land in the risotto rosemary needles.


Important

: Make sure that after the "toast" (Roast) of rice, each grain of rice should be wet with the butter.
The whole thing then deglaze with the wine and let this boil, stirring constantly at low to medium-high heat.
Once the wine is almost completely evaporated, and stir a soup ladle hot broth.
Now comes the actual cooking of the risotto, which lasts about 20 minutes and serves to swell the rice.
In this case you should note the following:

Stirring occasionally, always something to give of the vegetable without cooking the rice in too much fluid or to burn in too little.


Important

The risotto not lose sight of. It burns faster than you think!

How can I tell when the rice fluid needed?
It's simple: forming a furrow with a wooden spoon until the pot bottom. Flows of rice immediately back together is still enough stock available. So here simply continue stirring.
If this furrow longer exist, however, liquid is required. So add a ladle of broth and stir.
From the 15th minute should be more economical with the fluid, so that the rice at the end is not too runny.
The rice should still be al dente after cooking, but still "slimy".
Should not be too hard, just keep pour broth after liter of broth of rice.
Adjust about a minute before the end of the cooking time the flame as low as possible and leave the rice.

After cooking remove the rosemary sprigs, the cold butter – best cut into small cubes – and the Parmesan cheese and all good stirring.
Finally yet to taste with salt and pepper and serve warm.


Hint

: You can check with a simple trick, if your risotto has the right consistency. Simply the pot with the rice Cocked. Suggests your rice waves it is perfect 😉
I hope I have not killed you with lots of information. If it did not work despite the advice right away, it is here, as so often in life "Practice makes perfect", Each risotto, you will a little bit better. Once you have the hang of it, you can create any variations, because the preparation is always the same. So it pays to 🙂

Greetings from my fall kitchen
Elena