June 20th, 2014
Salmon-Couscous-Sachets – Fish, a book with seven seals?
A beautiful Friday to all of you!
Well, do you have to work today or are you enjoying some free time? Here, in Baden-Wuerttemberg that is, was a holiday yesterday (Corpus Christi), so many have taken the Friday as a bridge day, to extend the weekend.
Are you among the lucky ones who are already in the middle of the weekend, or you are still at work?
Ich für meinen Teil hatte ja die letzten zwei Wochen frei 🙂 Dies war praktisch, denn wir hatten Besuch von meiner Verwandtschaft aus Italien. Es ist wieder mal schön die Liebsten zu sehen, wenn es auch etwas ungewohnt war, da normalerweise wir die Besucher sind. Selbstverständlich haben wir ihnen bei dieser Gelegenheit gezeigt, was es hier für kulinarische Spezialitäten gibt. Da meine Verwandten aus Sizilien kommen, ist es dort eher üblich Fisch statt Fleisch zu essen, denn ersteres gibt es jeden Morgen frisch am Hafen zu kaufen. Tja, hier im Schwabenländle steht natürlich eher Fleisch auf dem Speiseplan, was für sie aber gar nicht schlimm war – im Gegenteil 😉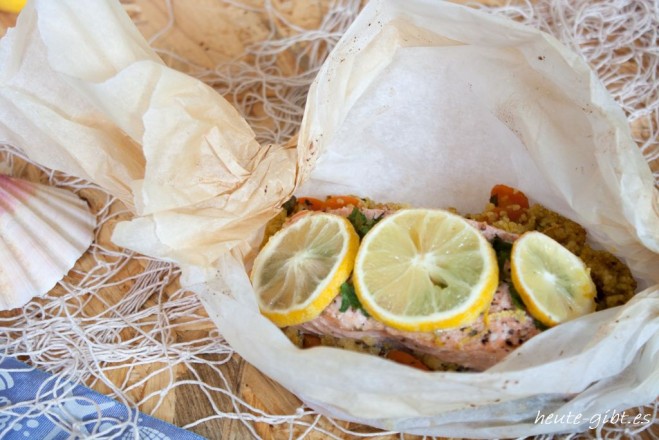 Nevertheless, fish unfortunately is something I cook rarely, even though I'm a big seafood fan.
Why?
Well, I guess it's time to come clean: I am an amateur when it comes to cooking fish.
And I call myself a food blogger?
Nun ja, es muss ja noch Ziele geben, die man erreichen möchte, oder? 😉 Das Kapitel Fisch ist mein nächstes großes Ziel. Ich kann zwar das ein oder andere Gericht mit Fisch kochen, aber ich habe noch einiges zu lernen und das wird als nächstes in Angriff genommen.
Today, however, due to Friday as "fish day"I want to introduce a fish dish that has been around several times and even gave us the opportunity to impress guests. The preparation is very simple and the presentation is just great.
May I introduce: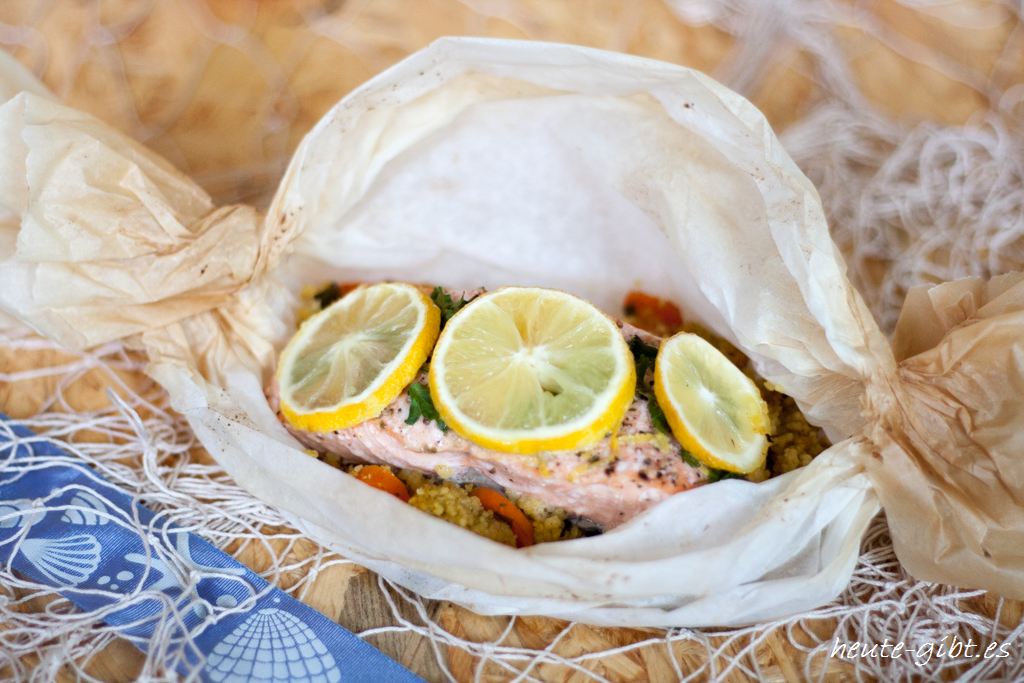 Salmon-Couscous-Sachets
Ingredients

: (For 2 servings)
2 Salmon fillet, approx. 200g each
200g carrots
100g zucchini (courgettes)
1 bundle of scallions
1 tbs. olive oil
160g couscous
1 tbs. cinnamon
1 TL curry
1 pinch cumin
200ml hot vegetable stock ( about 100ml spare)
1 Bio-Lemon
some flat leaf parsley
Salt and pepper
baking parchment
yarn
Preparation

:
Clean carrots, peel, also clean scallions and cut both in 0.5mm thick slices. Clean, wash and dice the zucchini finely.
Heat the oil in a nonstick pan, add the vegetables, sauté about 4 minutes, then add salt and pepper.
Mix cinnamon, curry and cumin with the couscous and add everything into the pan.
Stir in the vegetable broth and let it swell covered at low heat for about 5 minutes. If the couscous is too dry, add a bit more vegetable broth.
Season the salmon fillets on all sides with salt and pepper to taste. Grate the lemon skin, finely chop the parsley and sprinkle the salmon fillets with it.
Place two sheets of baking paper on the work surface, loosen the couscous with a fork and spread it in the middle of the two pieces of baking paper.
Put a salmon fillet on both couscous servings, cut the lemon into slices and spread them on the salmon.
Now, fold the baking paper up, like a candy, turn around the ends and bind them with yarn.
Place the sachets on a baking rack and bake in preheated oven at 200 °C (top and bottom heat) Bake on the second shelf from the bottom for 20 minutes.

Die Päckchen nach der Backzeit auf Teller setzen, erst am Tisch öffnen und genießen 🙂
If you abide by the baking time and the precise temperature, your salmon should be perfectly cooked. For me this has worked always great, so far – despite my mentioned lack of experience with fish.
What's your knowledge, when it comes to fish? Are you total professionals, smiling weakly, when reading about my "skills" ? Or is the topic fish for you to date a book with seven seals?
I'm looking forward your answers or maybe even tips and wish you a nice weekend!
Greetings
Elena