October 17th, 2013
Lemon flavoured Chili Chicken
Do you like spicy food? I myself have previously made a big circle around things like that. To be honest, I do not know why that was. It also changed with the passing of years. At some point I felt my serve up food sharper and noticed that a certain sharpness is actually not so bad. Since then, I live with my husband who eats very spicy I use also like to add, in my kitchen chili peppers and a wide variety of spices, the dishes that certain sharpness note.
In today's meat dish, I combine this focus with lemons. In my eyes a tasty combination that perfectly fits especially to chicken.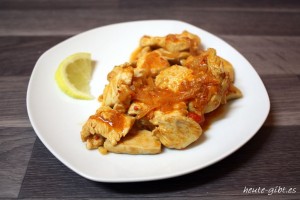 recipe
Lemon flavoured Chili Chicken
Total time
25min
Lemon flavoured Chili Chicken
Ingredients

: (For 4 people)
600g chicken breast
1 clove garlic
2 small onions
1 small chilli
1 Biozitrone
1 tsp white balsamic vinegar
2 TL Sambal Oelek
4 tablespoons of vegetable
1 tsp sugar
2 EL Olivenöl
Preparation

:
Peel the onions and garlic. The onion in half and cut into thin slices and finely chop the garlic.
The chilli – provided that it shall not be quite as sharp – core and cut into thin rings.
Cut the chicken breast into strips.
the onions, the garlic and the chili heat now in a pan the oil, add and fry briefly.
The meat is now also in the pan and fry briefly at high flame from each side.
Stir in the lemon zest to the whole lemon with the juice of half a fruit.
also add the remaining ingredients, all mix well and finish cooking over medium heat for about 10 minutes.
Finally, if necessary, season with sugar, lemon juice and sambal oelek.
This fits best rice.
The sharpness and the citrus flavor can be varied at will. For me, the quantities of spices in the recipe are but just right, it should not be sharper. Finally, I would not taste only sharpness but also the taste of the remaining component. But simply tried it and season in doubt after 😉

Greetings from my kitchen
Elena