December 29th, 2016
New Year in… Italy – New Year's Lentils – Traditional lentil stew New Year's Eve
Today we have reached the end of our little New Year's trip and at the end I want to show you how with us the last night of the year is always celebrated and what customs and traditions there are in Italy.
First let me say that with us the Essmarathon after the Christmas holidays on New Year's Eve through January 6 – that day arrives in Italy the Befana – draws. Dinner New Year's Eve is called "new Year's Eve dinner", in other words "Big New Year's dinner" and consists of several courses.
To be honest there with us on holidays always a multi-course meal, not only on New Years Eve.
While Christmas is always celebrated with the family, many go on New Years Eve dine out with friends and celebrate. Many restaurants therefore always offer a New Year's dinner, so you as befits the Italian tradition, can start the new year with good and plentiful food. What is it exactly, varies from region to region, but often comes here fish on the table.
It surprises me almost always saying that in the Italian language, the word "sat" even exists, because this word is even less accepted on such days than usual. So are allowed to spend her such a day with Italian friends, rather then attracts a slightly looser pants.
Check out the first image detail here, because it symbolizes the essential points, the Italian in a typical "New Year's Eve" (New Year's Eve) must be met.
lenses
Did you manage multiple gears and even ate a piece of panettone at the end, so do not think that this is really the end! Shortly before midnight – if you no longer really expects food – a traditional lentil stew is served. Trying not to push you to the lenses, because they are this evening is a MUST! How so? It's simple: The lenses are reminiscent of small coins and therefore symbolize money. Who eats them in the New Year's Eve, which brings in the New Year wealth. The more you eat the legumes, the better!
Usually there are the lenses "sausage"A pork sausage, or "Zampone", A container filled with minced meat fat Trotter. In many regions, however, dispensed with this type of meat supplement and there is either something smoked bacon into it or you completely waives the meat and get a delicious and even vegan lentil stew.
Our family recipe for this stew I have brought you here today. Decide for yourself whether you choose the vegan variant or rather should give some meat.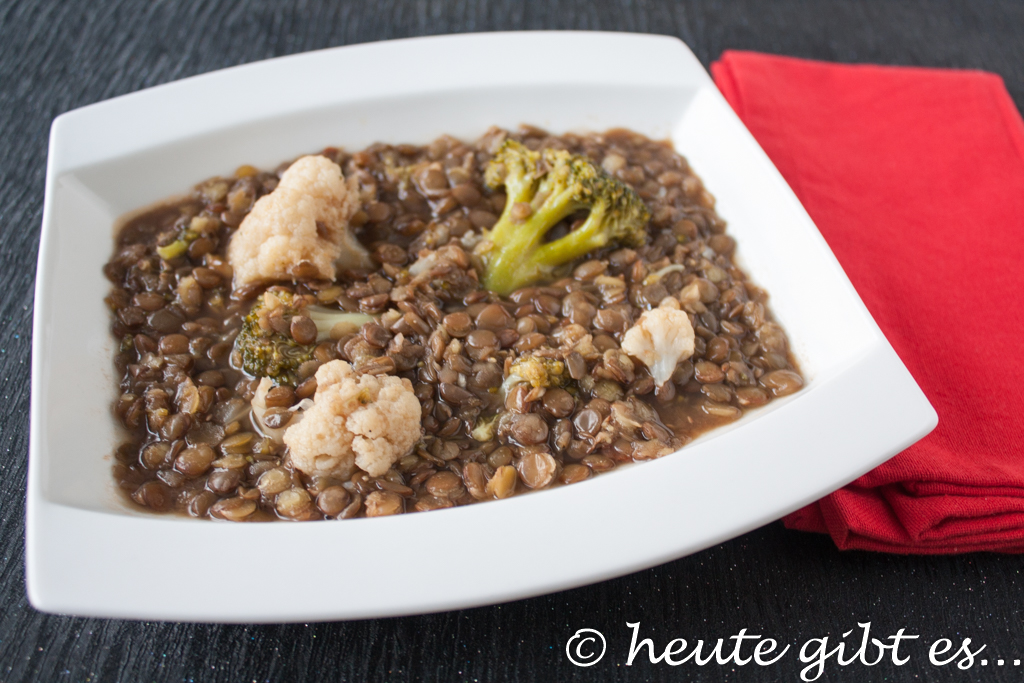 New Year's Lentils
Ingredients

: (For 8 people)
600g Lentils
2l water
1 Taking Natron
cast. 600g broccoli and cauliflower (ratio depending on the flavor, florets weighing dressed)
2 medium onions
Optional: 1 handful of smoked bacon
1 heaped TL homemade vegetable stock
200g chopped canned tomatoes
Salt and pepper
Preparation

:
Bring the water to a boil in a large pot and then add the lentils and the pinch of baking soda. In the closed pot over low to medium heat – it should simmer – cook for 20 minutes.
Meanwhile peel the onions, clean and small cubes and after the cooking time together with the cleaned broccoli and cauliflower florets (which should be rather small) and the vegetable stock add to the lentils.
If you want bacon to give these also come in here.
After 5 minutes, stir in the chopped tomatoes and let it remain in the closed pot simmer until the vegetables are just cooked.
Finally yet to taste with salt and pepper and serve warm.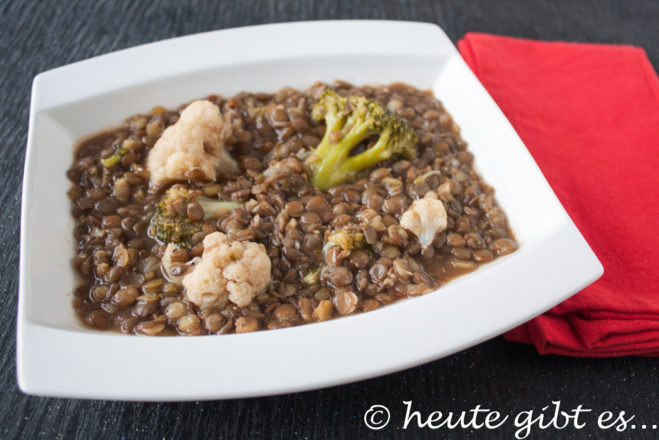 Besides the food is still in a typical New Year's Eve something else at the center: The Gathering and a good mood!
Fireworks and games
Just as in Germany is also available in Italy this evening fireworks to drive away the evil spirits of the old year by the noise and to welcome the new year with the lights welcome. From my own experience and from talking to the Relatives from Italy, the Italians spend less time with this "program point" and it does not exaggerate as much as it is often the case here. Throughout many localities it is for individuals not allowed and will only selectively carried out by the municipality.
In addition to dance and music that night also playing in the family and with friends is very important. there are popular games such as bingo or card games, which is usually played with little money stakes. To date, we play a family with typical Sicilian cards all together at one table, often long into the new year.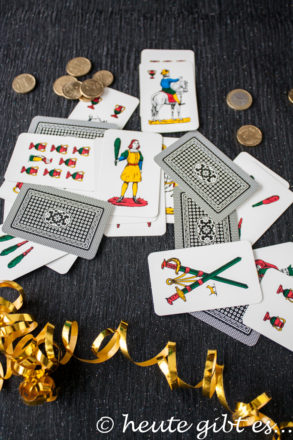 red underwear
If you the red napkin noticed on the first picture? This I did not use random, because the color red plays a big part in New Year's Eve. you shop in Italy in the last two weeks of the year and will pass shop windows of lingerie stores, so you will find most likely mainly red underwear. Why this is so can be explained quickly: On the last day of the year, taking into Italy namely red underwear on. It used to be mainly women's business, which for several years or maybe even the men of this tradition.
Why is not with us light blue as in Portugal has become?
The color red was in ancient Rome a significant color and is seen in Italy as auspicious color.
It is important that the underwear paid and is attracted on December 31 for the first time. is therefore not infrequently gets in Italy shortly before New Year's Eve a red boxer shorts or a lace panties paid. Best of all, no one finds funny, neither the father nor the old grandma.
So lucky but really occurs, the lingerie section must be thrown away later than 1 January.
Champagne and shards bring luck
Should you observe how the sums with his fingers in champagne glass or other when pushed at midnight, as here, the person does not look strange, because it puts another custom behind it. For he who dips his fingers into sparkling and these strokes behind the ears will be rewarded in the new year with happiness and blessings.
In some regions, especially around Naples, it is also still hot – and now hold on tight – throwing fragile items such as plates out the window. This one creates room for new things in the new year, which also promises happiness. This practice is now being carried out only within the four walls to avoid injury. Nevertheless, you should keep that night some distance from windows and balconies – you never know 😉
The first meeting in the new year…
Pay attention in the new year, what kind of person you meet on the road than the first, because that is what we are doing in Italy. Is this an old man, and you will have happiness in PARTIAL year. It is even better if you meet a man with a hump! Should you this, first a child see so unfortunately this does not bode well.
This he was, the brief insight into our – admittedly – sometimes quite strange traditions and customs of New Year's Eve in Italy. Well, if you do it all his life, you find it does not really soooo funny 😉
What are some of your favorite traditions on New Years Eve?
See you soon
Elena