December 13th, 2014
Almond-Chocolate-Cake
Today, it'll go back sweet and not necessarily perfect, because happen to me sometimes when baking mistakes. But let's start from the beginning…
My dear fellow blogger Karen from the blog Karens Backwahn This year's event a hiking book campaign, in which a baking book goes on a journey and during the post-baked recipes of various food bloggers and published. Finally, the book has – these are to be "Fancy shoes" by Hannes Weber – a stop inlaid with me. The choice of the recipe much not easy for me, but I finally chose the almond chocolate cake.
The Result?
Unfortunately, not optically perfect, because I used the wrong Guglform. For this reason, from the Gugel more of a wreath made… But the taste of the cake is really delicious!
Almond-Chocolate-Cake
Ingredients

(Guglform diameter: 20cm, 1l Content)
For the dough:
1 vanilla pod
80g butter, softened
20g honey
1 pinch salt
70g white chocolate
60g sugar
4 eggs
45g Zartbitterkuvertüre
45g ground almonds
30g Mehl
For the Glausur:
75g Zartbitterkuvertüre
15g tasteless oil
In Addition:
40g Mandelblättchen
Butter to grease the dish
Preparation

:
First, the Guglform Grease and sprinkle with flaked almonds.
Preheat oven to 190 ° C (top / bottom heat) Preheat.
Cut the vanilla bean lengthwise, scrape out the seeds and mix with the butter, honey and a pinch of salt creamy with an electric mixer or food processor.
The white chocolate chop and melt in a water bath.
Separate the eggs and beat the yolks with the melted chocolate into a mass.
The yolk-mass chocolate then stir into the butter-vanilla-honey-mass.
3 egg whites (the rest otherwise use) beat egg whites with the sugar.
Now stir one-third of the egg whites into the butter-chocolate mass. The remaining egg whites carefully fold.
Mix the ground almonds and flour. Chop the dark chocolate finely and add to the flour and almond mixture.
The mixture into the butter-egg white mass increase and spread the batter evenly into the prepared pan.
Bake the cake in the oven for about 30 minutes.
Take the baking time the cake from the oven, let it rest for about 5 minutes to pounce on a wire rack and let cool then.
For the chocolate icing melt the chocolate in a water bath, stir in the oil and pour the glaze on the cake.
The next time, the correct form is simply equal size used and the result is not only tasty but also visually perfect!
The book is the way, now already traveled further and I'm looking forward to the baking results of the other food bloggers! Who wants to read more about this project, simply click on the following banner, as there is more information 🙂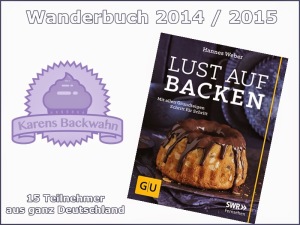 All the best and have a nice weekend!
Elena