August 27th, 2013
Mangocreme – or "I'll get back my summer"
Here in Swabia, the summer seems unfortunately slowly coming to an end tend to be. Since I'm a summer loving person that higher temperatures and sunshine is closer than cold, rain or even snow, I suppose really hate to part with this great season. For this reason I've decided to ignore the rain and weather to make a dessert that summer the – at least taste – brings back to my house.
What is better suited for this mission as a light cream with a fruit that even "tropical feeling" promises?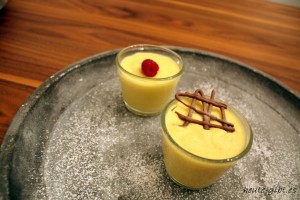 recipe
Total time
2h 20min
Mangocreme
Ingredients

:
2 ripe mangoes
40g icing sugar
1 tablespoon lemon juice
2 sheets of gelatin
The protein of 2 eggs
50ml Sahne
Preparation

:
Peel the mangoes, loosen the flesh from the stone and mash together with the powdered sugar and the lemon juice.
The gelatine leaves soak for 5-7 minutes in water. Here please pay attention to the package directions, as this may vary depending on the brand. Then short squeeze the gelatine with hands and dissolve over low heat in a saucepan.
Well 4 tablespoons of mango puree to add gelatin, stir well and then mix in the remaining puree.
The whole thing for 10 minutes in the refrigerator.
The cream until stiff, add the mango puree and stir.
Similarly, the protein will now be stiffly beaten and stirred into the mixture until a uniform color is produced.
Fill the mango cream in small glass – I usually zweckentfremde These ones – and refrigerate for at least 2 hours.
Get out of the refrigerator, decorate, serve on your preference, sit back and enjoy 😉
Now take a spoonful of mango cream into his mouth, sit back and close your eyes. The mango scent struck a middle of the tropics. Do you feel already the sun's rays on your skin?
Yes? Great, then yes it has worked with the summer retrieve 😉
No? Well, anyway, after all, you now have a delicious cream and this can a yes sweeten the day despite bad weather 😉
By the way, this recipe is also very good for a celebration, because you can do everything already prepared a day in advance and stored until ready to serve in the refrigerator. So saves a lot of stress, the one usually does on such days – especially when some makes up 😉
Greetings from my little kitchen
Elena
P.S. This summer dish I would just like this for the blog of Event Highfoodality Submit: