February 25th, 2018
Tile Palermo – a tasty alternative to Pizza
Are you always looking for dishes that you can prepare for celebrations or parties and are suitable for a greater number of people? Then I have something that will taste all pizza lovers certainly for you today. As a conclusion of the February series on street food, I'll show you another specialty of Sicily: Mattonella palermitana.
While the popular filled Reisbällchen "Arancini" now also known in Germany, the Mattonella is here unknown, regional specialty. Imagine a merger of sandwich and pizza before, then you can imagine roughly what I'm dealing with. The name, translated what "tile" is, comes from the rectangular shape, in the cutting the special pizza bread. Served warm, it is certainly a hit at every party!
The basis for the Mattonella palermitana is a salty yeast dough. Now, if one or the other of you reading the word "yeast dough" equal gets sweats, so I want to reassure him. I can tell you a song of unleavened yeast doughs and other disasters hereby. But now I have some practice in and bake for example, my beloved pesto wreath even very much.
When I but the traditional recipe from a "roaster" got from Sicily, I was a little confused, because here all the ingredients are simply mixed together and kneaded. You have neither heat a liquid, nor dissolve the yeast in it. I was skeptical at first, but it really works and is much easier than usual. This one gets safely even as a beginner very well there!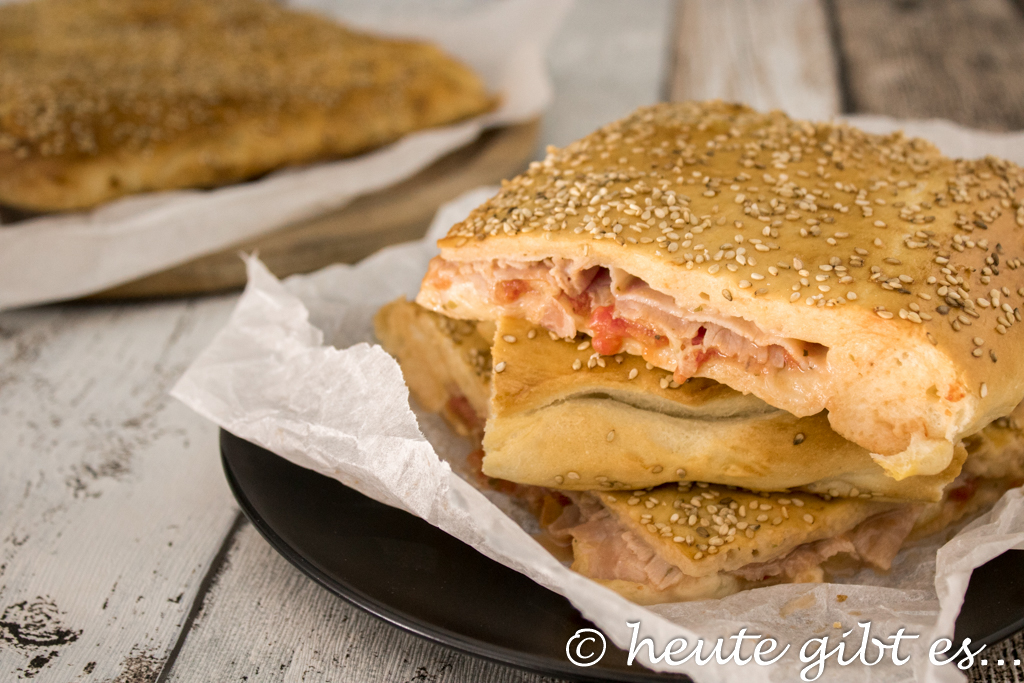 Tile Palermo
Ingredients

: (For 1 baking sheet)

For the dough:
600g flour
40g sugar
1/2 EL vanilla sugar
2 tsp. Salz
60g lard
25g fresh yeast
350ml water
For the filling:
400g chopped canned tomatoes
dried oregano
Salt
400g Mozzarella
200g cooked ham
In Addition:
1 egg yolk
20ml milk
Sesam
Preparation

:
Put all the ingredients for the dough in a bowl and knead for 15-20 minutes until a smooth, minimally sticky dough.
Shape the dough into a ball and leave covered for about 2 hours in a warm place until it has doubled.
crush and season with oregano and salt for about 10 minutes before the end of proofing time the fragmented tomatoes with a fork.
Cut the mozzarella into cubes and set aside.
halve the risen dough, roll out a half with the corrugated timber to a baking sheet and place on the large rectangle lined with baking paper sheet.
Preheat the oven in meantime to 200 ° C (fan).
distribute the tomato mass evenly on the dough, with an approximately 2 cm wide edge is left free on each side. If your mass be too watery, some liquid poured off, so that the dough at the end do not get too soggy.
Now the diced mozzarella and then distribute the ham on the tomato.
Subsequently, the second half of the dough also roll baking tray large, "Pizza" cover it and squeeze both halves on the edge. note here is that no air is trapped.
Whisk in the end the yolk with the milk, the dough so Brush and sprinkle with sesame seeds.
Bake the Mattonella in preheated oven for 15-20 minutes until golden yellow, then cut into squares and enjoy the best warm.
Important tips and information:
In the traditional version, the Mattonella filled with ham, cheese and tomato. Of course, you can also choose a different home stuffing according to your taste.
just replace the vegetarian version of the dough to lard the same amount of tasteless oil.
Freezing is not recommended for this recipe.
If the Mattonella palermitana to your liking? I myself have this always in Sicily – Incidentally, there are those outside of Palermo – eaten. Thought this is actually as a snack or lunch, but can be very well served as an appetizer.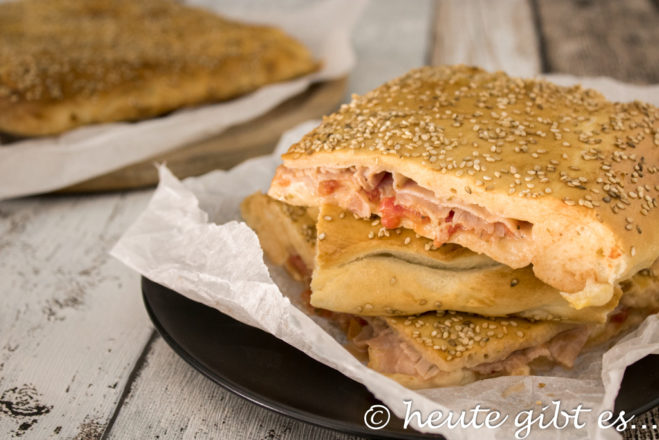 This concludes officially the February series on street food in Italy and I hope that you were able to discover for yourself the odd dish. Do you have a favorite?
Next week, there is then a new topic. If you do not want to wait that long, but like Browsed among other posts my Blogreihe "Italian Kitchen – Learn all about…".
Bon Appetite
Elena