December 12th, 2014
Ravioli filled with Mediterranean – and get an earful!
Hello everybody,
long has it been since the last post and a lot has happened. The silence on the blog has its reasons, which I will gradually reveal. Although it has been a very stressful time, I have missed blogging and am glad to be able to write something again.
But enough whining, because a little surprise there are the same today: I, in which the Italian and Swabian cuisine are fused a delicious recipe for you. Why this combination? I live happily in Swabia and have Italian roots, so it lends itself to quasi 😉
The highlight here: In parallel with the publication of the recipe, I tell you the preparation step by step on the radio. Just you read that right: On Fri, 12/12/2014 may be in with 18-20 pm Kochblogradio.de hear. As I talk with Tim about all sorts of topics related to cooking, Italy, music, etc., and present you alongside this dish before.
If you missed the show, you can listen to this also on Sat, 13/12/2014 and Di, 12.16.2014. What I have brought you?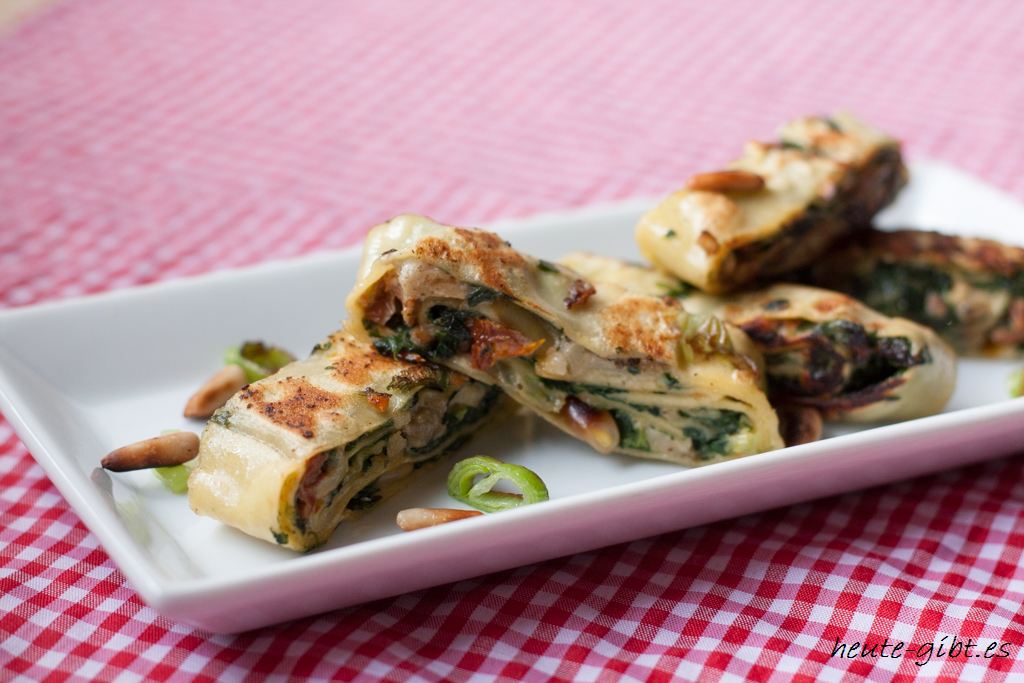 recipe
Ravioli filled with Mediterranean
Total time
2h
Ravioli filled with Mediterranean
Ingredients

: (For 4 people)
Dough:
400g flour
1 teaspoon salt
3 eggs
4 tablespoons of water
Filling:
2 eggplants
800g Spinach
8 spring onions
some olive oil
12 dried tomatoes
2 crushed garlic cloves
two handful of fresh basil leaves (20g)
300g cream cheese
2 tbs. grated parmesan cheese
50g Pinienkerne
1 egg
Preparation

:
Flour, knead eggs, water and salt to a smooth dough and then packaged in plastic wrap let stand one hour.
eggplant cut in half, several times with the fork and to push at about 160 ° C circulating air in the oven until they are soft on the inside (about 45 minutes).
Then solve pulp from peel and cut into cubes.
Clean spinach, wash, give dripping wet in a pot of boiling salted water and let coincide. Remove – to obtain the green color in ice-water to give – express very well and chop finely.
Spring onions cut into thin rings and fry in a little olive oil.
Add the eggplant, spinach, dried tomatoes (chopped) and fry with. Clove of garlic into force. Finely chop the herbs and mix in.
take the whole thing from the flame, add cream cheese and Parmesan and mix.
Roast pine nuts in a frying pan (without oil) short. Then enter into the mixture and season them with salt and pepper.
Roll out the pasta dough thin now or if available use a pasta machine, so you get a rectangle.
Spread the filling on this thin. Here avoiding the dough crust and brush with egg verquirrltem.
Now the Teigrechteck several times fold from the longer side so as to obtain a 8cm wide strips at the end.
Now proceed as follows:
First, one of the open sides is compressed with the style of Holzrührlöffels. Now you work from this side, proceeding, and divided the rectangle by pressing the dough with the style into individual cushions, each 8x10cm large.
Tip: The pressure point rather do a bit wider, so you can then separate the ravioli from each other with a pastry wheel, without the filling comes out. If this should happen anyway this is not a doomsday 😉
In boiling salted water (or vegetable broth) to give the individual ravioli and cook about 6 minutes long.
Then remove from the water, cut into strips and fry with a little oil and onion in a pan.
Done 🙂
In retrospect, I realize that I had of the intermediate steps are to make images. Often one hears preparation namely in writing complicated than it is in practice then. Will be made up 🙂
And someone has listened to the show? I'm curious what you think of this recipe or from the radio show!
Bon appétit!
Elena