April 27th, 2014
Mediterranean Pull-Apart Bread – savory filled bread for tearing
Have a nice Sunday together!
Hope you all have beautiful Easter spent waiting and also successful in the egg hunt. I use here my last free days for preparations and enjoy the nice weather. As of Monday, my schedule will be namely refilled and it is quite in demand at time management.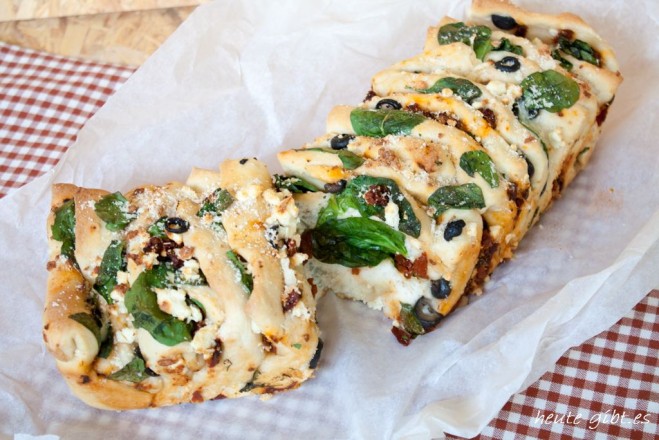 After I noticed that lately the sweet fraction predominates on the blog, I decided to again offer something hearty. I eat not only sweet, if that does come across as 😉
Maybe you know one or the other of you Pull-Apart Breads yet? Here is bread, which consist of layered pieces of dough and baked in a loaf pan. It's practical is that you do not have to cut the bread at dinner, but can still pull off a piece. Most of you know these breads in the sweet variant with fruits or, for example with cinnamon. I want to introduce you today to a hearty variant that has a hint of Mediterranean. I was inspired by Stefanie's savory version of breadThey on their blog "Beautiful and fine" presented. A few changes were my hand, by taking the following treat is then created: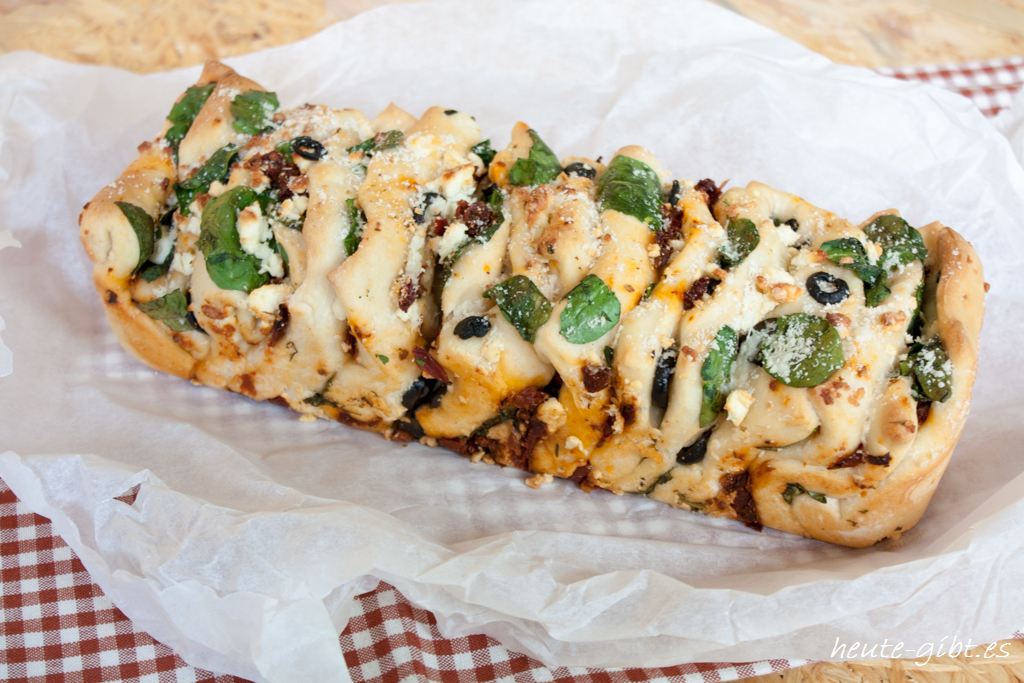 recipe
Mediterranean Pull-Apart Bread
Total time
2h
Mediterranean Pull-Apart Bread
Ingredients

:
For the dough:
90ml lauwarme Milch
200ml lukewarm water
1 packet (7g) dry yeast
50g weiche Butter
1 tsp sugar
550g Mehl
2 tsp. Salz
For the filling:
ca. 30g (Baby-) Blattspinat
70g preserved in oil, dried tomatoes
40g black, pitted olives
150-200g Feta
optionally some parmesan or grated cheese
Preparation

:
Lukewarm milk with the water mix, mix dry yeast, sugar and butter in it.
Add the flour and salt and knead to a smooth dough. This then covered for about 1 hour set in a warm place.
In the meantime, chop the olives, tomatoes and feta, if their normal spinach used this chop them just before use.
Roll out the dough on a lightly floured surface to a rectangle. The dough thickness should be at about 0.5 cm.
Now distribute spinach, feta, tomato and olives on the dough and then cut these into rectangles that are slightly smaller in width than also on the length than the width and length of your loaf pan.
It's not bad if your rectangles do not all have the same size, it really does not stand out in the final results 😉
Now there are two methods how to proceed: either stacked on each other the right corner and then the finished stack into the loaf pan – or to set the box shape vertically (inspired by this example to some) and layered a rectangle after another, until the entire mold is filled.
Observed in both methods that you stack the pieces to one another so that there is always the filling between the pastry. In addition, you should press lightly on each other at the layers, so that the filling is located at the end not only in the lower part of the bread rectangles.
When the dough pieces are completely in the mold, it can not go for 20 minutes.
The bread in a preheated oven at 175 ° C (top and bottom) bake for 30-35 minutes. If you like, you can sprinkle the Parmesan or grated cheese about 10 minutes before end of baking time.
If you want something to bring to the next garden party or to the next cookout, I would advise you to this bread. So you can easily impress your friends at 😉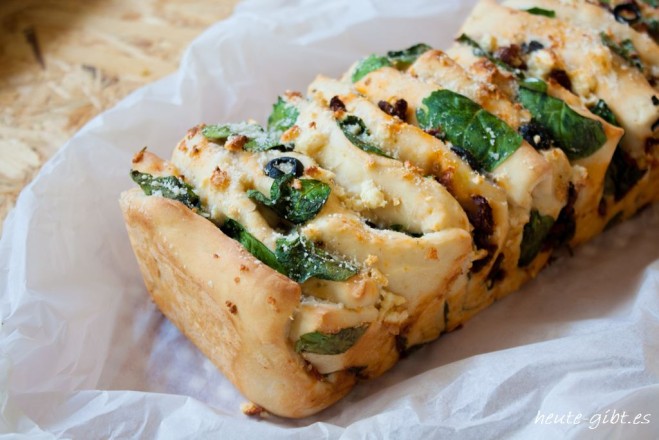 The Sarah vom Blog "Leben am Land"That already with me with their Poppyseed pasta was a guest, will soon celebrate its first birthday and blog searches in this regard recipes for the summer kitchen. Since I would like to do my hearty Pull-Apart Bread.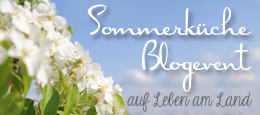 Bye for now
Elena