June 17th, 2014
Mexican Corn Soup – my contribution to Mexico for World Cup 2014
Hello! 🙂
Today we're going to Mexico! What are we doing there and why this particular country? It's quite simple: Peter from the Blog "Aus meinem Kochtopf" organized - appropriately for this year's football World Cup in Brazil - the event "Kick from distant pots", where dishes, typical for the teams' home countries, are cooked and presented by bloggers. The special feature: Each participant got a Playmobil figure, wearing a Germany jersey, by mail, which was to be photographed together with the dish. Well, you've discovered my toy figure already, haven't you?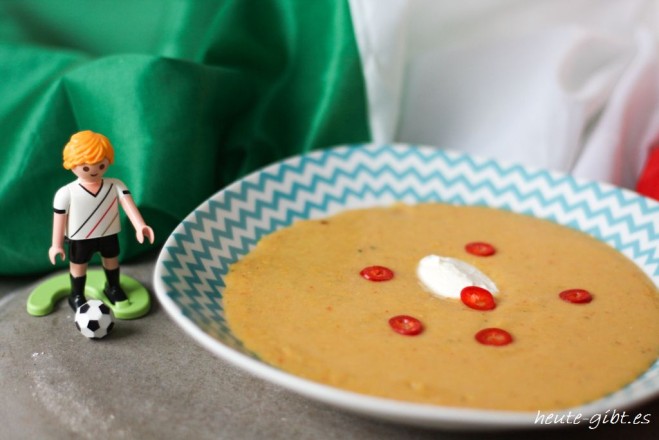 But let's head back to the question: Why Mexico? Well, unfortunately I took notice of this event quite lately and as a country could be represented by a maximum of three bloggers only, most countries were already assigned. Italy, which I would have chosen as an Italian course, was unavailable, already. So I had to decide between the countries left. Maybe you can imagine why I chose Mexico? I do love mexican food, but that wasn't the main reason.
Well? Guessed it?
If not, then you briefly calls the Mexican flag in memory and compares it with the Italian. The coat of arms in the middle apart times both flags are identical. So it was clear that I would represent Mexico 🙂
But what is it you eat in Mexico? Burritos, quesadillas, tacos, guacamole or even nachos. These were the first things floating through my mind and although they are all delicious, Peter wanted a dish that you could prepare spontaneously and with little effort, while watching the Mexico game live at home. Therefore, the ingredients should be available in every household. Then I remembered a delicious corn soup, which I gave a try at our favorite Mexican restaurant in Esslingen. A can of corn, vegetable stock and a chilli pepper are indeed things which usually everyone has at home, right?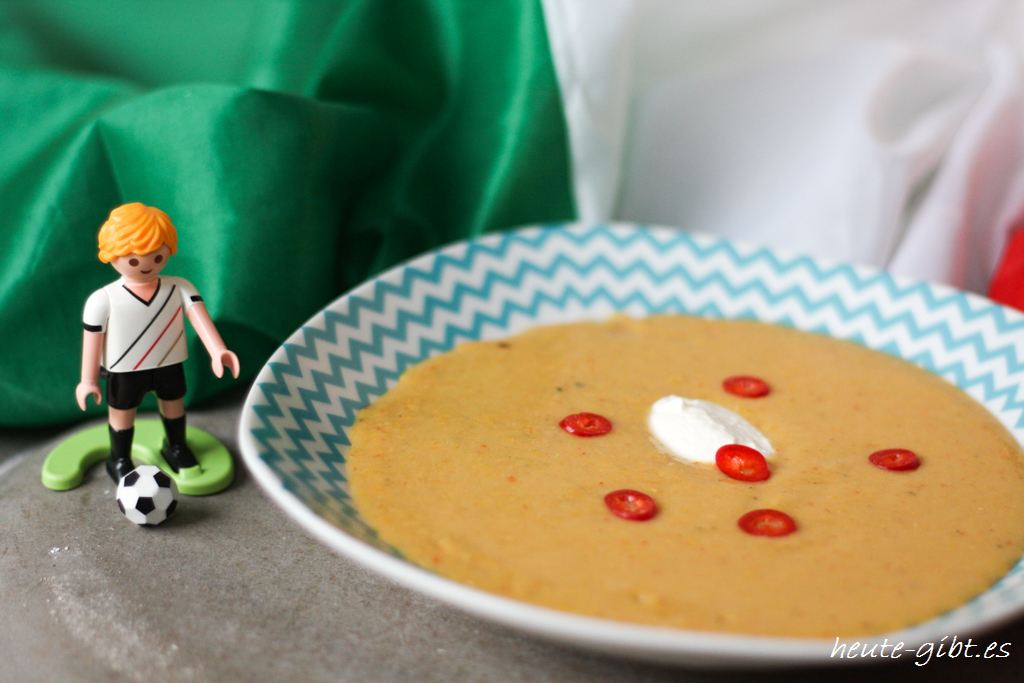 Mexican Corn Soup
Ingredients

: (For 3-4 people)
1 small onion
3 cloves of garlic
30g Butter
50g corn flour
850ml vegetable stock
1 red chili pepper
1 can of corn, ca. 300g
Salt and pepper
Optional some sour cream
Preparation

:
Peel the onion and garlic and chop them finely.
Melt the butter in a saucepan and cook onion and garlic in it over low heat, until they are translucent.
Add the corn flour and the vegetable stock and mix well.
Wash the chilli, remove seeds, cut into thin rings and add to the broth. Let everything simmer for 10 minutes over low heat.
Then add the corn and cook for another 15 minutes, stirring occasionally.
Now with a hand-held blender puree the soup, sift and season to taste with salt and pepper and serve with some sour cream on top.
The soup, which is known under the name Chileatole in Mexico, tastes quite well and evening during the Mexico game is eaten with some bread today. We cheer for the Mexican players and hope for more goals against Brazil 😉
¡Adiós!
Elena
This post is participating in the following blog event: