August 29th, 2013
Mini chocolate Gugelhupf – small but powerful!
It's happened again. Last week I was once again in the center of Stuttgart. Actually nothing unusual when you consider that since I am several times a week in order to work. But this time I was there without a specific destination. I love rumzuschlendern easy to watch people to look in the windows and what you as a woman otherwise makes 😉 This pull me shops selling decorative and household items always magically. I have just as pure and see whether there is not something I "need". It is even worse when in a shop window a red sign depends on the "70% discount" stands. What it is doing is first secondary. My brain is saying only: "In you, that you have to watch you!"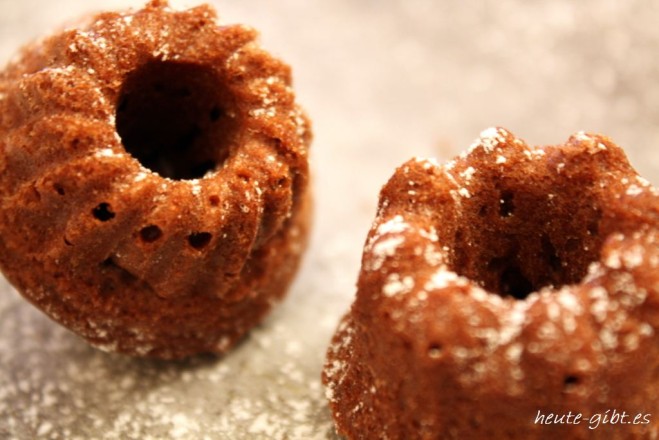 It was this time when Depot the case. 70% on Summer Product! Well, as it happens to be so, if we look at not only the reduced stuff in, but going through each shelf. And then I discovered something that I was heading automatically: An extra area with baking accessories! I admit it: When it comes to baking accessories or decorative items, I could buy poor. But fortunately I think about it several times, if I really need something or use, before I spend money on it.
The object of my desire was this time a silicone mold for mini-Gugel. For some time I have played with the idea of ​​me zuzulegen one. But I have always held me back. Up to this time. A look at the form, a look at the price tag and then it was decided that: The silicone mold had to deal with! I also wanted to finally bake mini-Gugel!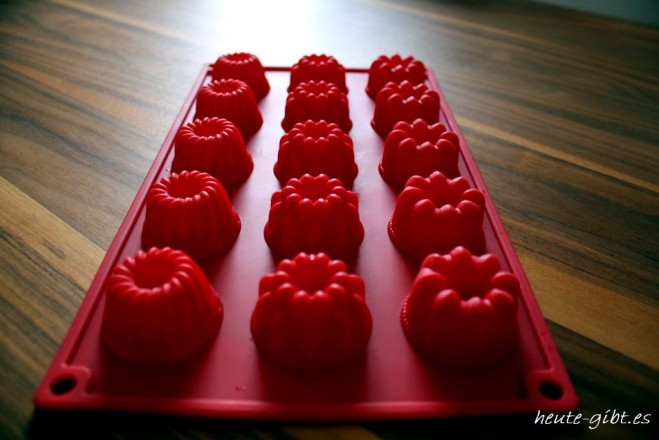 And here it is: My first recipe for mini-Gugel. Since I love chocolate and I have the ingredients for a chocolate cake, chocolate muffins or in this case, mini chocolate-Gugel always available in the house, it was obvious what would be my first mini-Gugel…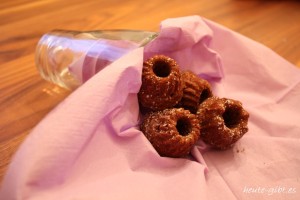 Mini chocolate Gugelhupf
Ingredients

: (für ca. 15 Mini-Gugl)
40g Butter
50g sugar
1 Päckchen Vanille Zucker
1 egg
2 Prisen Zimt (optional)
60ml Sahne
80g Mehl
1/2 TL Backpulver
15g invitation
Preparation

:
Add butter, sugar, vanilla sugar and egg in a bowl and stir with a hand mixer until fluffy.
The cream add – if desired also now added the cinnamon – and stir.
Mix the flour with the baking powder and stir into the mixture.
Finally, now comes the cocoa into the bowl. Stir the dough until a uniform color is produced.
Preheat the oven to 175 ° C forced-air turn on to preheat.
The dough is now filled preferably with a pastry bag in the mini-Gugel form. If you do not have pastry bags on hand, you can also repurpose a freezer bag or – as in my case – you tinker from baking paper.

By tapping the mold, this avoids the formation of air bubbles.
The form is now for 17 minutes in the oven.
Get After baking the mini chocolate-Gugel from the oven, let cool for 5 minutes in the form and then trigger this. If desired, sprinkle with a little icing sugar to serve.
Done 🙂
Are they become pretty? Well, not really perfect, but so cute! I'm a big fan of biscuits. It is made quickly – at least most of – looks in my eyes prettier than the big version and tastes just as good!
It has paid off to go that day to the depot. To suffer my purse has remained not only in the mini Gugl-form, because cupcake liners and a reduced tablet could still with. But I do not regret the purchase, but am looking forward to more delicious mini Gugl, I'll conjure up in the near future 😉
Sunny greetings
Elena