September 3rd, 2013
Mirabelle cake
In August, I came across a blog event that has inspired me for today's recipe. "The Cake Book of Seasons" on Rebeccas Blog "feuchtfroehlich". Each month about four seasonal elle ingredients to choose from, with which one a cake in the broadest sense – from the cookie to cake everything is permitted – to bake. At least one ingredient to be used.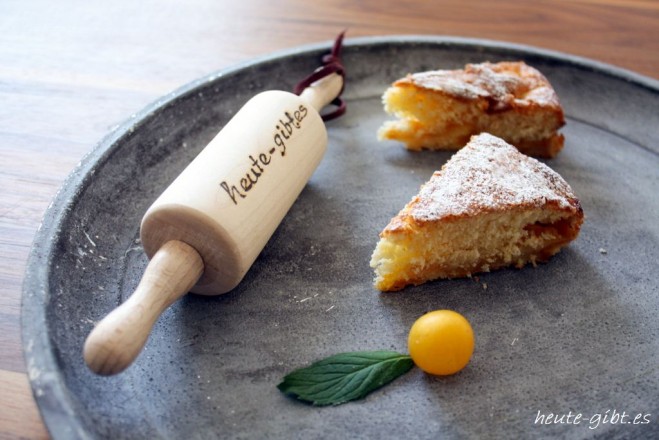 My recipe today still refers to the month of August – Deadline is always the fifth of the following month.
These ingredients were available: Mirabelle, gooseberries and blackberries basil. The choice fell to me actually very easy, as happened to Papas Garden – yes, because there are not only Raspberries and zucchini 😉 – a mirabelle tree stands, which it says very well this year with us. Mirabelle, these delicious, little yellow fruits that can taste depending on the maturity of sweet to sour. I usually eat this fruit just as or as mirabelle jam. Furthermore if there is another way to exploit the fruits I was not worried by this time.
Therefore, there is today of my first attempt Mirabelle plums in a cake to use: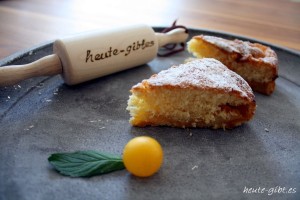 recipe
Total time
1h 50min
Mirabelle cake
Ingredients

: (For a 18er baking pan)
350g mirabelle
120g sugar
Abrasion of one lemon
50g butter (Raumtemperatur)
1 egg
90g Mehl
15g Speisestärke
1 tsp backing powder
1 Prise Zimt
1 pinch salt
Icing sugar to decorate
Preparation

:
Wash the Mirabelle, remove the seeds and mix with 20g sugar and the wearing of lemon in a bowl and let stand for about an hour.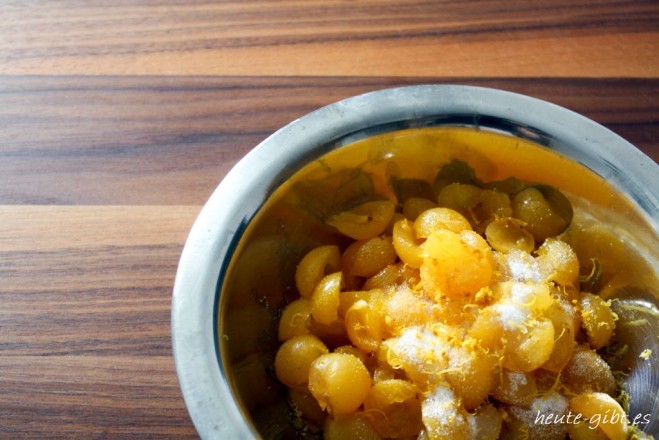 The butter and the remaining sugar mix with the hand mixer.
The egg and cook process in the mass.
Mix flour, cornstarch, baking powder, cinnamon and salt and add to the butter-egg mixture. The whole thing into a homogeneous dough mix.
Now the oven to 180 ° C (fan) turn on to preheat.
The juice that is produced by pulling through the Mirabelle, add with stirring.
Now add the Mirabelle to the dough and mix well with a spoon.
Subsequently, the dough is placed in a greased pan and baked for about 40 minutes.
Important: If you take a larger shape, such as a 26er, then please let the cake bake for 45 minutes. In both cases, you should check with a wooden stick and see if the cake is actually baked. If this is not the case, can then bake a few minutes in the oven.
While after the baking time the cake to cool before removing from the mold.
Dust with powdered sugar if desired and serve with a dollop of cream.
If you want to bake the cake and as is common used a 26er form, which should take the ingredients times two.
The cake is also the next day still beautiful fluffy. Die slight acidity of Mirabelle goes perfectly with the sweetness of the pie dough, resulting in a refreshing taste experience for the summer.
thus still uses the fruits of summer while you can 🙂
Best wishes and sunshine
Elena
P. S. As announced takes this recipe to the following blog event: