November 18th, 2013
Poppyseed pasta – a guest post by Sarah ("Leben am Land")
Today there are on my blog a first: I visit 🙂 That is, today, the recipe is not from me but from a guest blogger that you also may even here imagine this.
During my visit is Sarah. I have about the action "Übern Tellerrand" met. This is about creating a network between newer and older food blogs and introduce their own readers of other blogs. Sarah asked if she could come over for a visit, and after looking at her blog, I did not hesitate for long.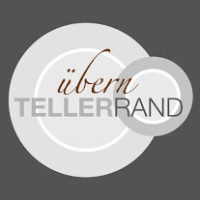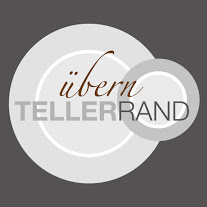 Today's court I did not know before. The more I was thrilled when I suggested Sarah to present this Austrian specialty here. Since some ingredients are called different in Austria, I wrote for German readers as a little help to the German term in parenthesis. But now I make myself comfortable and Sarah leave the position 🙂
Dear readers of today, there are…,
Today, I can imagine a recipe of mine, Sarah of life on land. Exchange is a big concern of mine, and so have Elena and I made known to us at Übern box and meant a German-Austrian cuisine exchange would be a great idea. And since I was already thinking that I will cook Mohnnudeln for you. An Austrian specialty which there are usually only on the ski huts.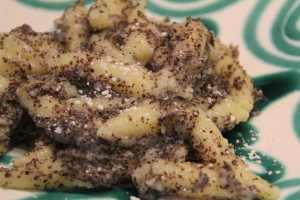 Poppyseed pasta
Ingredients

(For 2-4 people)
some grated lemon zest
2 eggs
40g Butter
250g plug (quark)
1 Pkg. Vanilla sugar
100g wheat flour
80g flour smooth
1 TL Butter
1 tablespoon icing sugar (icing sugar)
60g poppy ground
Preparation

:
Butter with plugs (cottage cheese), vanilla, lemon zest, and the eggs a pinch of salt until smooth and mix the semolina and flour. Then place the dough for about 15 minutes in the refrigerator.
Bring a pot of water with some salt to a boil and cut the dough into finger-thick rolls shapes and 2 cm thick slices in the meantime. wuzeln Disks to short, thick noodles and let stand for about 10 minutes in boiling water until the noodles floating on the surface.
Melt butter in a pan and the poppy seeds and icing sugar in a short heat up the pasta and cook, sprinkle with powdered sugar when serving.
Best wishes Sarah
Dear Sarah, thank you very much for your contribution. Will also try out themselves the recipe on occasion. Who wants to have more delicious delicacies of Sarah's, looks best just with her past:

All the best
Elena