March 24th, 2016
Familienrezept: Muffuletti – Sicilian spice buns traditionally at Easter
Today's recipe is very special, most of you have never heard of it and have never tried it with certainty. It is a specialty from Sicily, which is not really known outside the island.
And that I think is bad, very bad, even, because people do not know what they miss there! This is the so-called "Muffuletti", A kind of spice buns happy with tuna and optional cheese and otherwise with salsiccia (Italian sausage) are eaten on Good Friday.
The flavor of this bread is very special, which is caused by the use of anise and clove. Precisely because of these two spices, not everyone is a fan of the Muffuletti.
Whereas I am happy every time mom or grandma say: "We make muffuletti?" (Shall we again Muffuletti?).
How to do it and our personal family recipe for this, I'll tell you here today.
Anecdote by the way: It was not easy to get hold of the family recipe, because Mama always does everything by feel. Therefore, I have weighed all well before it has mixed it together. Your funny looks while – PRICELESS 🙂
The only thing that was not so easy, is the amount of water. The amount given is a guide value. For details, then in the recipe. And now I do not like longer in suspense you: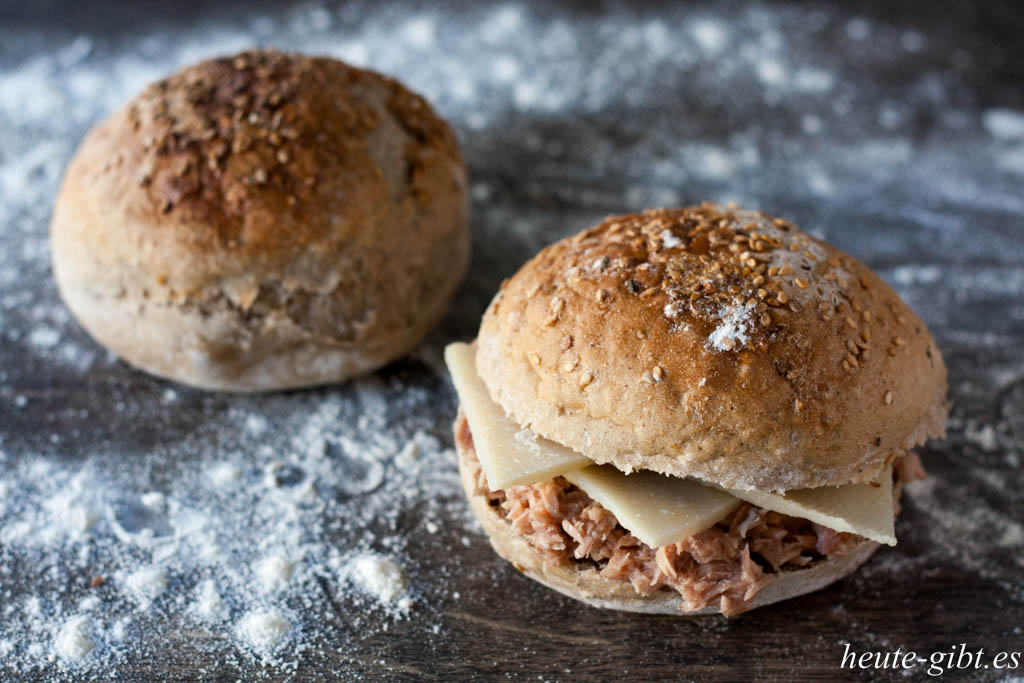 recipe
Total time
1h 20min
Muffuletti
Ingredients

(For about 24 pieces)
2kg flour
1 ½ Cube yeast (63g)
750ml lukewarm water + some "more"
10g gem. cinnamon
15g gem. black pepper
2T L gem. clove
15g save. anise
2 ½ heaped EL Anis (whole)
1 heaped tablespoon salt
3 THE neutral Öl
Sesame to sprinkle
Protein for brushing
additional flour for the work surface
Preparation

:
Mix the flour and all the spices together.
dissolve the yeast in a little water and add to the flour. Now everything knead, oil and portions add the water until the dough is smooth. The dough is sticky at the end, this is quite normal. If it should be too hard, then you must still incorporate some water. But take care that you there is not equal to adding too much!
Since the rolls have to rest afterwards, you should purpose flour the well a work surface. By good I mean really well here, so here goes, please do not skimp with the flour to as their later does not get otherwise the rolls away unscathed.
Now form small rolls from the dough. Your hands should you moisturize it well with water because it will be hard otherwise to the sticky dough.
The Muffuletti then place it on the floured surface, sprinkle with sesame seeds and as soon as the surface is dry cover with a blanket / cloth.
Once the rolls have reached twice the size, bake these brush with egg and bake in preheated oven at 250 ° C (conventional oven) until golden brown about 15-20 minutes.
Since the bottom of the Muffuletti will be very mealy, they must – preferably with the help of a knife – be entmehlt by lightly scratching.
The Muffuletti then fill for example, with tuna and cheese or sausage and enjoy.
The rolls can also freeze it without any problems. I'm personally very happy, because there is nothing better than after a short defrosting in the microwave as a tasty meal to eat.
And now I am curious what you think of the recipe. Is it specifically for you? Or you love those secret recipes? perhaps Kanntet her the rolls even after all?
Greetings
Elena