August 11th, 2014
Muhallabia – a guest post from "World Wild Food"
Happy Monday I wish you 🙂
Hopefully your week has started hassle free. Here it's all haywire, as the project "Dream House" continues. It's hammered, sawed and drilled diligently. Because some water and gas pipes have to be laid, my "photo shooting set" is not easily accessible and it is therefore not possible for me to photograph my dainties.
Luckily today there is another guest on my guest list: Fiona of "World Wild Food" takes us to the Orient today
We'll have some Muhallabia. Muhawhat??
At least that was my first reaction when she suggested this dish. I do love unusual things so I've assented at once.
Well, what is it then? I'll let Fiona answer that question: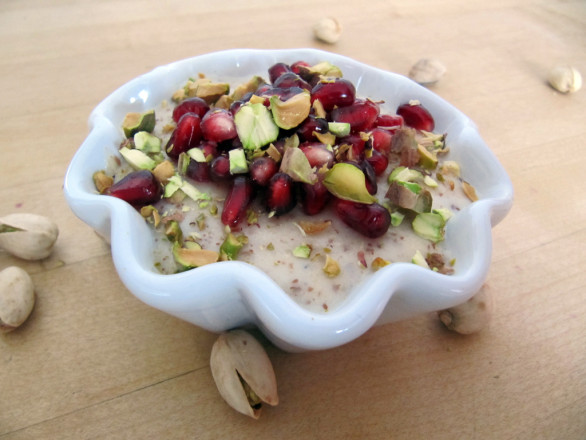 Hello my friends 😉
I am glad that I can be with Elena guest today and her over to me looks "outside the box" 😉 My name is Fiona and normally I blog on "World Wild Food" about food, travel and whatever else comes to mind 😉
From my travels, I like to bring recipes which I prefer to share with you, even more =) Today it's the recipe for "Muhallabia" a delicious, Arab almond milk pudding.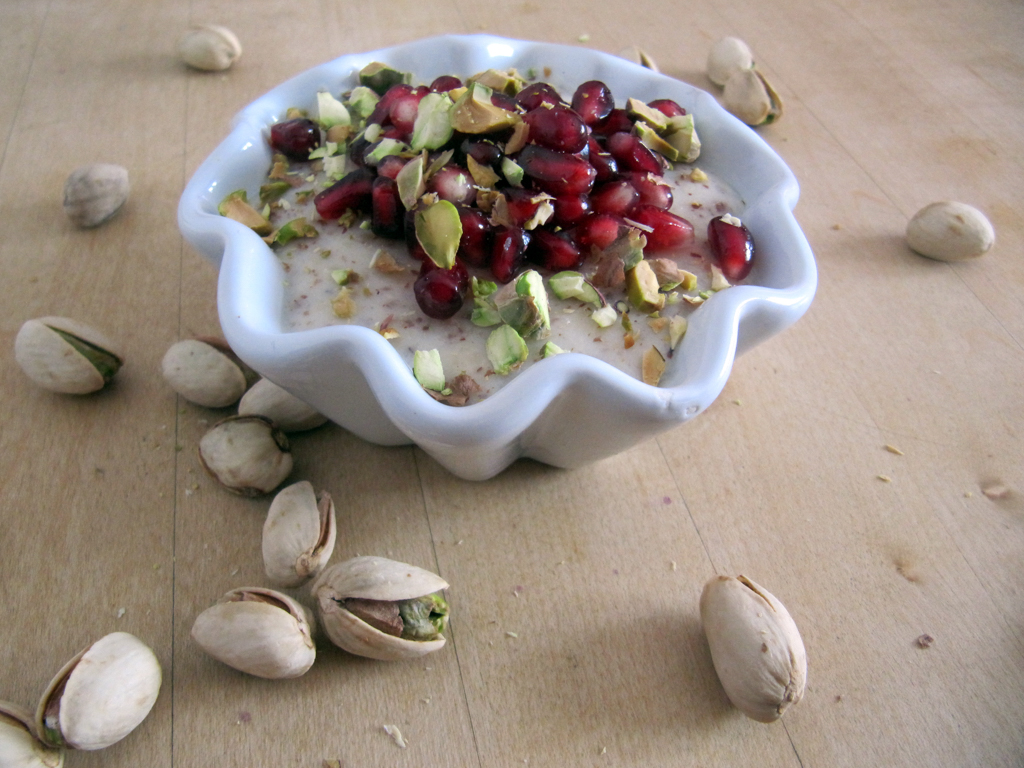 Muhallabia
Ingredients

: (For 6 persons)
For the pudding:
30g rice flour
750ml milk
1 pinch salt
50g sugar
80g ground almonds
1 tbsp rose water
For the decoration:
pomegranate(seeds)
pistachios
almonds
Preparation

:
First of all, rice flour, salt and sugar are mixed with one part of the milk (about 185 ml) and the rest of the milk is let boiled in a cooking pot.
When the milk boils, stir in the milk-flour-salt-sugar mixture and bring it to a boil, stirring constantly over medium temperature.
Until the mixture raises small bubbles and may take some time but 😉 case remain patient and do not turn the temperature is higher, otherwise nothing with the right consistency.
When the mixture has boiled, reduce the temperature even further and simmer, stirring constantly for about five minutes.
Subsequently, fold in the ground almonds until the mixture is smooth.
Then add the rose water, stir and remove the pan from the heat.
Now let the pudding cool a bit in the pot,occasionally stir a little.
Afterwards you can fill it in small dishes or leave in a large bowl and let it cool.
The pudding can be eaten cold or hot, both very tasty! Pistachios and pomegranate seeds fit very well as decoration, but you can also omit 😉 I personally feel that it is very delicious tastes just with the pomegranate seeds, they are not as sweet and give the whole a little "freshness".
In case I whetted your appetite, I would be very pleased if you rendered my blog happy 😉 In a few days it will enter Core tips and tricks for pomegranate 😉
Until then, I wish you a "good appetite"
Yours, Fiona
Thank you for this delicious pudding, love Fiona! I am sure that the flits one or the other quickly to the supermarket to buy the ingredients for this. For now, we know what Muhallabia is, we want to know how this tastes naturally 😉
I hereby announce yet that my little summer break is officially over. Look forward to delicious things, some tips, great promotions and much more 🙂
Have a nice week!
Elena
This post takes part in the series "Übern Tellerrand" :