January 29th, 2017
Orange and cinnamon parfait with raspberry sauce
For more than three years I've been blogging here already and have never told you about my love for ice cream !!! I'm crazy about pasta and chocolate, this will be my loyal readers now clear, but what's better than delicious, creamy ice cream? Hmm, maybe a warm Schokoküchlein with liquid core in combination with a cold scoop of raspberry!
You think you now: "How can think of ice at temperatures ?!", Well, if I ever feel like one, two or sometimes three scoops of ice cream, it does not matter what the thermometer indicates just outside. Just stupid when the Lieblingseisdiele to March inserts a winter break in the city and one even wants to produce an ice cream without ice cream maker then.
For a long time, therefore, is an ice machine on my wish list. Since we have a relatively small freezer and this is always filled with various cooked dishes in stock, it would have to be an ice machine with compressor. Until I have saved up enough money for this and found the ideal place in the kitchen, I like to grab so back to sorbets and parfaits.
Today I show you how to make a delicious parfait, also known as semifreddo. I have served this winter version with cinnamon and oranges for dessert for our Christmas dinner last year and it was very well received. Especially when combined with the warm raspberries! As determined no one says no, no matter how icy it may be out 😉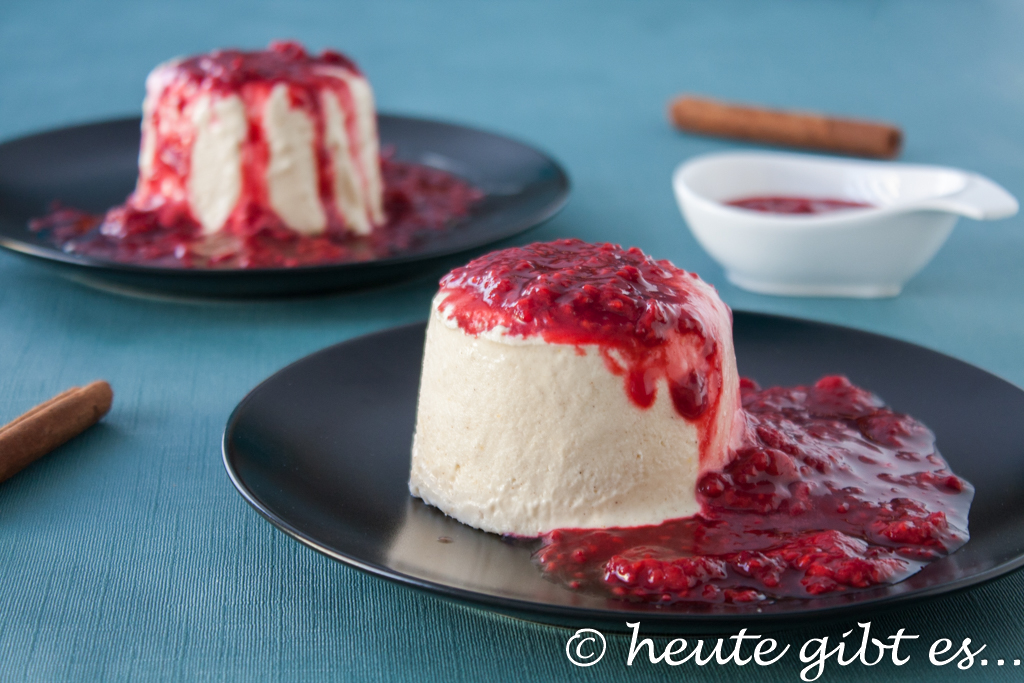 recipe
Orange and cinnamon parfait with raspberry sauce
Total time
5H 30min
Orange and cinnamon parfait with raspberry sauce
Ingredients

: (For 4 servings)
4 egg yolks
1 Bio-Orange
1 tbs. cinnamon
120g sugar
4cl Orangenlikör
400ml whipping cream
2 tablespoons vanilla sugar
For the raspberry sauce:
360g frozen raspberries
2-4 tsp sugar
Preparation

:
egg yolks, sugar, cinnamon, orange zest, orange juice and orange liqueur in a bowl and in the hot water bath (bowl over pan of hot, steaming water easily make) with the whisk until creamy.
Remove the bowl from the hot water and then beat the cream in a cold water until it is slightly cooled.
Now the beat cream with the vanilla sugar until stiff and fold gradually with the egg mixture.
Parfait fill the mass into four ramekins or glasses with about 200ml capacity and place in the freezer for at least 5 hours.
Remove the parfait about 15 minutes before serving out of the freezer and Thaw 10 minutes.
Meanwhile, let the raspberries boil in a saucepan over medium heat. Season with sugar as desired and optionally the sauce still puree with a hand blender.
overthrow and serve with raspberry sauce Finally, the parfait on a plate.
If you want to make the whole without orange liqueur, you can instead take a little more orange juice, which should be no problem. If you contrast Mögt not like raspberries, then I would combine the plums, I can also imagine this very well with cinnamon and oranges me.
By the way, you can freeze the parfait over a long period and thus keep them for spontaneous visit. Up to a month, it was on my stock in the freezer without any loss of quality – longer is determined, if that is not also eaten with you before 😉
Frosty Greetings
Elena