February 22nd, 2015
Oriental carrot salad
Geht ihr auch wöchentlich bzw. ab und zu auf den Wochenmarkt in eurer Stadt? Ich lasse mich dabei gerne vom saisonalen Angebot inspirieren und entscheide so spontan, was es die Tage darauf bei uns zu essen gibt. Immer wieder liest man in Zeitschriften, dass man aus organisatorischen und finanziellen Gründen lieber einen Wochenplan erstellen soll. Dies habe ich in der Vergangenheit schon versucht und festgestellt, dass es nichts für mich ist. Wie ist es bei euch so? Plant ihr eure Woche vor oder entscheidet ihr beim Einkaufen spontan?
In den Wintermonaten fällt mir die Auswahl an Gemüse jedoch sehr schwer, da das Angebot an mediterranen Gemüsesorten eher spärlich ist. Oft sehe ich mich mit Knollen und Wurzeln konfrontiert, die ich von zuhause nicht kenne. Die Zubereitung von Suppen habe ich mir im Laufe der Jahre angeeignet, aber schließlich will man sich nicht täglich von Suppe ernähren.
Als ich mich beim letzten Wochenmarktbesuch umgeschaut habe, entdeckte ich neben den gewöhnlichen Karotten auch violette, die ich bisher nie verwendet hatte, mich aber farblich sehr ansprachen. In meinem Kopf entstand eine vage Idee für einen orientalisch angehauchten Salat. Deshalb wurden die unterschiedlichen Karottensorten mitgenommen und farblich durch die helle Pastinaken ergänzt. In der Küche angekommen machte ich mich dann an die Zubereitung dieses leckeren Salates: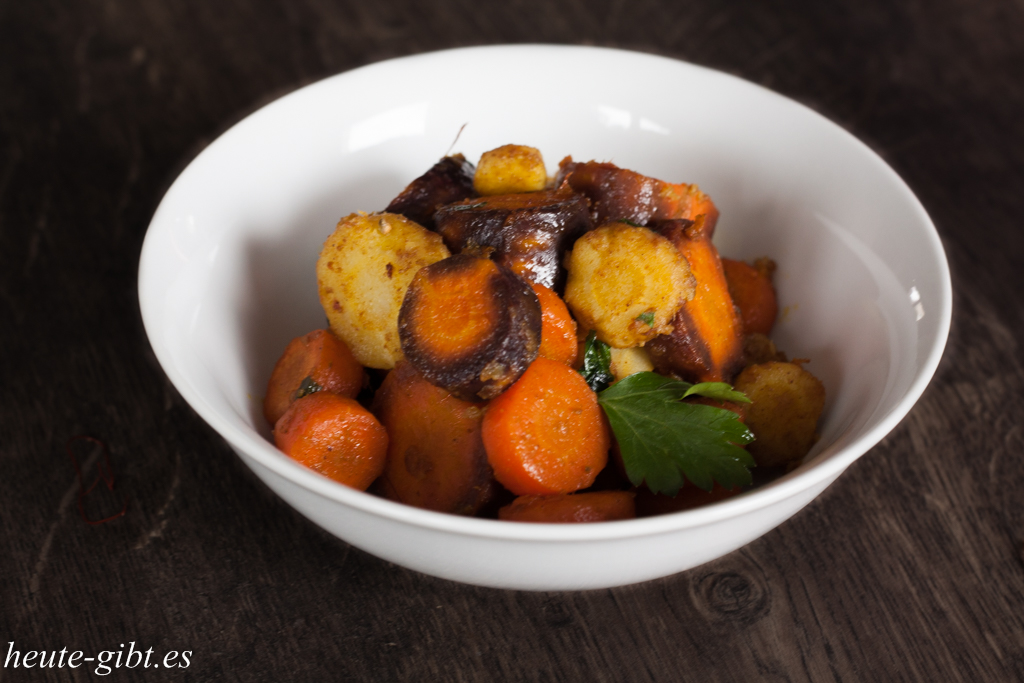 Oriental carrot salad
Ingredients

(For 2-3 people)
insgesamt 500g gemischte Karotten (

"normal"

und violette) und Pastinaken

1 clove garlic

1-2 EL Olivenöl

some fresh parsley
Salt
some cumin

1 gestr. TL Curry

some cinnamon
Preparation

:
Das Wurzelgemüse schälen und in etwa 1 cm dicke Scheiben schneiden.

Einen Topf mit Salzwasser zum kochen bringen und das Gemüse für 15 Minuten hineingeben.

Nach dem Kochen die Möhren gut abtropfen lassen.

Die Petersilie schneiden und anschließend mit den Gewürzen gut unter das Gemüse mischen.

Eine beschichtete Pfanne erhitzen und das Olivenöl hineingeben.

Die Knoblauchzehe schälen, mit der flachen Seite eines Messers zerdrücken und kurz im Öl anbraten lassen.

Now add the carrots and for about five minutes –

bzw. etwas länger, wenn ihr mehr Röstaromen wünscht

–

in der Pfanne anbraten.

Schließlich mit den Gewürzen abschmecken und nach Wunsch lauwarm oder kalt servieren.
Spontane Entscheidungen sind wie man bei diesem Ergebnis sehen kann oft gar nicht so schlecht. Ich versuche mittlerweile immer wieder eine mir nicht aus der mediterranen Küche geläufige Gemüsesorte vom Wochenmarkt mitzunehmen und etwas Leckeres daraus zu zaubern. Traut euch also auch und lasst eurer Kreativität freien Lauf!
Dearest greetings
Elena