February 22nd, 2015
Oriental carrot salad
Geht ihr auch wöchentlich bzw. ab und zu auf den Wochenmarkt in eurer Stadt? Ich lasse mich dabei gerne vom saisonalen Angebot inspirieren und entscheide so spontan, was es die Tage darauf bei uns zu essen gibt. Immer wieder liest man in Zeitschriften, dass man aus organisatorischen und finanziellen Gründen lieber einen Wochenplan erstellen soll. Dies habe ich in der Vergangenheit schon versucht und festgestellt, dass es nichts für mich ist. Wie ist es bei euch so? Plant ihr eure Woche vor oder entscheidet ihr beim Einkaufen spontan?
In den Wintermonaten fällt mir die Auswahl an Gemüse jedoch sehr schwer, da das Angebot an mediterranen Gemüsesorten eher spärlich ist. Oft sehe ich mich mit Knollen und Wurzeln konfrontiert, die ich von zuhause nicht kenne. Die Zubereitung von Suppen habe ich mir im Laufe der Jahre angeeignet, aber schließlich will man sich nicht täglich von Suppe ernähren.
When I looked around at the last weekly market visit, I also discovered purple which I had never used, but color very responded me besides the usual carrots. In my mind a vague idea for an oriental-inspired salad was born. Therefore, the different varieties of carrots were taken and color complemented by the bright parsnips. Once in the kitchen I went then to the preparation of this delicious salad: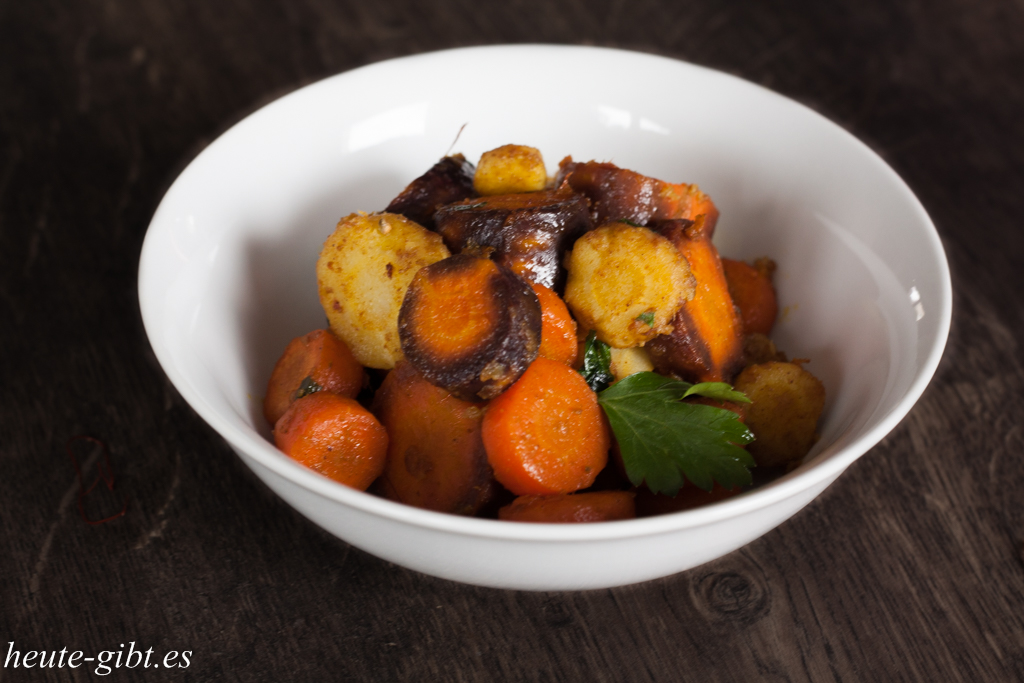 Oriental carrot salad
Ingredients

(For 2-3 people)
a total of 500g mixed carrot ("normal" and violet) and parsnips
1 clove garlic
1-2 tablespoon olive oil
some fresh parsley
Salt
some cumin
1 gestr. TL Curry
some cinnamon
Preparation

:
The peel root vegetables and cut into slices about 1 cm.
Bring a pan of salted water to a boil and pour in the vegetables for 15 minutes.
let the carrots drain well after cooking.
Cut the parsley and then mix with the spices well into the vegetables.
Heat a non-stick pan and pour in the olive oil.
Peel the garlic, crush with the flat side of a knife and let sauté in the oil.
Now add the carrots and for about five minutes – or longer if you desire more roasted flavors – fry in a pan.
Finally, season with the spices and serve warm or cold as desired.
Spontaneous decisions as you can see in this result is often not so bad. I try now again one was not familiar Mediterranean cuisine type of vegetable to take the weekly market and to conjure up something delicious from it. So dare going well and let your creativity run wild!
Dearest greetings
Elena