June 20th, 2016
Panzanella crisp – a crispy version of Italian bread salad
Werdet ihr ab und zu auch mit der Aussage konfrontiert, dass Salat langweilig ist?
Grünzeug, das keiner braucht…
Dull and irrelevant…
Von wegen!
Gemeinsam mit anderen Foodbloggern möchte ich euch mit der Foodblog-Parade "Healthy and delicious for every day" diesmal zeigen, dass Salat alles andere als langweilig ist!
Viele fantastische Rezepte wurden schon vorgestellt (Links findet ihr weiter unten) und nun bin ich endlich an der Reihe.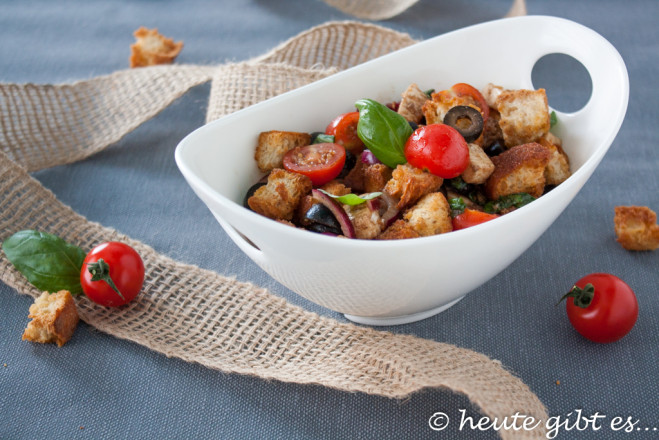 Lange habe ich gegrübelt, welchen Salat ich euch vorstellen könnte. Es sollte etwas sein was lecker, aber trotzdem sehr einfach in der Vorbereitung ist.
Das Ergebnis: PANZANELLA!
Der ein oder andere wird diesen Brotsalat aus der Toscana kennen. Das Originalrezept ist mit eingeweichtem, 2-3 Tage altem Brot, Tomaten und Zwiebeln. Da ich aber einen Crunch im Salat liebe, gibt es heute eine Variante des italienischen Klassikers: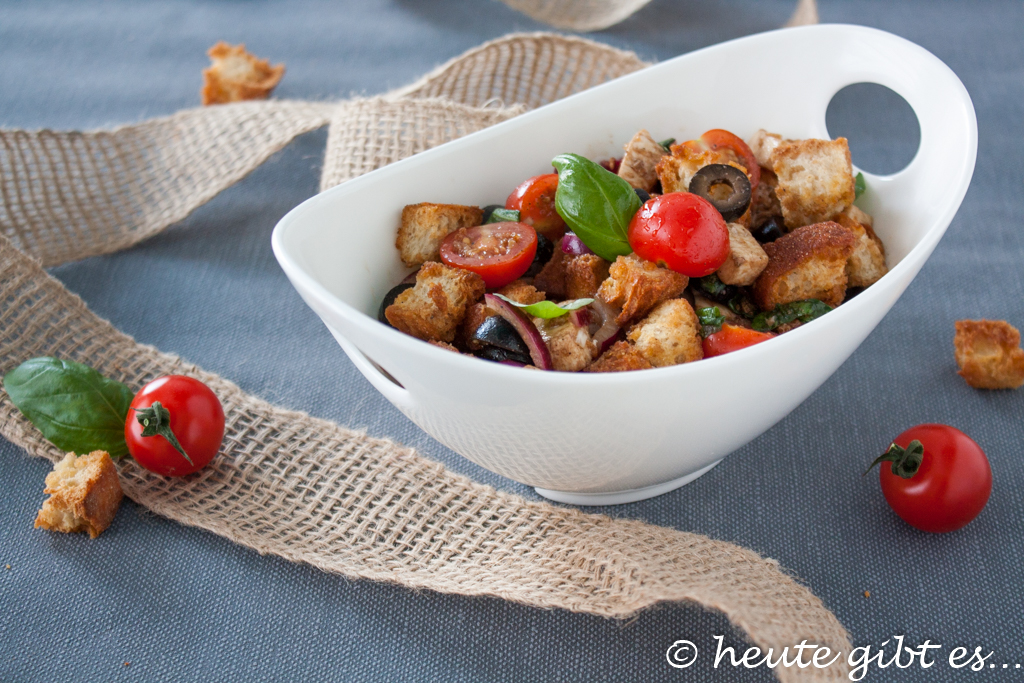 Panzanella crisp
Ingredients

:
140g Brot vom Vortag z.B. Ciabatta

ca. 180g reife Cherrytomaten

1 große rote Zwiebel

125g Mozzarella

60g schwarze, entsteinte Oliven

1 Handvoll Basilikumblätter

olive oil
balsamic vinegar
Salt and pepper
Preparation

:
Preheat the oven to 200 ° C (fan) Preheat.

Das Brot in etwa 2x2cm große Würfel schneiden und auf ein mit Backpapier ausgelegtes Backblech verteilen. Mit etwas Olivenöl beträufeln und für 10-15 Minuten im Backofen goldbraun rösten.

In der Zwischenzeit die Zwiebel in ca. 2-3 mm dicke Scheiben schneiden, die anschließend geviertelt werden.




Hint

: Falls euch Zwiebeln oft schwer im Magen liegen, könnt ihr diese in eine Schüssel mit kaltem Wasser und 2 EL Salz geben. Nach 30 Minuten Wasser und Salz wechseln und für weitere 30 Minuten ziehen lassen. Dadurch wird die Zwiebel leichter verdaulich.

Die Tomaten halbieren, die Mozzarella würfeln, die Oliven in Ringe schneiden und alles zusammen mit der Zwiebel in eine Schüssel geben.

Nun das Ganze mit Essig, Öl, Salz und Pfeffer abschmecken.




Als grober Richtwert für diejenigen, die sich mit dieser vagen Angabe schwer tun: Auf die Menge Brot solltet ihr etwa 3 EL Essig und 2 EL Olivenöl hinzugeben.

Anschließend die Basilikumblätter mit den Händen zerrupfen, gemeinsam mit den gerösteten Brotwürfel hinzugeben und alles gut durchmischen.

Den Salat etwa 10 Minuten durchziehen lassen (nicht wirklich länger, sonst geht der

"

Crunch

"

verloren) und genießen.
Einfach vorzubereiten und echt lecker! Klappt natürlich mit jeglichem anderen Brot oder Brötchen, je nachdem, was ihr gerade zur Hand habt.
Ich bin mir sicher, dass Einzelne unter euch den Gedanken von Brot in einem Salat etwas abwegig finden. Aber ich kann euch versichern, dass es geschmacklich echt genial ist und auch auf Feiern super ankommt!
Traut euch!
Falls ihr Interesse am klassischen Rezept habt, so lasst es mich wissen, gerne reiche ich das bei Bedarf nach.
Habt ihr nun Lust auf weitere leckere Salate? Dann schaut doch bei den anderen Teilnehmern der Foodblog-Parade vorbei: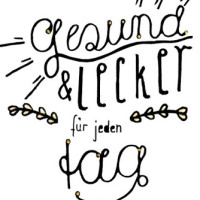 Bei der Auswahl ist doch sicher für jeden etwas dabei! Lasst es euch schmecken 😉
All the best
Elena