June 20th, 2016
Panzanella crisp – a crispy version of Italian bread salad
Will you now and again confronted with the statement that salad is boring?
Green stuff that nobody needs…
Dull and irrelevant…
Are you kidding me? Are you serious when you say that!
Together with other food bloggers I want you with the Food Blog Parade "Healthy and delicious for every day" this time show that salad is anything but boring!
Many fantastic recipes have already been presented (Links can be found below) And now I'm finally turn.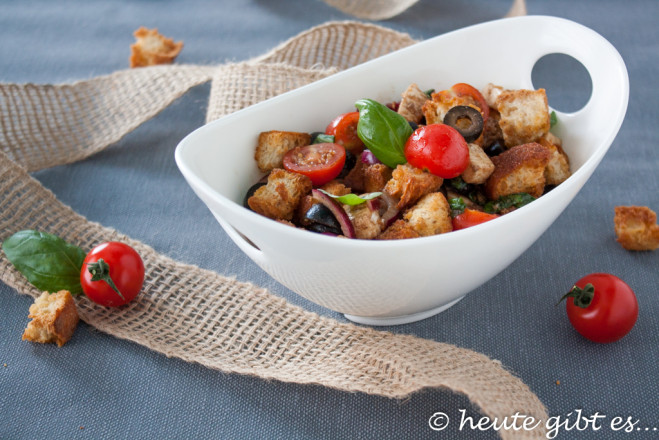 I have long pondered what salad I could imagine. It should be something that is tasty, but still very easy to prepare.
The result: PANZANELLA!
One or the other will know this bread salad from Tuscany. The original recipe is with soaked, 2-3 day old bread, tomatoes and onions. Since I love a crunch in a salad, today there is a variant of the Italian classic: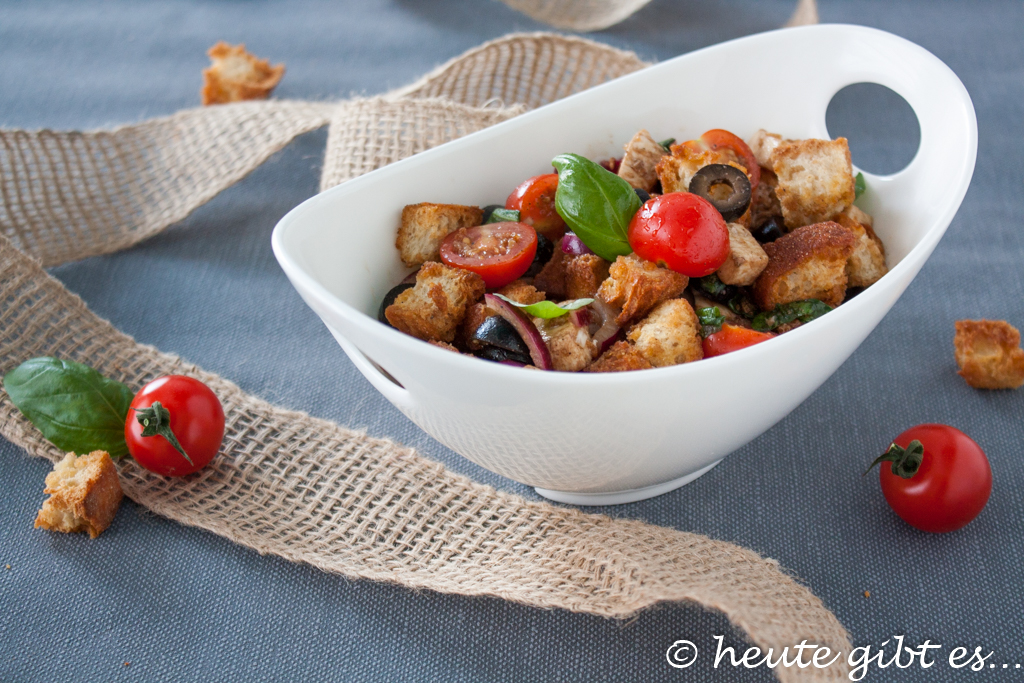 Panzanella crisp
Ingredients

:
140g stale bread as ciabatta
about 180g ripe cherry tomatoes
1 large red onion
125g Mozzarella
60g black, pitted olives
1 handful basil leaves
olive oil
balsamic vinegar
Salt and pepper
Preparation

:
Preheat the oven to 200 ° C (fan) Preheat.
Cut the bread in about 2x2cm cubes and place on a lined baking tray. Drizzle with some olive oil and fry until golden brown for 10-15 minutes in the oven.
In the meantime, cut the onion into about 2-3 mm thick slices, which are then quartered.


Hint

: If you onions often hard in the stomach, you can put in a bowl with cold water and 2 tablespoons salt them. After 30 minutes, water and salt change and infuse for 30 minutes. This onion is easier to digest.
The tomatoes in half the mozzarella cubes, cut the olives into rings and add everything together with the onion in a bowl.
Season Now the whole thing with vinegar, oil, salt and pepper.
As a rough guide for those who may feel uncomfortable with this vague statement: you should add about 3 tablespoons vinegar and 2 tablespoons of olive oil to the amount of bread.
Then the basil leaves zerrupfen with your hands, add together with the toasted bread cubes and mix everything well.
Leave to the salad about 10 minutes (not really longer, otherwise goes to the "Crunch" lost) and enjoy.
Easy to prepare and really delicious! Works naturally with any other bread or rolls, depending on what you just have to hand.
I am sure that individuals find something absurd of you the thought of bread in a salad. But I can assure you that it is really great taste and super arrives to celebrate!
Dare!
If their interest in the classic recipe you, so please let me know, like I submit the manual as required.
Do you now feel like more delicious salads? But then stops by the other participants of the Food Blog Parade: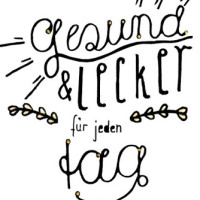 When selecting is surely something for everyone! Let it taste you 😉
All the best
Elena