September 1st, 2013
Pasta with zucchini – if it has to be fast times
Who does not know: days when you barely have time to cook something. Unfortunately, today many people engage in such situations like into finished products or packages. For thus one can conjure much faster delicious dishes – or?
Well, in my eyes reinster bullshit! Because if you want, it is no problem in less than 30 minutes to cook something fresh, the taste still no flavor enhancers and is certainly healthier.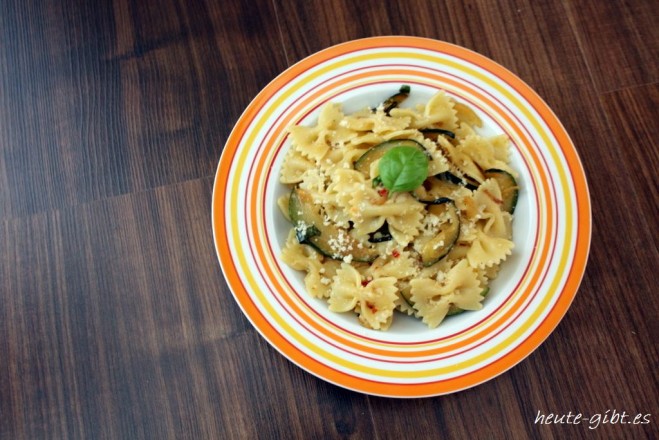 Today I want to introduce you to one of these dishes. I have opted for a pasta dish, not only because it is close to the Italian, but also because pasta is so versatile and can be served in minutes. Of course, this is not from fresh pasta talk. This tastes undoubtedly better, but if time is of essence are durum wheat pasta is a good alternative.
Enough talk, into the kitchen, because today there are: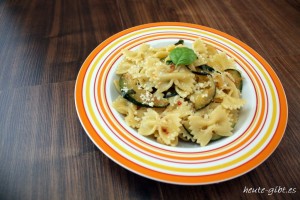 Pasta with zucchini
Ingredients

: (For 2 people)
180g pasta e.g. Farfalle
1 small onion
1 small red peppers (optional)
Zucchini 1 (about 250g)
10-15 basil leaves
50g grated Parmesan cheese
2 EL Olivenöl
Preparation

:
First, bring a pot of water on the stove to boil. Once add this cooking salt and cook the pasta is al dente.
This step should be run in parallel to subsequent steps.
Wash the zucchini, cut into approximately 2 mm thin slices and set aside briefly.
The onion clean and also cut into slices. Now add the oil in the pan, this heat and add the onion. If desired now the chopped peppers also comes to the pan.
Once the onion is stewed glassy, ​​add the zucchini slices and fry over medium heat until they do and a little browned. Season with salt and pepper.
Drain the pasta al dente – collect the cooking water here – and mix the noodles with the fried zucchini. The oven is now off.
Now pluck the basil leaves small, add and mix.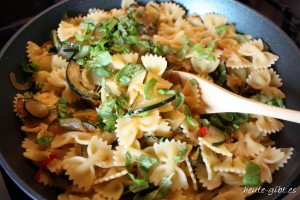 Finally, stir in the grated Parmesan, if necessary – i.e. you is too dry the pasta – some cooking water to give, season with salt and pepper again fertig.Die pasta is best served warm!
And, still went really quite fast, right? And as promised, all without packet.
Enjoy your meal!
Greetings from my kitchen
Elena