February 15th, 2018
Pasta with beetroot – and how I had to learn to love this tuber only
Beetroot and I have a very special relationship. Until my 10th year, was completely unknown to me this root vegetables because my mother as far as I can remember has never been used. When I was invited once with a friend for lunch, my beetroot served as a soup. I was more than excited, at least from the color, because the taste of this vegetable was not mine. Convinced that these beets and I are not friends, I have a big circle around this doing for years. As my taste over the years, for example, in terms of cinnamon has changed, I also wanted to eventually give the red root vegetable a second chance.
The processing of beetroot
Total motiviert habe ich damals auf unserem Wochenmarkt die frische Rote Rübe gekauft und machte mich gleich darauf an dessen Verarbeitung. Tja, was soll ich sagen, das erste Mal endete für mich damals mit schicken, violettfarbenen Händen. Wieso warnt mich da auch keiner?? Also ihr Lieben, denkt daran: Beim Verarbeiten von Roter Bete sind Einmalhandschuhe unerlässlich! (Lernresistent wie ich bin, habe ich den gleichen Fehler selbstverständlich auch bei Schwarzwurzeln gemacht).
If you want the way that your court accepts the gaudy color of beets, you should not peel them before cooking in salt water, otherwise they will bleed. Your cooking water will then certainly be already violet, only your beets not (# füreuchgetestet). Also possible is the cooking of root vegetables in the oven. At 200 ° C for approximately 50 minutes bake with a shell and subsequently peel – think of the gloves! 😉
Despite this mishap gave me the then Court – a beetroot lasagne – tasted very good and since then this healthy turnip often comes to our table, for example, as Beetroot salad with mango.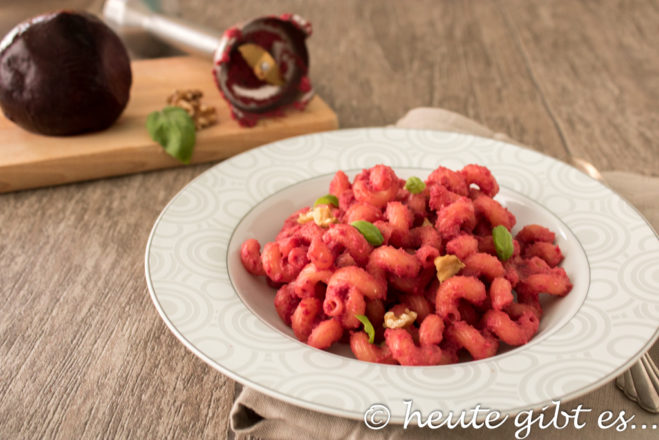 Although a love has developed a second glance to this vegetable, I avoid these days mostly the processing of fresh turnip. Mainly because of the eternal cooking time, which I can not invest more after a long day at work or want. That's why I'm a big fan of cooked dishes variant from the vacuum bag. Personally, I have been where I tested dishes noticed no difference.
It's the same in today's pasta dish. Thanks to the vacuum packed, pre-cooked potato pasta ready to serve in about 15 minutes! The perfect Feierabend dish that always does because of the bright color and good humor (almost any) tastes.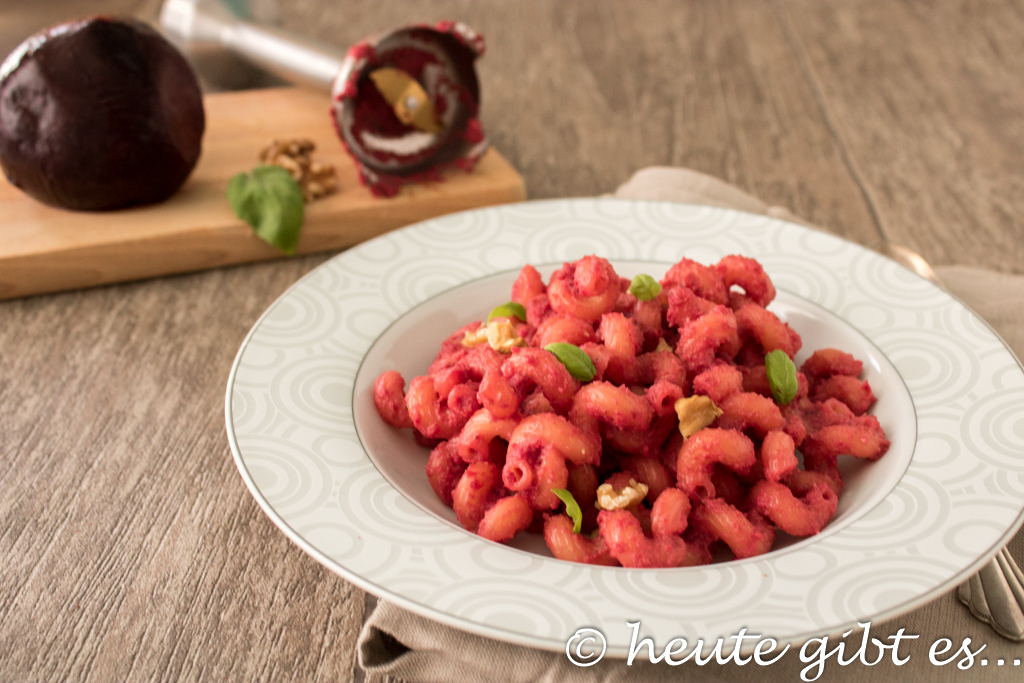 Pasta with beetroot
Ingredients

(3 portions)
300g Pasta
1 clove garlic
1 EL Walnusskerne
2 EL Olivenöl
200g beetroot (pre-cooked, vacuum packed)
5 leaves fresh Basilukum
Salt
Preparation

:
bring to a boil in a pot of salted water and cook the pasta is al dente. Meanwhile, prepare the sauce.
Peel the garlic clove and zusammendücken with the palm. give along with a tablespoon of oil and coarsely chopped nuts in a saucepan and fry for 1 minute over medium heat ..
In parallel, dice the beetroot with the basil leaves also give into the pot and stir everything for 3 minutes over high flame.
Afterwards puree with a hand blender all fine, add another tablespoon of olive oil and season the sauce with salt.
Once the pasta is al dente this strain and taking care to collect a little pasta water. Add the pasta to the sauce and mix in all good until the sauce evenly distributed and the noodles are colored. If you the
All seem a bit dry, add a small amount of pasta water.
Important tips and information:
Of course, fresh for this dish beetroot can be used. These must first be cooked, however, which is much larger in time.
Nuts can also be replaced by pine nuts, almonds or hazelnuts, for example.
Who does not like garlic or can not tolerate, can replace it by half a small onion.
When pasta is here both long pasta like spaghetti, and short pastas like fusilli are.
Have you noticed that this dish is vegan? Ideal if you have vegan friends and for this no "special favor" want to cook. I assure that this pasta tastes the largest Fleischfan – provided that this may beetroot 😉
What is your relationship with beetroot? Told me about it (possibly with favorite dish), I'm curious!
Bon Appetite
Elena