January 28th, 2018
Pasta with vegetable chili – fast Feierabend kitchen
There are days when I do not want forever after a hard day in the kitchen are and still have something warm on the plate. Over the years I have collected a few standard dishes that I can prepare quickly at such moments. My temporary solution here is often pasta, because with just a few ingredients and little effort can usually whip up a quick meal.
I a great Pastaliebhab is I should not be a secret anymore now. Therefore, I was immediately hooked when Clara tastesheriff the action "All love pasta!" has announced on her blog. Here there is every month a different theme about the popular noodle. It starts in January with the theme "Vegetables".
Suitable for that I have opted for the red pepper that tastes delicious not only, but is also among the vitamin C-rich foods. For this vegetable a lightweight, vegan sauce can be cooked in a short time. This makes it ideal for stressful days on which you want to invest no more than 20 minutes for your judgment.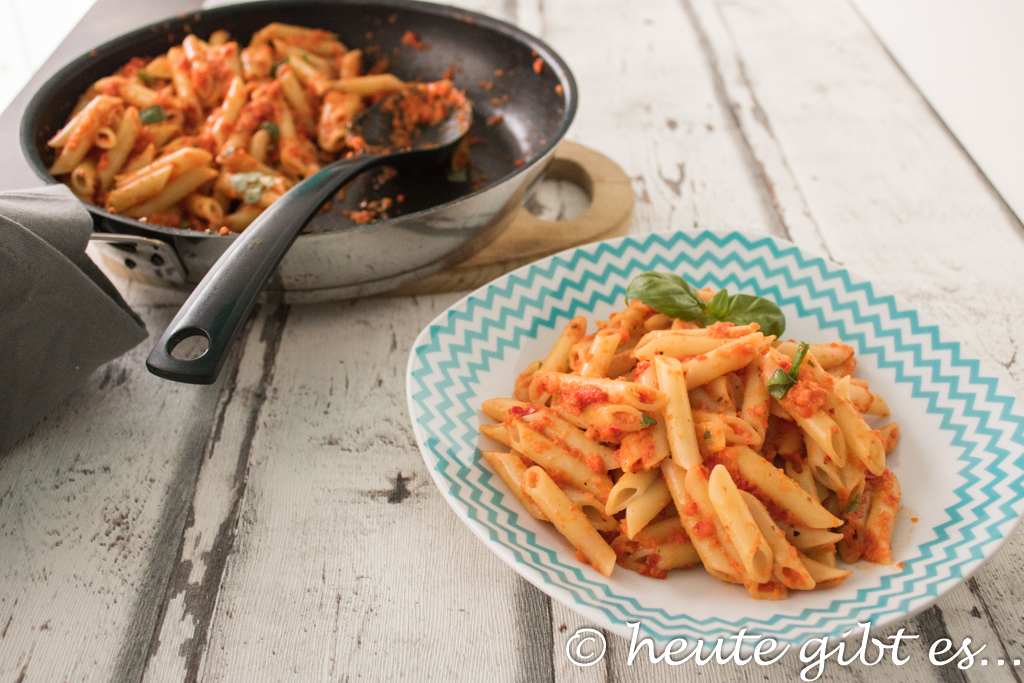 recipe
Pasta with vegetable chili
Total time
20min
Pasta with vegetable chili
Ingredients

: (For 2 people)
1 medium onion
1 clove garlic
1 tbs. olive oil
1 large red bell pepper
200g Pasta
6-8 Basilikumblätter
Salt
Pepper
Preparation

:.
Onion and garlic cubes and fry until soft in a large pan with the olive oil.
Meanwhile, wash the peppers, clean and cut into cubes. These add to the pan and fry for about 15 minutes over medium heat until they are soft.
Add the vegetables together with the basil leaves (two set aside for decoration) in a bowl and mash with a hand blender to a creamy sauce and season with salt and pepper.
The noodles in the meantime in salted water until al dente, so that they are approximately the same time as the sauce ready.
Finally, the noodles drain, give with the sauce in the pan, mix well and garnish with the basil leaves. Serve immediately and enjoy.
For more tips and information:
When pasta is this short pasta such as penne or fusilli are, as they absorb the sauce better than, for example spaghetti.
If you like it spicy, can still mix some chili under the sauce.
If it does not have to be vegan, some fresh cheese can be added for an extra creaminess.
If you like to try a dish?
Should it go faster? Then I can delicious you Spaghetti alla carbonara recommend. These are done in less than 15 minutes and as easily prepared by following all the important tips. I call that real Feierabend kitchen!
What are your favorite dishes when it needs to go quickly?
Bon Appetite
Elena