November 22nd, 2015
Penne pasta with arrabbiata sauce – an Italian classic without Chichi
"I have no desire to stand forever in the kitchen."
"Late from work home and then cook fresh? – Horror!
"I have a huge Kohldampf – it has to be fast, fill you up and still be delicious. I just shove a frozen pizza into the oven."
HALT! STOP!
One does not have to resort to ready-made meals, when time is of essence. may be without a professional chef can conjure up something on the plate that tastes delicious, easy to prepare and is ready in about 20 minutes.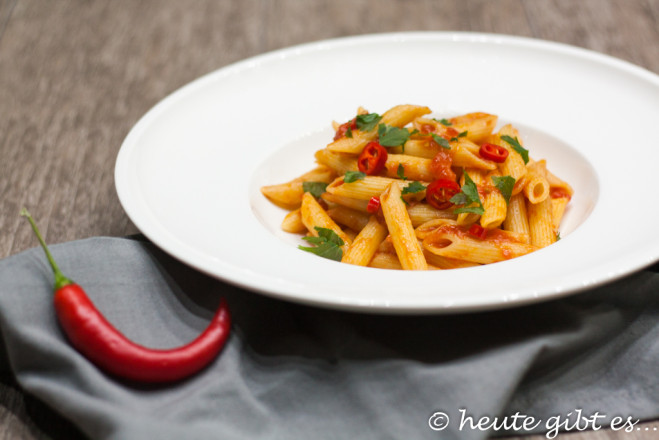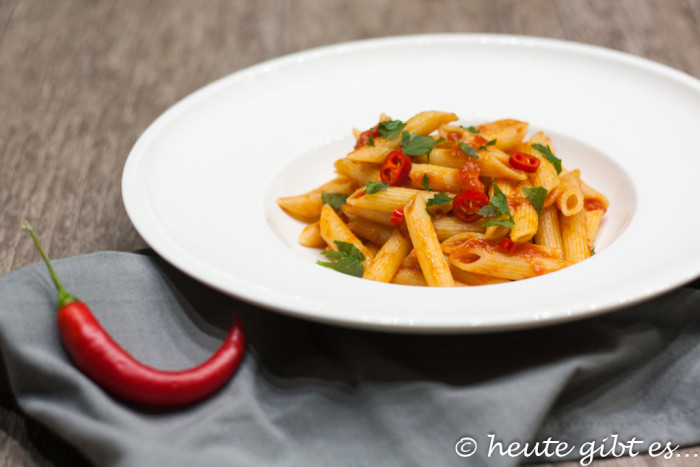 Such a dish I present you today. One or the other of you has probably often eaten this Italian classic: Penne pasta with arrabbiata sauce.
This pasta dish is originally from Rome and from the Lazio (ital. Lazio), a region in central Italy.
The name origin can be explained easily: When eating this pasta, it could happen that the head turns red due to the chilis – like when you're angry or upset (ital .: essere arrabbiato).
A first: do not overdo with the chili, otherwise you will no longer get out the other ingredients can taste!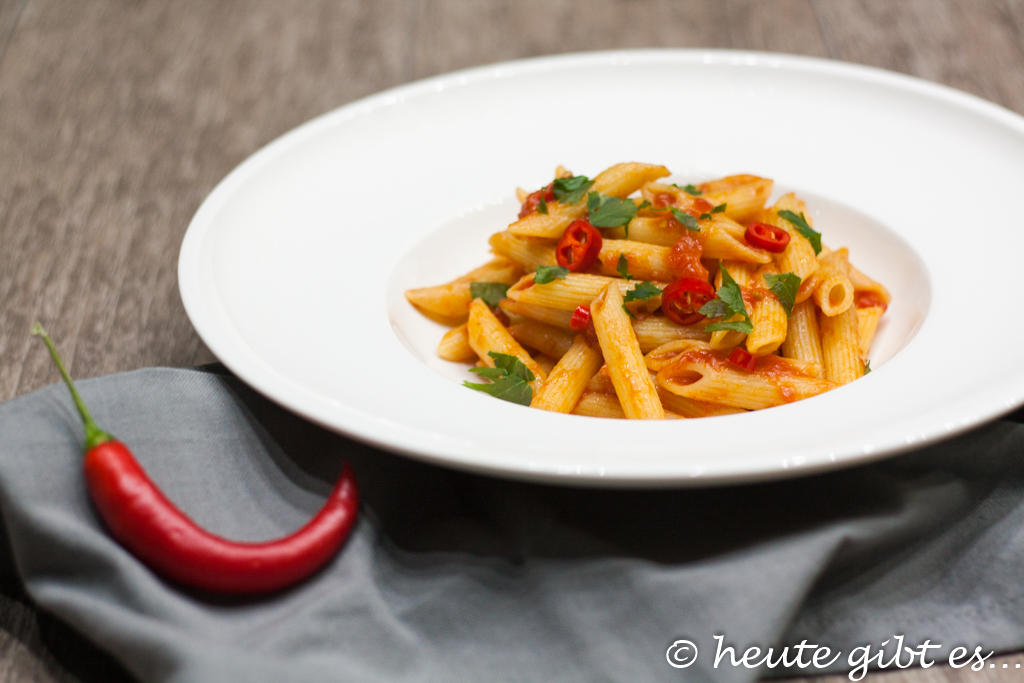 recipe
Penne pasta with arrabbiata sauce
Total time
20min
Penne all'arrabiata
Ingredients

: (For 4 people)
400g Penne
400g Dosentomaten
2 cloves of garlic
Red chili pepper (quantity to taste and sharpness perception)
2 EL Olivenöl
Salt
fresh parsley
Preparation

:
Finely dice the garlic and cut chilli into thin slices. Together they give the oil in a large frying pan and fry on a low flame.
The canned tomatoes after the removal of the shank – I check these before use, remove green shares and still sometimes existing shell – mash with a fork and add to the remaining ingredients.
Season the tomato with salt and let them simmer until the sauce thickens slightly. Do not forget to stir.


Attention

: Please note the salts that the sauce then contains less liquid. so give better afterwards still add salt!
the penne cook in the meantime in salted water until al dente.
Once the pasta is al dente, place them in the pan for Sugo and toss everything well.
spread over the pasta before serving some parsley. Finished.
Sounds simple? It is! Who needs frozen pizza and Co., if you can conjure up a tasty dish without much effort and in less than half an hour so?
Without much Chichi you have a pasta dish here that (even on simple dishes in the photos Villeroy & Boch – Craftsman series) Done, looks noble and therefore suitable also great for guests.
But here pays particular attention to the chili amount, because everyone understands something else under "spicy" and we do not want that your guests will really nasty 😉
Enjoy your meal!
Enjoy your meal!
Elena