June 16th, 2014
Pesto Savarin – and once again, yeast dough…
After an unintended long blog break, I'm finally back. No, I was not on vacation and no, I have not lost the pleasure in blogging . But now and then you need to sit down and decide what are the really important priorities in life. For me, my blog is not on first place and thus I have no bad conscience if I have a certain amount of time with nothing new to publish, when family, professional or health reasons are taking toll…with a bit maybe 🙂
My loyal readers will certainly understand this and look forward all the more to new delights that there are to discover. During my "break" I have cooked and baked some tasty dishes. You can look forward to some hearty and sweet treats!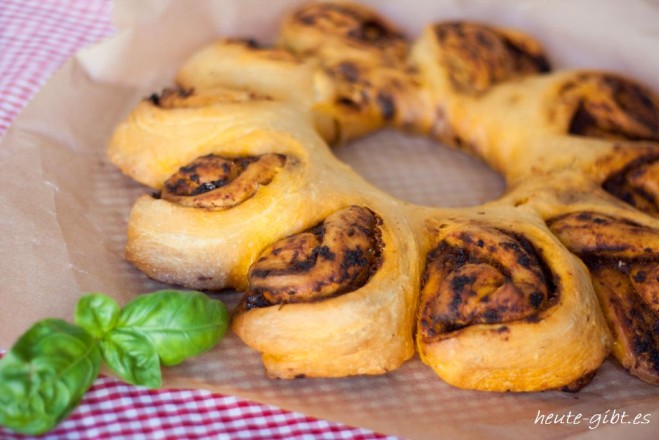 I want to break ground with a special bread. The yeast dough and I were not on friendly terms for a long time, because somehow it would never really work out. Now I know that it is only important that certain conditions are right when it comes to yeast dough. It must be kneaded good and long, the yeast must not be too old and the temperature at rest should neither be too cold nor too hot. By adhering to these conditions, the dough always succeeds.
Meanwhile, I grow to like it and after my Mediterranean Pull-Apart BreadI would like to present to you today a pesto wreath, which it already several times on various occasions, such as birthdays or barbecues, was with us. The original recipe I found years ago on chefkoch.de and changed something. Here is my optimized recipe: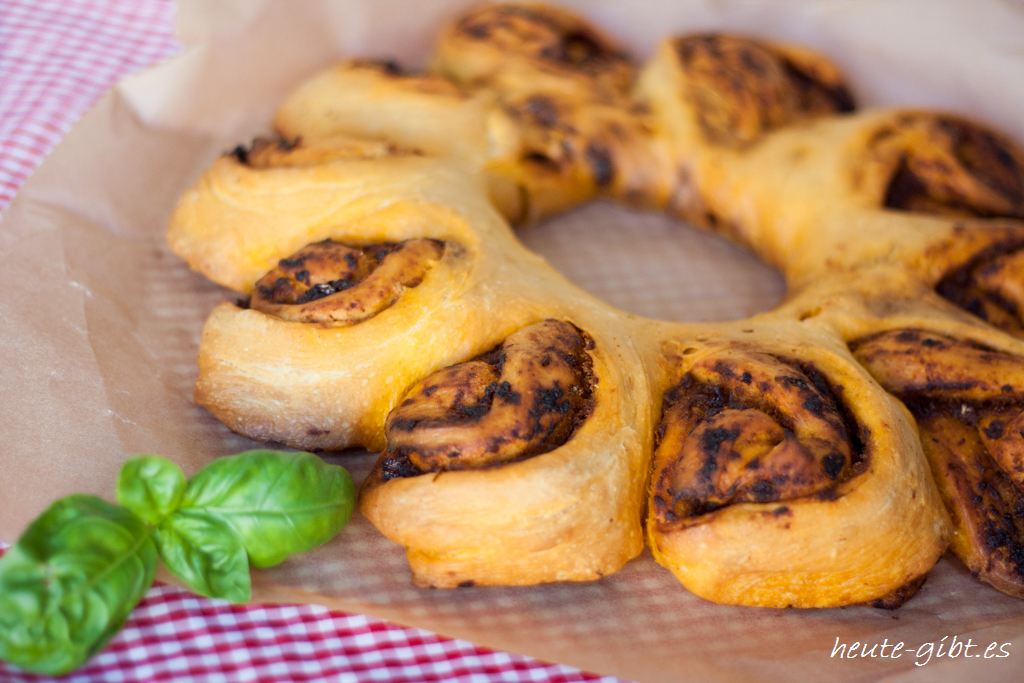 Pesto Savarin
Ingredients

:
450g flour ( a little more if needed)
1 packet of dry yeast
2 tsp. Salz
300ml lukewarm water
250g red pesto
some olive oil
Preparation

:
Mix flour, yeast and salt together with the water in a bowl and knead to a smooth dough.
Whether you do this with the dough hook of a hand mixer, a food processor or by hand, ultimately does not matter. It is important that in the end the dough is smooth and not too sticky. If necessary, add some flour.
Put a little olive oil into a bowl, shape the dough into a ball and roll it inside the bowl until a film of oil has formed on the dough ball.
The bowl is then covered with a damp tea towel and put for 1 – 1 1/2 hours in a warm place until the dough has doubled in volume.
Knead the risen dough on a lightly floured surface, for about half a minute and leave it covered to rest for another 5 minutes.
Roll the dough into an approximately 30×40 cm rectangle shape.
Spread the pesto evenly on it, but spare 1 cm at each edge
Now the rectangle is rolled up from the long side and the seams are pressed together firmly.
Warning: Do not press the ends of the roll here!
Brush a baking sheet with oil.
Now comes a slightly tricky part: The dough roll is placed with the seam side down on the baking sheet and then closed into a ring.
At intervals of about 5 cm the rim is to be cut in, so that on the inside around 1 cm of batter connects the wreath.
Rotate the he resulting dough pieces to lay them flat on their side so that you get a ring, something that looks like on the photos. Cover the savarin with a dry kitchen towel and leave to rise for another 45 minutes.
Preheat oven to 220 °C (fan).
Usually some oil from the pesto accumulates at the baking sheet after the rest period. Spread it with a brush evenly on the rim. Should this not be the case for you, brush over the wreath with a little olive oil.
The pesto wreath is baked golden brown at 220 °C for 10 minutes initially and then at 190 °C for another 25 minutes.
This crown goes well with grilled or just because. You can also vary times and instead of red and green pesto use. It tastes just as good 🙂
The lovely Stefanie from the Blog "Schön und fein" just organized the event "Groundhog Day of the dough", on her blog In which she seeks our dough recipes. They then are collected in an e-book in PDF format that you can download afterwards. Since this is a great idea, I want to contribute my pesto savarin.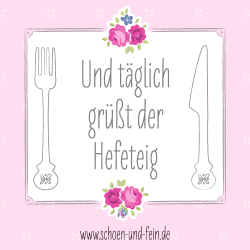 Best wishes and see you soon
Elena