August 5th, 2014
Peach feta salad – a guest post from the "Kochpsychiater"
Hello everybody, we have a very special visit today. Once again I invited a guest for my short summer break, that is two guests, this time around. Birgitt and Michael usually write on the blog "Die Kochpsychiater" and I was allowed to meet her at a bloggers meeting. Your meeting today hold both here and they even brought something very tasty 🙂
Hi there, nice to see you're here, as well! We are the "Kochpsychiater".
You do not know us? Well, we understand you've never been to the psychiatrist. Nevermind, one time is always the first time.
Today you may enjoy your first, very relaxed "Kochpsychiater" therapy session, on the couch with us.
So we are the "Kochpsychiater" with a private kitchen surgery in Swabia.
On our blog we give you in a humorous way, insight into our everyday kitchen madness.
Are we a little insane? Well, sometimes maybe. Admittedly, a blog led as Mr. and Mrs. Doctor psychiatrist, appears somewhat weird. In any case, our kitchen surgery is different than any other food blog.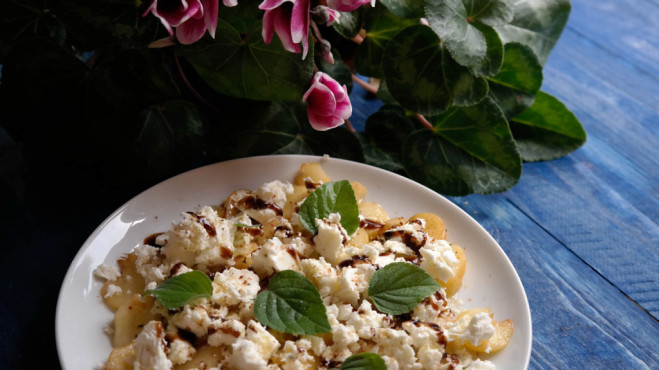 Sometimes when watching through an open window, it smells like chocolate, as we live in a chocolate city :-). While this fits somehow, when you're a food blogger, in the morning at 7 o'clock even the most ambitious blogger has some problems ...
Cooking and baking accompanied us for over 40 years, so we can draw on quite a wealth of experience.
Also, because we both have learned cooking and baking from scratch by our mothers and at school it later was common that you learned how to cook. Not just now and again, but for a few years.
As such a therapy session makes one rather hungry, we have brought a very tasty peach and feta salad for you. This salad is very quick in preparation and very refreshing during a hot day
Enjoy your meal!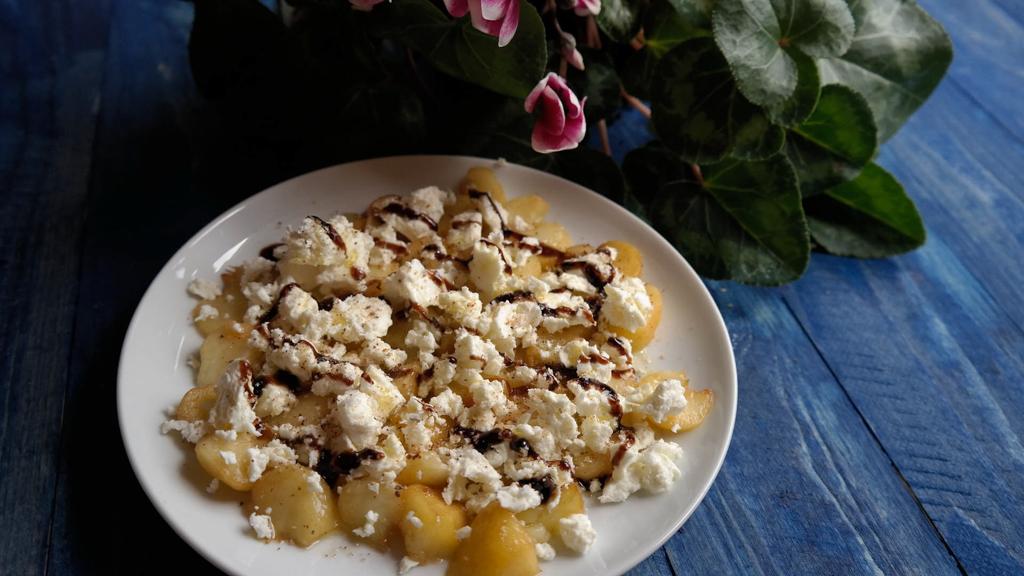 Peach and feta salad with fresh pineapple sage
Ingredients

: (For 4 people)
4-8 ripe vineyard peaches (the amount depends on size and hunger)
400 g feta cheese
a few leaves of fresh pineapple sage or mint
Balsamic vinegar cream
Juice and zest of half a lemon
good olive oil
fleur de sel
white pepper
Preparation

:
Peel the peaches
If the peaches are ripe, this should not be a problem. Otherwise, hold the peaches briefly into boiling water, then they can be peeled easily.
Cut into slices.
Arrange on a large plate.
Divide the feta with your fingers into larger pieces and spread over the peaches.
Rub lemon zest over the plate.
Add balsamic vinegar cream, olive oil and lemon juice and season with fleur de sel and white pepper.
Spread pineapple sage leaves
Serve with:
Fresh pita bread and a light white wine
Thank you so much for this refreshing salad, to the both of you! Especially at high temperatures this is a good alternative to savory food.
You desire another session with the "Kochpsychiater"? Render them a visit at their doctor's office 😉
Bye for now
Elena
This post takes part in the series "Übern Tellerrand" :