February 4th, 2018
Piadina – a classic of Italian street food
After a long break, it goes from now on with the blog Category: "Italian Kitchen – Learn all about. , ,"Which was so well with you last year. Whom the whole nothing says I recommend the blog post about my potato gnocchiWhere I everything is explained in detail.
In February I decided after a lot of thinking for one I think is very exciting and often underestimated topic:
Italian Street Food
I am a big fan of delicious dishes that you can buy at a concession stand or on a weekly market and eat right out of your hand. In Italy, the street food scene is huge and goes far beyond the slice of pizza and Panini out! Each region has is scattered in certain specialties that are produced only there and there are many things against it over the boots.
On February Sundays I want to show you some of my favorite dishes at home too can be produced easily. Street food in your own home crying quasi for a cozy evening with friends and family!
The beginning of this series makes a nondescript flat bread from the Emilia-Romagna: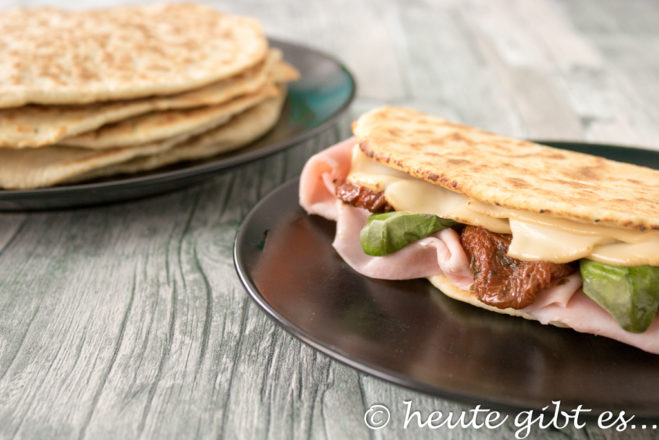 Die Piadina
Die Piadina – or even just called piadina – has become known not only in northern Italy but to the south. This very simple bread is so popular mainly because it is so variable due to the different fillings. Often you can put together the stuffing yourself at certain food stalls, similar to panini.
Typically, the cakes are after they are kneaded from a few ingredients and shaped baked on a terracotta plate. At home you can simply take a pan, or if available, a cast iron pan. After filling, you can watch the Piadine instead on the pan and heat briefly in a contact grill and enjoy warm.
Traditionally, these breads are made with lard and will not be vegetarian. This, incidentally Foods in very many upgrades of the Italian Street, which is perhaps not really aware of most vegetarians. If in doubt, in Italy, to ask if the dough "lard" is used.
At home you can but very simply a vegetarian or vegan variant cook by her lard replaced by oil and milk by water (see tips in the recipe box).
Thousand and filling!
When it comes to the filling of the piadina, your imagination knows no boundaries. Rages you out, experimenting and mix you something delicious from all your favorite ingredients together. Popular combinations such as salami, scamorza affumicata, fresh tomatoes and arugula. But roasted peppers and chicken breast are ideal, depending on what tastes you personally!
When putting together your filling you have to just be careful that you use not only dry ingredients. so your total piadina so is not too dry, I always recommend a slightly "juicier" to use component. Possible ingredients are here for example pieced fresh tomatoes, pickled in oil tomatoes, pesto, aioli and tapenade.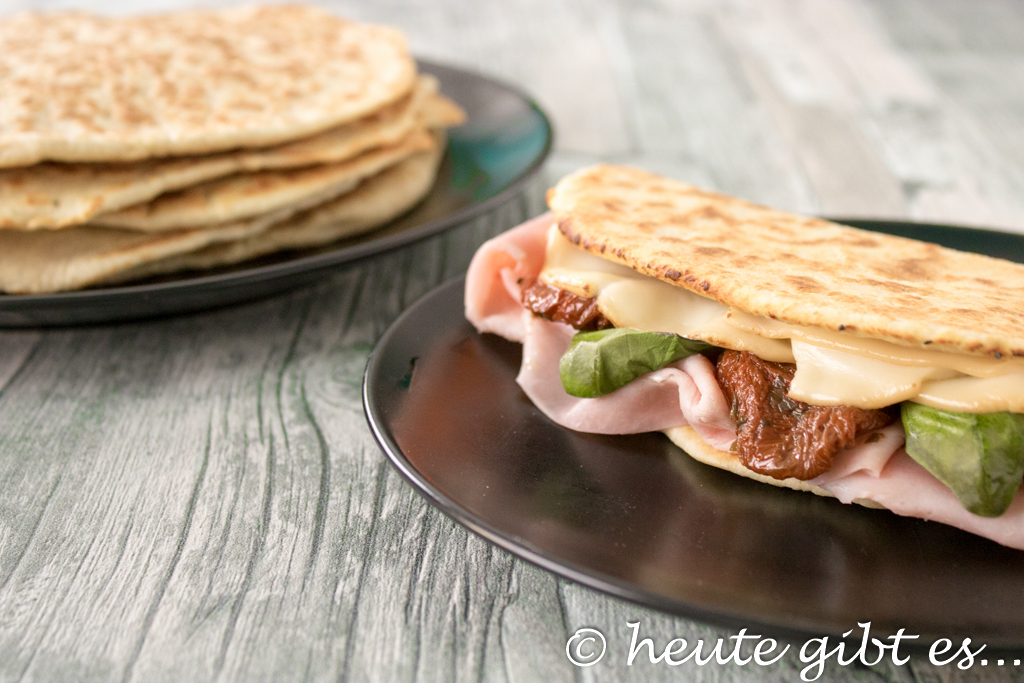 Piadina
Ingredients

(6-7 pieces)
500g flour
100ml milk
100 ml water
100g lard or oil 100ml tasteless
½ TL Salz
½ TL Natron
Preparation

:
The ingredients to a smooth dough, knead and 6-7 form equal sized balls.
First push the balls with your hands flat and then roll out with rolling pin to about 2-3mm thick patties. This should be about 25cm in diameter.
A (cast iron) Preheat the frying pan and pancake then over medium heat on each side max. Bake for 2 minutes.
Fill the Piadine whim. Here, spread on half of the bread, the filling, fold it in half and reheat from each side for 1 minute in the pan, so as cheese could melt.
Serve warm and enjoy.
Important tips and information:
Traditionally used lard, the vegetarian alternative to oil is high but no worse.
milk exchange for a vegan version also completely by water.
When filling is often ham and salami with cheese such as Provolo dolce or affumicato combined and supplemented with fractional cocktail tomatoes and fresh basil.
Here you can but your own taste create new combinations and let your imagination run wild!
The Piadine be kept in a plastic box up to 2 days in the refrigerator.
The pita bread can be frozen on stock. For this freeze the unbaked cakes between plastic wrap. take to prepare 15 minutes earlier from the freezer, so they are flexible, and bake as usual.
This recipe is now one of my "fast Feierabend kitchen", The ingredients I have except the lard almost always at home, this is but simply replaced by oil in doubt and there is a vegetarian option. A filling can also be very easy to mix from radicals. You see, over easy!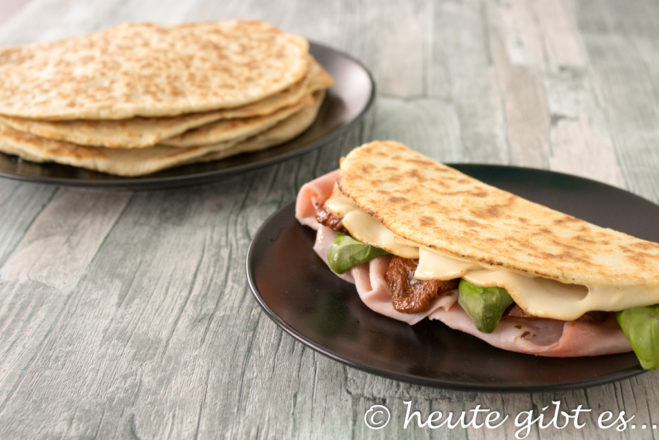 but now I'm curious, how do you like the subject in February and am curious what dishes you even think of food to Italian Street. Let me know in the comments!
Bon Appetite
Elena