February 11th, 2016
Pizza Pull Apart Muffins – Piece by piece a delight
Do you know the smell of freshly baked pizza, fresh herbs and delicious, melting cheese? A fragrance as you might know him from the holidays in Italy or the visit to the favorite Italian. Just as it smells when you nachbackt today's recipe – for me as a bit homeland.
I love to interpret recipes, replaced or provided with an Italian touch. For this reason was for me when I look at a special muffin for our Pop Up Bakery next Saturday should consider equally clear that this must be Mediterranean touch. From a thought an idea and then then the recipe for the pizza Pull Apart muffins originated.
But without sample jaws we serve – these are Judy, Natalie, Sonja also known as the and myself or Kuchenquartett 0711 – Nothing on our Pop Up Bakery. With the necessary ingredients and a television crew in the luggage 😉 we made our way into my kitchen and it tried us four delicacies from the muffin tin to create.
If you want to see live in action us (again) looks best the contribution to our Pop Up Bakery in which at 11.02.16 at SWR "Essgeschichten" has been released. (We are 😉 on display from 23 minutes)
As my Pizza Pull Apart muffins not only looked good but also taste really delicious, I want to tell you the exact recipe for this.
Ahead to calm: It looks more complicated than it is and the effort is worth it for sure!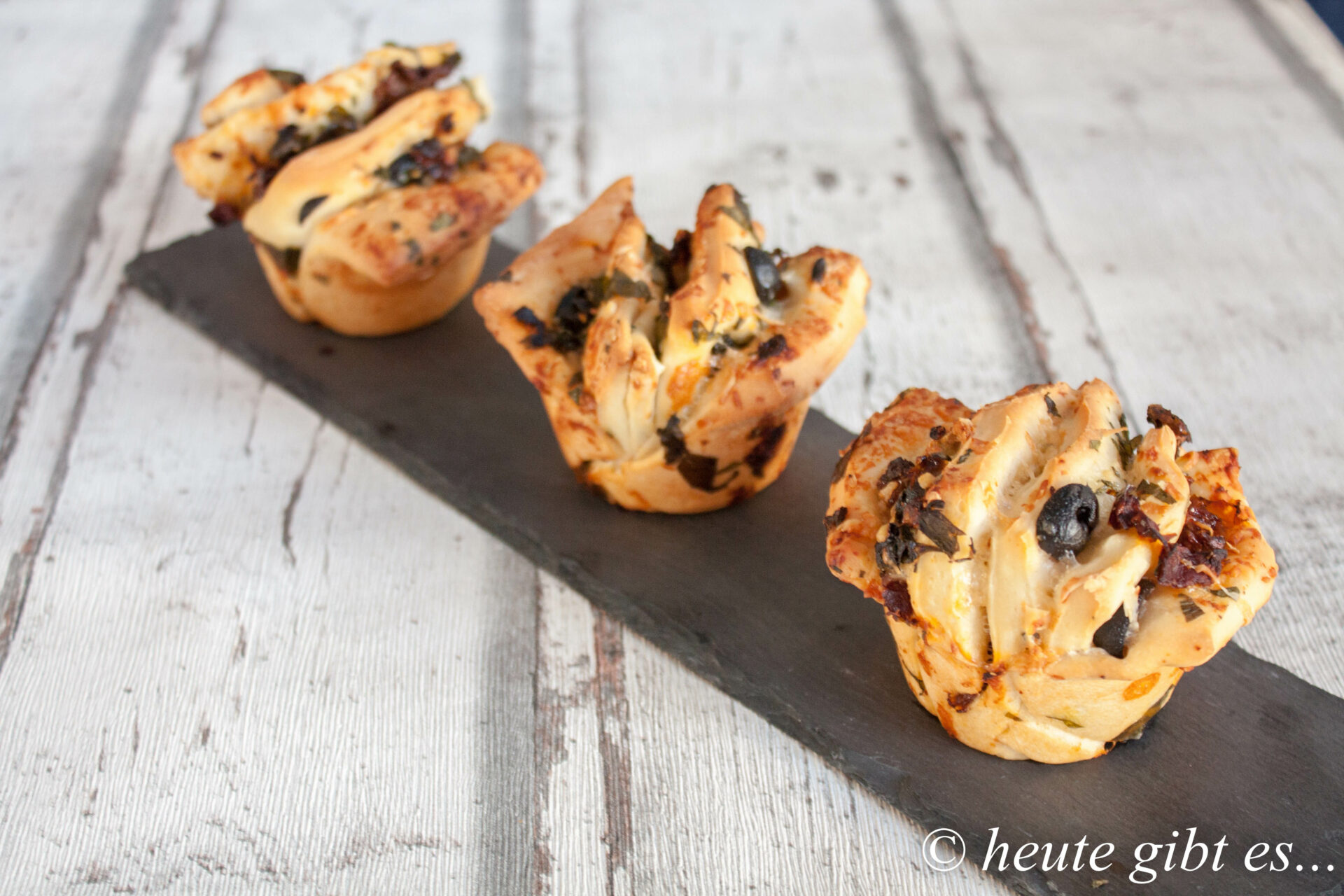 recipe
Total time
2h 30min
Pizza Pull Apart Muffins
Ingredients

: (für 12 Muffins)
For the dough:
90ml milk
200ml water
1 packet (7g) dry yeast
50g weiche Butter
1 tsp sugar
550g Mehl
2 tsp. Salz
For the filling:
75g Parmesan
50g goat cheese
100g pickled in oil, dried tomatoes
70g black, pitted olives
40g fresh herbs (basil, oregano, parsley)
3 cloves of garlic
Preparation

:
The milk with the water just warm in a pot so that the liquid is lukewarm.
Dry yeast, sugar and butter and stir it.
Mix flour and salt, add the yeast mixture and knead to a smooth dough. This then covered for about 1 hour in a warm place let it rest until it reaches about twice the size.
chop Meanwhile, herbs, grate the cheese, cut the tomatoes and olives small and put everything aside.
Roll out the dough on a lightly floured surface to a rectangle. The dough should be about 0.5 cm thick here.
Now distribute cheese, tomato, olives and herbs on it. The peeled cloves of garlic presses and also to give.
Using a knife, cut the dough into about 5 x 8cm rectangles, always stacked 4-5 rectangles together and squeeze gently with your palm.
Pays attention to the fact that the last piece of dough with the filling does not show up.
Then the muffin tin grease and set a respective stack vertically in a trough. The muffins covered again let rise for 30 minutes.
Meanwhile, the oven to 180 ° C (circulation) Preheat.
Bake in hot oven about 25 minutes, then remove from the mold, allow to cool briefly and enjoy.
Stay tuned her like my interpretation of the Zupfbrotes tastes?
Then comes this weekend at our Pop Up Bakery in Melva Fashion Café.
You're curious about the special muffins the other girls?
But then rapidly clicking over and let yourself inspire by their tasty creations:
Sonja "Fructosearme Upside Downies"
We would be delighted to welcome you to on Saturday!
Goodbye
Elena