May 31st, 2015
Eggplant meatballs with tomato sauce – Italian eggplant balls with tomato sauce
Goodmorning everyone!
Today I take you with me. Rather, in my true homeland: Italy. On Facebook I have weeks ago announcedThat my blog will go a bit more in the Italian direction in the future. While there will still be food from other countries – for that I just experimenting to like – but I want to show you some more of the true Italian cuisine with which I grew up.
What awaits you there: Basics (homemade pasta, risotto, …), As well as local dishes. There will be classic, but also regional specialties that are perhaps not as well known in Germany. I want to convince you that the Italian cuisine is varied and has more to offer than pizza or spaghetti bolognese. It would please me if you accompanied me on my trip to Italy and get inspired by me let.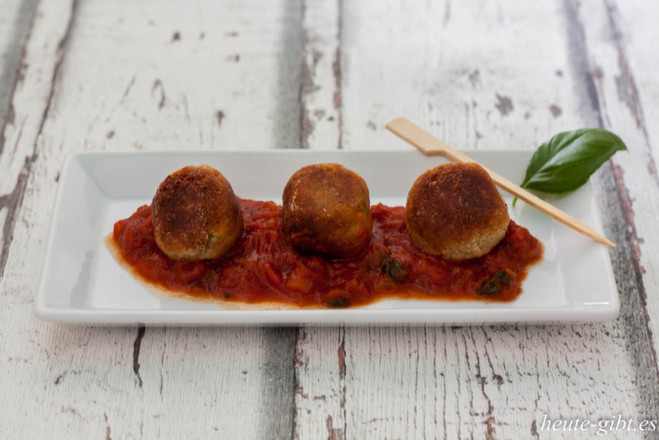 Once it here already some Italian dishes was, I want something might imagine today less known: Eggplant meatballs with tomato sauce – or German: eggplant balls with tomato sauce.
The balls are made relatively quickly, only for the tomato sauce you should schedule some more time. This tomato sauce from the recipe you are with about 45 minutes of cooking, but still relatively well off, because usually simmers an Italian tomato sauce considerably longer. But worth it for sure!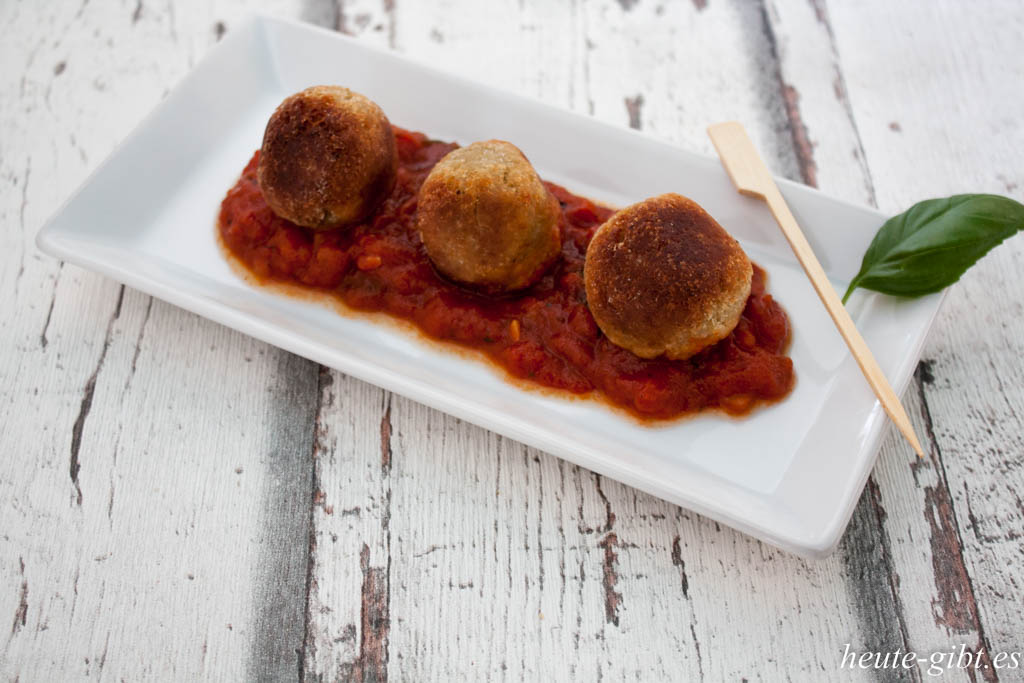 recipe
Eggplant meatballs with gravy pomodore
Total time
1h
Eggplant meatballs with tomato sauce
Ingredients

(For about 16 balls)
For the tomato sauce:
2 cans peeled tomatoes
1 small onion
1 clove garlic
2 EL Olivenöl
10 basil leaves
Salt and pepper
optional: soda, dried basil
For the Polpette:
1 eggplant (about 230g cleaned)
130g Paniermehl
1 egg
130g grated Parmesan cheese
some flour
tasteless oil for frying
Salt, pepper, nutmeg
Preparation

:
Tomatensugo:
clean onion and garlic and chop both finely.
The oil in a saucepan, add onion and garlic and fry until soft.
Then the tomatoes – after removal of the shank – coarsely chop and add.
Adjust the heat of the oven so that the Sugo slightly simmering and cook for about 45 minutes. The finished tomato sauce should be thick, but so that the tomato pieces are still recognizable.


Hint

In my family we use always a little baking soda to neutralize the acid. If you want this also to try, then the soda give about 20 minutes after the start of cooking in the sauce.
But beware: Go sparingly in order, otherwise the sauce has a funny taste that you get little more away. As a guideline for this amount Sugo: about 1 pinch of baking soda.
add salt to Sugo for about 5 minutes before end of cooking and pepper, chop the basil leaves and stir into the sauce.
Meatballs:
Eggplant clean, chop and boil in salted water for 10 minutes. The dice then strain and as they become lukewarm puree with a hand blender.
Breadcrumbs, egg and Parmesan eggplant to mass add and mix well with your hands. Season with salt, pepper and nutmeg and set for about 15 minutes in the refrigerator.
Once the mass no longer sticks to your hands, the balls form with your hands. These should be like a 2 € coin about the size of the diameter.
Heat the oil for frying in a pan, lightly flour the the balls and golden brown in hot oil, stirring frequently – or to taste a bit crispy – roast meat.
give the finished balls on absorbent paper so that the excess oil can thereby be absorbed.
The eggplant meatballs served (hot or lukewarm) on something warm tomato sauce and garnish with basil.
I personally eat the eggplant balls with a lot of tomato sauce in which I eintunke bread. This is typical in Italian cuisine. So do not be surprised the next time Italy vacation, if you get served with the main dish bread 😉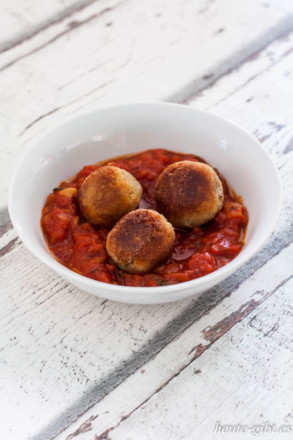 How did you like this dish? Maybe it knew one or the other might have? If something is unclear, do not hesitate to ask me.
I would be happy if you expressed to me about the comment feature requests regarding future recipes!
Bon Appetite
Elena