November 26th, 2017
Pumpkin Spice Granola – autumnal pumpkin granola homemade
If you're one of the many people who are already in a Christmas mood and have a master plan, all of which must be completed by Dec 24th done, I have bad news for you, you willy-nilly have to to your to-do list extend the current recipe that is perfectly suited as a Christmas gift from the kitchen.
But actually today's recipe for the people has emerged, the same way I displace Christmas and prefer to enjoy even the autumn and the associated pumpkin time. I love pumpkin and try every year new recipes with vegetables from this. Last year's hit here was the Kürbis-Crème Brûlée-PieThat I could bake within 3 months all 15 times (!).
This year I experimented and got my inspiration from the American Pumpkin is here used to cover the pumpkin pie spice blend of spices. The result is a mega delicious granola, a homemade muesli with pumpkin and spice mixture called. This fits perfectly with yogurt and fresh fruit and can also serve as a crunchy component desserts to taste.
If you no Pumpkin Spice is the way in your supermarket, it is not a problem, because you can this very easy to mix in a few spices and store in a spice tin over several months. I'm always so 🙂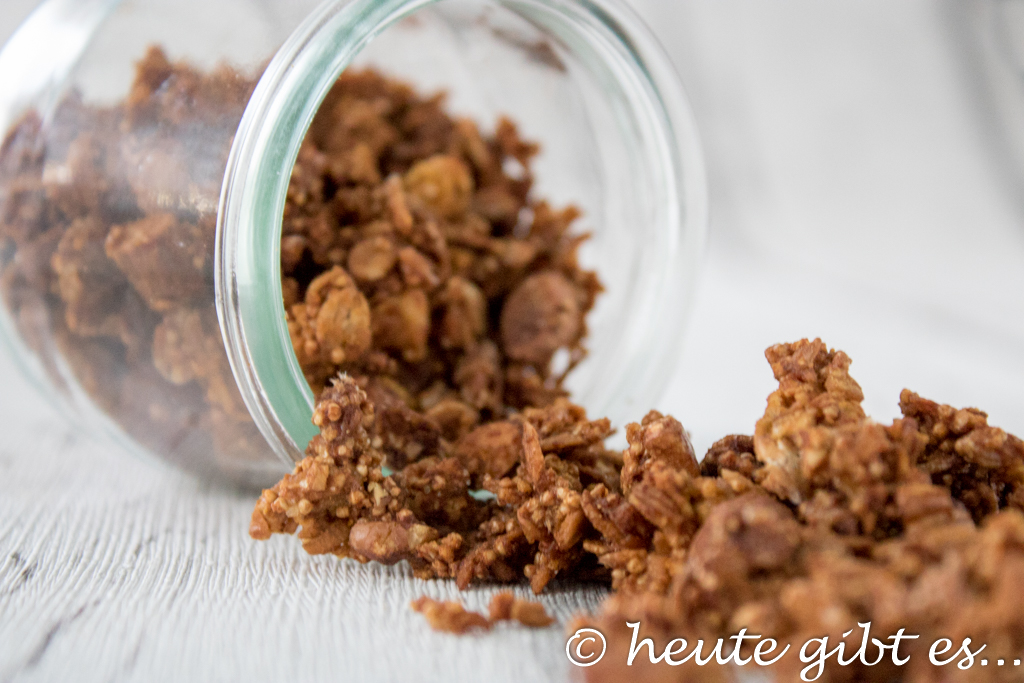 recipe
Total time
1h 15min
Pumpkin Spice Granola
Ingredients

(About 6 servings)
200g Hokkaido pumpkin
70g almonds
70g walnuts
280g Emmer flakes or oatmeal
40g Amaranthpops
140g brown sugar
3 ½ teaspoon Pumpkin Spice seasoning or the following ingredients:

2 tsp cinnamon
1 teaspoon gem. ginger
½ tsp gem. cloves
1 pinch gem. nutmeg

40ml rapeseed oil
80ml maple syrup
Preparation

:.
Wash the Hokkaido pumpkin, unpeeled cut into cubes and cook with 4 tablespoons of water over low heat in a covered pot for about 20 minutes. Once you can purely pierce the pieces with a fork, mash them with a hand blender and let cool the Kürbismus.
Preheat the oven to 160 ° C (fan) Preheat.
In the meantime coarsely chop the almonds and walnuts and mix with the other dry ingredients in a bowl.
The wet ingredients add and mix everything together until a wet mass.
spread the mixture on a lined baking tray and dry in the preheated oven for about 30-40 minutes. Stir every 10 minutes, so that the granola can dry evenly.
Once the finished granola is dry, it can be stored in an airtight container is closed for several weeks.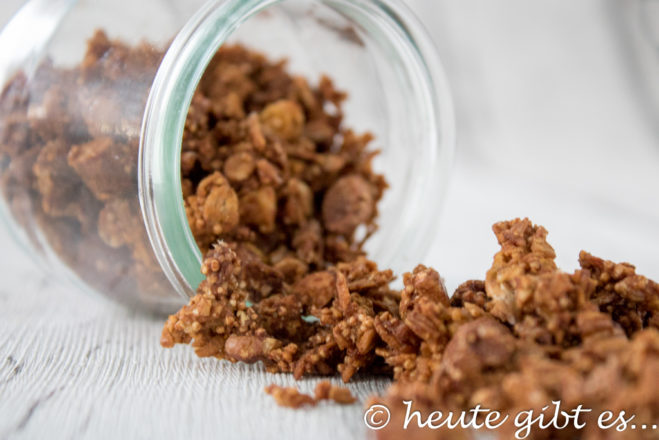 Are you a bit skeptical that that can taste like? Dare, because so far I could convince everyone of the special flavor of this granola!
For those of you who might initially in itself a somewhat "more normal" want to try variety and love chocolate, I can my Schoko-Knusper-Granola highly recommend.
Greetings
Elena