July 21st, 2016
Putenbrustwraps – ideal for picnics and parties
Long we had to wait, but now the time has come: The summer has arrived in Germany! While many complain about the heat, I feel at these temperatures really well! That was as a child and will probably not change.
As a child I even had a little ritual for the beginning of the summer: It was a little picnic with your best friends hosted on a beautiful meadow. picnic was – and is for me still today – a very exciting event. The time when people unpack the goodies out of their bags and baskets, is almost like unwrapping of presents at Christmas. Only with a crucial difference: Here you also have the "souvenirs" the other something. Anyone can try the ragtag buffet and mostly has followed new favorite snacks or dishes that you will remember for the future.
Unfortunately, the picnic is now rather become a rarity with us, which I think is really a shame. My ritual was eventually – probably during puberty where you're too cool for anything – no longer carried out. When I found out, therefore, that the next issue of Food Blog Parade "picnic" will be, I was immediately hooked. I really wanted to be there this time and introduce you to one of my dishes I've often taken for picnics as a child again: Wraps.
Quickly made, highly variable ago by the ingredients and super convenient to eat. I like to do from the wraps smaller rolls, so that everyone can try something. Today I introduce you to a version that tastes very fresh and the curry has an Indian touch.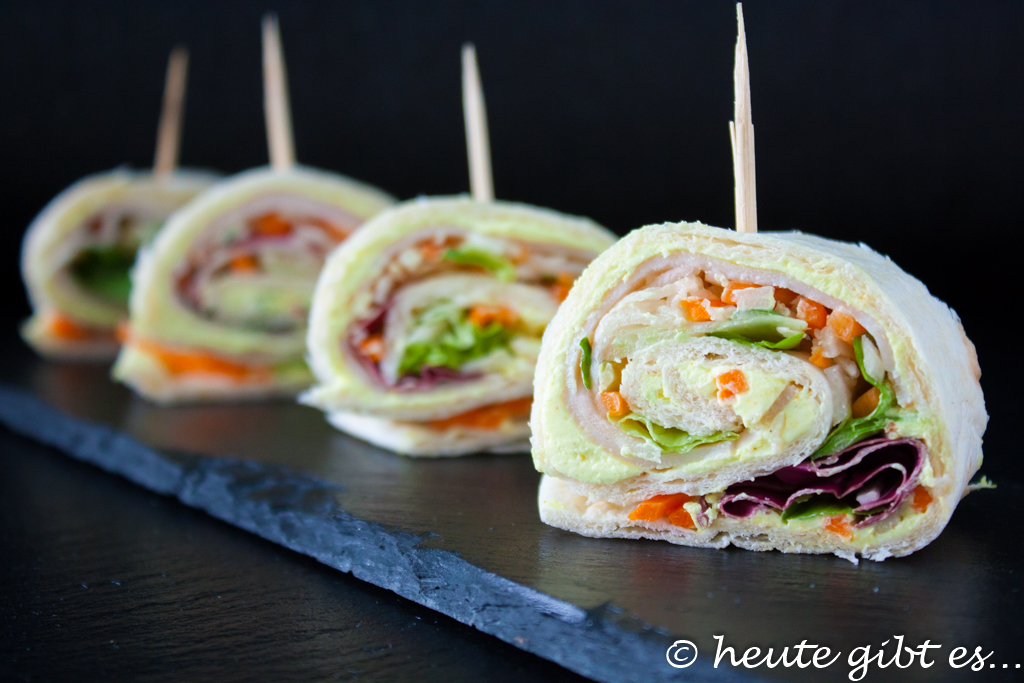 Putenbrustwraps
Ingredients

(2 wraps or rolls about 20)
2 Tortillas
4-6 sliced ​​turkey breast cuts (thinly sliced)
50g various green salads (lettuce, Lollo Rosso, radicchio,…)
a small carrot
100g cream cheese
2 EL Remoulade
ca. 1 TL Curry
Salt and pepper
Preparation

:
Add the curry for cream cheese to stir well with a spoon and season with salt and pepper.
The tortillas interpret and distribute the curry cream cheese generously in the middle, so even 2 cm left free at the edge, however.
distribute per tortilla 2-3 slices of turkey breast cold cuts (depending on size).
Wash the salad greens, spin dry and pluck into smaller pieces. Peel the carrot, grate and mix with the salad. Now distribute the salad mixture onto the turkey breast.
After that, each giving a spoonful of tartar sauce on the salad.
tightly roll up the end the tortillas careful. These can now be either in 2 parts, or 20 rolls, which are stabilized with a toothpick, cut and served.
The wheels make especially at party buffets very well and are very welcome on barbecues. Rages you in the fillings, try new combinations and find your own favorite.
Do you need more ideas for the next picnic? How would it be with Pizza Pull Apart Muffins or Red currant mini Gugelhupf? These are also great for any picnic basket and always well received.
If you want to know what other food bloggers wrap up in her basket, look for it on the Food Blog Parade past and discovers new, delicious dishes!

All the best
Elena