December 4th, 2013
Radicchiosalat with pears, walnuts and goat cheese
Christmas cookies, Stollen, fruit bread, gingerbread,… Somehow I have the feeling that in December sweet recipes dominate the Internet. I understand fully, even as I wait all year round anxiously for the Christmas season to finally start with the Christmas baking. However, if one is faced with primarily dominated by sugar recipes, I am longing for something salty. Therefore, there is now exactly this.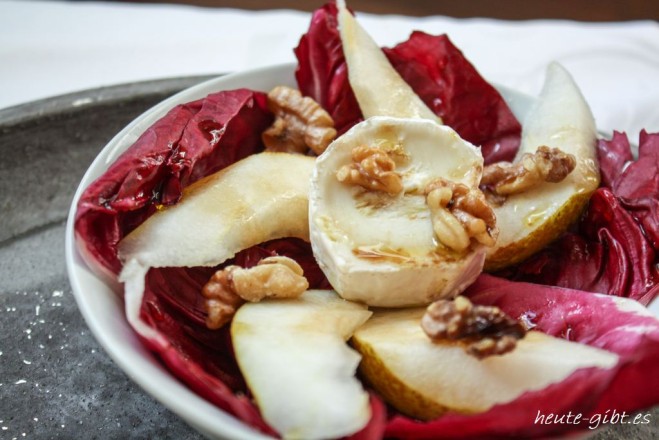 The recipe I have from the book "Two in the kitchen – Cookbook for happy couples" I presented last month. I opted for the simple reason for this dish, as I have when reading the title together ran the water in the mouth. I love radicchio and use it this time of year very much. Its bitter taste in combination with the sweet pears and goat cheese is just perfect.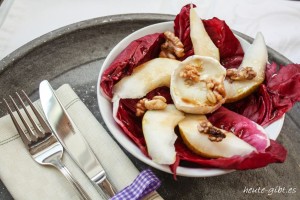 recipe
Radicchio salad with pears, walnuts and goat cheese
Total time
20min
Radicchio salad with pears, walnuts and goat cheese
Ingredients

: (For 4 people)
30g Walnusskerne
1 firm, ripe pears
½ tablespoon lemon juice
1 Kopf Radicchio
1 ½ EL Olivenöl
½ THE Balsamicoessig
95g medieval goat cheese, cut into 4 slices
Pepper and salt
Preparation

:
Preheat oven to 180 ° C.
Spread the walnuts on a baking sheet and roast for 10-12 minutes in the oven, being about 1-2 times must be stirred while. Once the nuts have easily get color – it smells nice here also then – this remove from the oven and let cool on a plate. Then roughly chop with a knife.
Pears if desired Peel, halve lengthwise and remove seeds. Then cut into thin columns and mix well in a bowl with the lemon juice so the pears from turning brown.
The outer leaves of radicchio and remove the inner spread, red on the plate.
For olive oil, vinegar and salt mix the dressing.
Spread the pears and cheese on the Radicchioblättern, the scatter walnuts over it, and then distribute the dressing on the salad plates. Finally, season with salt and pepper.
It's not a hot dish, which initially might appear atypical for the cold season, but it is essential to always eat something warm? Especially if you have friends to visit, this salad is great as an appetizer. He is quick to prepare and you can still impress the others 😉
All the best
Elena