May 14th, 2017
Bolognese Sauce – and why it's the perfect "Spaghetti Bolognese" not at all
The focus of today's contribution of classic Italian pasta sauces is simply: Bolognese Sauce.
Most of you this meat sauce shall be named "Bolognese sauce" and be familiar in combination with spaghetti.
In Italy, this term is not used and is called this popular sauce "ragout", Each region has its own version, and is the best known from Bologna.
"Spaghetti Bolognese" – anything but typical Italian!
The court "Spaghetti Bolognese" gibt es so in Italien nicht, denn die Kombination des Ragù mit dieser Nudelsorte ist außerhalb Italiens entstanden und alles andere als typisch italienisch. Solltet ihr im italienischen Restaurants in Deutschland oder im Urlaub dieses Gericht auf der Karte lesen, könnt ihr davon ausgehen, dass es nur aus touristischen Gründen darauf zu finden ist.
Anyone who has ever tried to eat spaghetti with bolognese sauce has probably already found that the anything but easy: The noodles are so smooth that it hardly adhere meat sauce or no remains, that collects at the plate base and closing is usually spooned. If you can reassure you have previously doubted your Esskünsten I: No Italians combined spaghetti with meat sauce, precisely for the reason mentioned above.
What then adding with us? Typical are tagliatelle or fettuccine wider. Similarly to the filled pasta or Gnocchi this sauce is often served.
For a classic lasagna meat sauce, incidentally, also requires that along with the bechamel sauce typical "Filling" results.
">">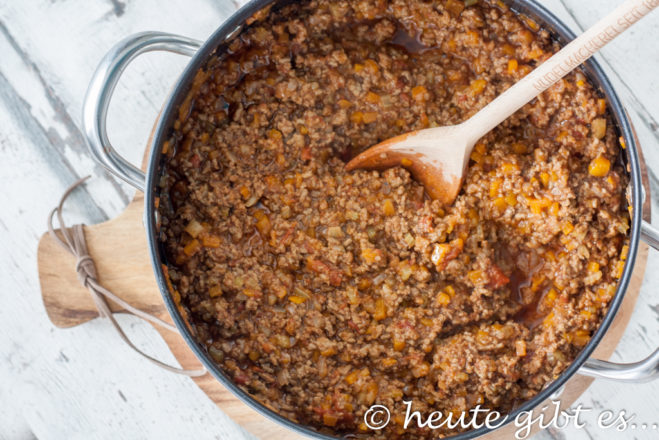 What you need for the perfect meat sauce?
Again and again I am asked for the perfect recipe for this sauce. But what is perfect? Every family in Italy has its own family recipe. Ask a thousand Italians and you get a thousand different recipes. Some use some pancetta or guanciale, some take butter, the other only oil while individuals use milk, others find again impossible.
I personally do not think much of it the perfect recipe to speak. Ultimately, you have to look through trial and error and individual taste of HIS perfect recipe.
But two things are definitely necessary for a good bolognese sauce: A good "Saute" and a lot of time!
The "Saute" – die Basis des Ragout
If the base is already bad, the end result certainly can not be good. For this reason, it is important that you can not underestimate the so-called Soffritto. So that meant is small diced vegetables that is cooked at the beginning. It is important here that it is not too hot in the pan, the vegetables really just have to cook and do not fry.
Whether one is butter, olive oil or a mixture of both now uses matter of taste. Many often give Soffritto the ground meat added and then fry it in sharply. As a result, the required temperature is much too hot for the vegetables and the meat is in the frying a lot from fat. Thus the entire sauce is too greasy for my taste, so I prepare the Soffritto separately from meat and later both combined.
A good sauce takes TIME
"In 20 minutes the perfect sauce", solche Überschriften in Zeitschriften und Online-Magazinen lassen mich immer stutzig werden. Denn wenn ich etwas von meiner Oma und Mama gelernt habe, dann die Tatsache, dass eine gute Soße Zeit braucht. Je länger eine Soße köchelt, desto besser wird am Ende auch der Geschmack.
It is important that the cooking temperature is kept very low, the pressure cooker is open and you stir it every now and then. At least 2 hours should simmer your sauce anyway. Note that you should give no salt at the beginning, because the result of the reduction of fluid through the cooking process could be much too salty. Salt and pepper Please only add if the sauce is almost done and you give the pasta to the cooking water.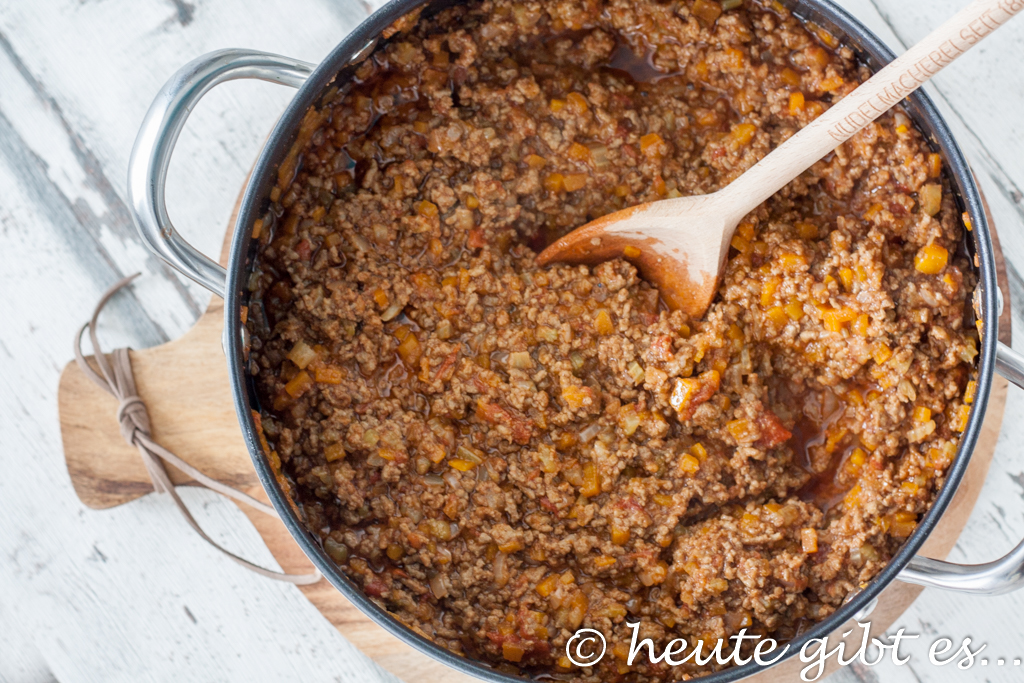 Bolognese Sauce
Ingredients

: (6 persons)
3 carrots
3 celery sticks
2 medium onions
100g Butter
1 dash of olive oil
1kg Rinderhackfleisch
50ml dry white wine
300ml milk
2 cans peeled tomatoes 400g
Salt
Pepper
Preparation

:
To prepare the Soffritto clean the vegetables, peel and finely chop.
the butter in a skillet melt, right at the beginning to give the shot of olive oil.
The vegetables over low heat (!) In it for at least. Cook 20 minutes. This should be at the end of glassy and soft.
Hint: As the next Soffritto the remaining steps is made parallel, this can also be cooked until it needs to be added to the other part of the sauce.
In the meantime, fry in a large pot the meat as long stirring sharply until it begins to get dark brown.
The meat with the white wine and deglaze, then add the milk while stirring.
Boil the whole medium heat briefly, add the tomatoes and let everything boil again.
Now the Soffritto also add and simmer for at least 2 hours at low heat and open pot the sauce over low heat.
HintThe longer your Ragù simmers, the better this taste in the end!
After cooking the sauce to taste with salt and pepper, ready.
If you wonder why I do not use fresh tomatoes, then that has a very specific reason: Here in Germany, unfortunately, the tomatoes often taste like nothing, especially in the winter months. Since the taste of canned tomatoes is often more intense and therefore my first choice but I get aromatic tomatoes. Then you can the recipe, of course, using the fresh vegetables make.
By the way, you can keep the meat sauce up to a week in the refrigerator, but also easily freeze. In the freezer this without loss of quality for 2-3 months holds.
See you soon
Elena