August 20th, 2013
Ratatouille Auflauf – breathed African
Today, a couple of vegetables are the focus, with whom I really enjoy cooking and often. Zucchini, eggplant and tomatoes. In Italian cuisine, there are – without overdoing it – hundreds of dishes in which this vegetable is used. Whether with pasta, as a tart in muffins, in bread, fried, stuffed, baked,… the possibilities are endless. Just because this vegetable is so changeable, I use it to be. Here I cook not only time-tested dishes that I learned from Mom, but also like to try new things.
Last week I discovered on lecker.de a recipeWhich sounded great and inspired me to cook. As home to the listed in the recipe chili flakes everything was available, I decided to modify the recipe a little. After I stopped in the closets for an alternative, I noticed the Berbere one, which I about a week ago in Violas' 've bought.
Berbere is a sharp, African spice mixture that I knew from an African restaurant, I like to go my husband and. When I this when Viola' discovered she had with the same. A specific use that time I had not, but why not really the ratatouille from lecker.de add an African touch?
recipe
Total time
1h 15min
Ratatouille Auflauf
Ingredients

: (For 4 people)
2 cloves of garlic
2 onions
8 THE Olivenöl
1/2 TL Berbere
1 tablespoon tomato puree
Salt and pepper
4 tomatoes
2 Zucchini (to ca. 250g)
Eggplant 1 (at ca. 250g)
125g Mozzarella
Preparation

:
Peel the garlic and the onions, then chop the garlic and cut the onions into thin rings. Both fry together in a pan with 2 tablespoons of hot oil.
Berbere and tomato puree, stir and sauté briefly. Sprinkle with salt and pepper well and then spread evenly over the bottom of a baking dish.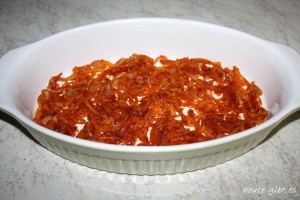 Preheat the oven to 180 ° C.
Clean Meanwhile, tomatoes, zucchini and eggplant, wash and cut into 2-3mm thin slices. These are now alternately layered in the baking mold, then vigorously seasoned with salt and pepper and sprinkled with 6 tablespoons oil.
Cover the baking dish with aluminum foil and bake in the oven for about 45 minutes.
pluck the mozzarella into small pieces and to remove the aluminum foil on the vegetable spread.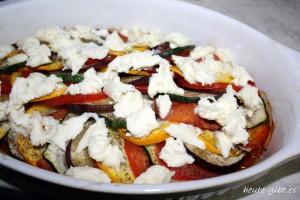 Bake the casserole at the same temperature for another 15 minutes.
Done 🙂
Those who do not Berbere at hand or who is not in Africa feel, can use as in the original recipe chili flakes instead. Also peppers is certainly good to watch. Instead of plain mozzarella tastes certainly not wrong buffalo mozzarella or feta. just experimenting a bit, I like to do this as a chemist anyway 😉
Enjoy your meal!
Greetings from my now somewhat more African cuisine
Elena