March 14th, 2017
Ravioli with radicchio – filled pasta with thyme and cheese sauce
Do you remember the love from Zorra Blog cooking potI with my Food Talk Had presented? As I have already told you there, they held each month on her blog a blog event with a changing hosts.
This time I have the honor and did one of my great loves as a theme: stuffed pasta!
Until tomorrow (15 March 2017) have to create a corresponding recipe her time. You can find more about this on the relevant page of the blog events, simply by clicking on the event banner!

Of course, I had a recipe to contribute, even if I – Shame on me – a little late my turn. There are a thousand ways how to fill pasta and I have caused you to go to my pasta rolls shown. Or do you remember the Mediterranean stuffed ravioli?
This time I chose ravioli, which I had not chosen a classic filling, but have decided on the combination of radicchio and ricotta. The whole thing is served with a delicious thyme and cheese sauce!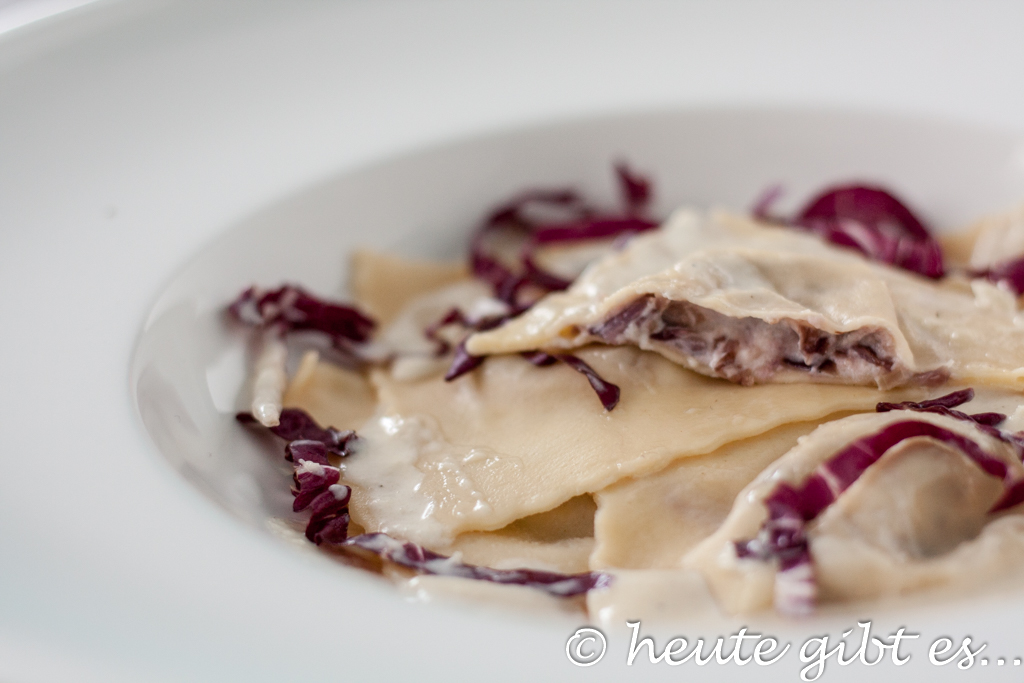 Ravioli with Radicchio
Ingredients

: (For 2 people)
For the noodles:
200 g Semola Rimacinata (alternatively 100 g of flour and 100 g of durum wheat semolina)
2 eggs
a drizzle of olive oil
For the filling:
1 tbs. olive oil
1 shallot
100 g Radicchio
125 g Ricotta
50 g Parmesan
Salt
For the sauce:
200 ml Scene
1 clove garlic
2 sprigs fresh thyme
30 g Parmesan
For the decoration:
a few leaves of radicchio
Preparation

:
The ingredients for the dough with your hands or a food processor to a smooth, elastic dough knead. This then wrap in plastic wrap and let rest at room temperature for 30 minutes.
Meanwhile, the filling for the ravioli is cooked. This, first cut the radicchio into thin strips and chop the shallot. Heat the oil in a frying pan containing therein until glassy diced shallot and add the Radicchiostreifen. These fry about 5 minutes and let cool down.
Once the radicchio has cooled, this very finely chop, add the ricotta and the grated Parmesan cheese and stir until smooth. yet to taste with salt and in the end make the filling aside.
For the ravioli dough must be rolled out. This you can do either with a rolling pin or a pasta machine. The dough should be so thin at the end, that you present your hand can see through it.
Tip for Kitchenaid owners: I roll for my stuffed pasta dough always up stage
It's best to roll two equally long strips of dough, puts them on a well-floured surface and fills it before it rolls out the remaining dough. Of course you can roll out and the entire dough with the pasta machine and then fill all the pasta plates. It is important that you, in both cases the dough, which you are not using it, covers and protects against drying!
About walnut-sized amounts of filling at intervals of about 5 cm spread over a noodle plate.
Personally, I like to fill the filling in a pastry bag, you can to distribute as well just take one or two small spoon. Look at what is dear to you!
For bonding we do not need protein, but only water. This thin paint around the filling.


starting slowly place whilst holding the dough slightly, so that the pasta plates stick together well, in the ravioli but have no air now from one side of a second pasta plate on the loaded with filling.





Finally, cut the ravioli with a pastry wheel and stored during the preparation of the sauce on a floured work surface, covered with a cloth.





For the sauce chop the garlic into small cubes and heat together with the cream and the thyme over medium heat. Once the sauce tastes add (about 5-8 minutes) add the grated Parmesan cheese, melt it and bring to the boil just slightly thyme. still add salt and pepper at the end.
The ravioli in boiling salted water for about 4 minutes even cook and serve on a plate with some sauce and strips cut radicchio.
I admit it, yes, filled pasta is one of the fast food that you can cook after work in the evening. But as the weekend or if you just have a little more time, it is worthwhile in any case, to make them yourself. It is always rewarded with a tasty dish!
By the way, the fast thyme and cheese sauce also goes perfectly with classic potato gnocchiOf which you maybe what you have in the freezer with good luck 😉
Bon Appetite
Elena