March 23rd, 2014
Beetroot salad with mango
A wonderful Sunday!
It's that time again: Today, there is something from the "Non-dessert category", I have to admit that the recipes on my blog lately have been very süßlastig. And during Lent! I do not fast to happiness and therefore can taste without feeling guilty of the sweet treats.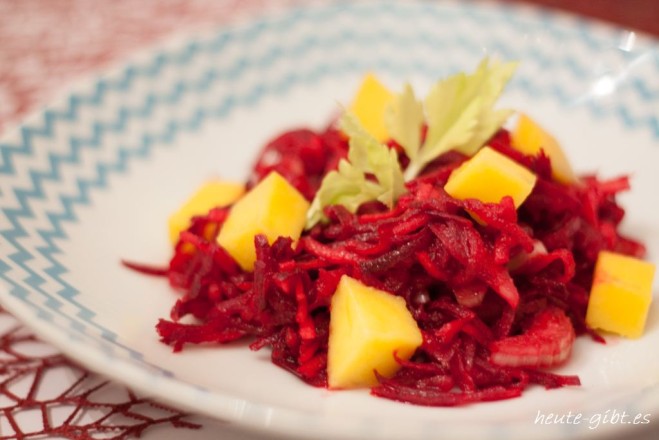 But let's get back to today's court: beetroot salad with mango. Probably most will now have clicked away this post at the latest, because beetroot belongs beside Brussels sprouts to the least favorite foods. Many people make a wide berth around both vegetables, which I myself can not really understand.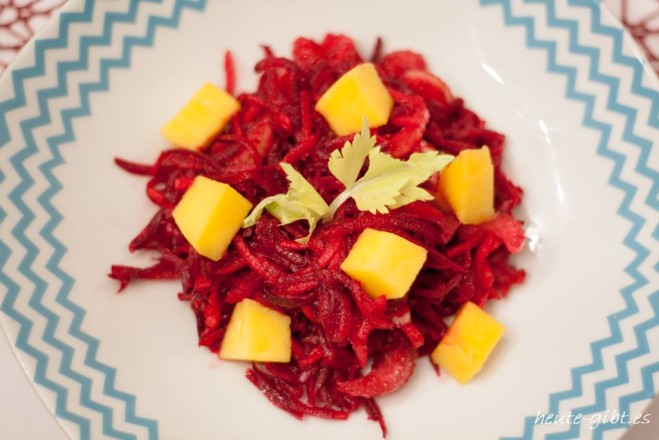 If you're still reading: I am glad that you – I assume that it is so – are also among lovers of this vegetable. I can assure you that this salad tastes really delicious and not necessarily one of the classics. But perhaps exactly THAT special about it !?
The original recipe, which I have slightly changed, comes from the magazine "deli" (1/2012).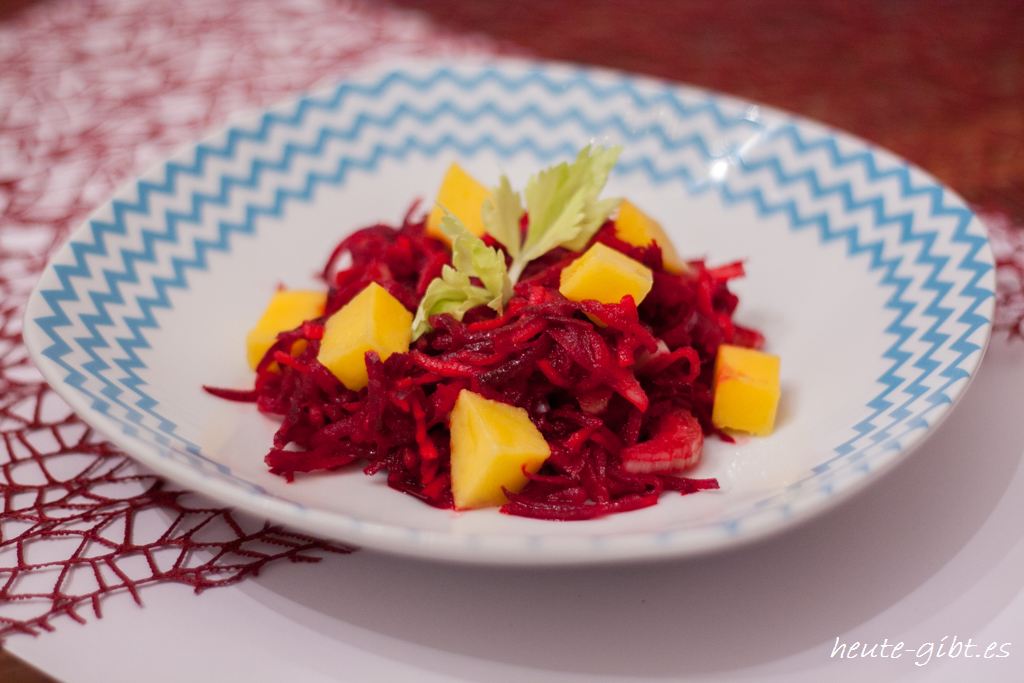 recipe
Beetroot salad with mango
Total time
35min
Beetroot salad with mango
Ingredients

(For 4-6 people)
500g beetroot (ready cooked, vacuum packed)
2 tart apples
2 celery sticks
5 tablespoons white wine vinegar
4 EL rapeseed oil
1 ripe mango
Salt and pepper
Preparation

:
Peel beets and apples, grate into thin sticks and place in a bowl.
Celery clean, remove leaves – or set aside for the purpose of decoration – cut into thin slices and mix with the red beet mixture.
Add the vinegar and oil and season with salt and pepper. infuse for about 20 minutes the salad, then if necessary seasoning.
Cut the peeled mango into bite-size pieces and place on the salad just before serving.
This salad you can eat even 2-3 days later without the taste suffers. If you plan to prepare for this stock, best, add the mango shortly before consumption. At the next party or the next time you visit this salad is also offered to guests. We'll see if the one or the other skeptics somebody will convince 😉
Best wishes and a nice Sunday!
Elena