November 4th, 2015
Rolls of pasta with spinach and ricotta – of Cannelloni and home
My dear blogger friend Natalie has recently written about a topic that is very important to me: homeland.
After reading their contribution, I asked myself: What is it for me home?
Is it the little village not far from Esslingen, where I spent my entire childhood?
Or Esslingen itself, in which I – with the exception of four years – I live since my youth? Or Licata, a city on the southern coast of Sicily, where I come from?
Ich habe lange überlegt und festgestellt, dass ich mit Heimat nicht unbedingt einen Ort, sondern eher bestimmte Gefühle verbinde. Zu meiner Heimat gehören bestimmte Menschen und zahlreiche Situationen, die ich immer wieder mit diesen Menschen erleben darf. Und da das Thema Essen bei uns ganz oft im Mittelpunkt steht, verbinde ich mit Heimat auch konkrete Geschmäcker und Gerüche:
The Sunday visit to Grandma, in which what it will be delicious again already knows when getting out of the elevator after a brief sniff. Papa, harvesting vegetables and fruits in your garden. The taste of the mozzarella genius who ends up accidentally in common baking and documents of pizza with aunts and grandma in Sicily in my mouth. Grandpa, the kilo picking walnuts in autumn and proudly shows us the edge full box. The feeling when you prepare with mom cannelloni and stuffed the stuffing with his hands in the pasta tube.
All this and much more is for me home. And just about the last feeling I was thinking when I spontaneously cooked this dish.
This is not a family recipe. But it might be one. Who knows?
Maybe my grandchildren will someday tell of their grandmother who kneads at her raspberry-colored KitchenAid fresh pasta dough, then these filled with a delicious ricotta and spinach mass produces pasta rolls and these then also on cakes with tomato sauce and parmesan cheese in the oven. The smell when the cheese melts slowly over the Sugo fills the whole apartment and it is hoped only one thing: I hope the 25 minutes baking time will soon be around!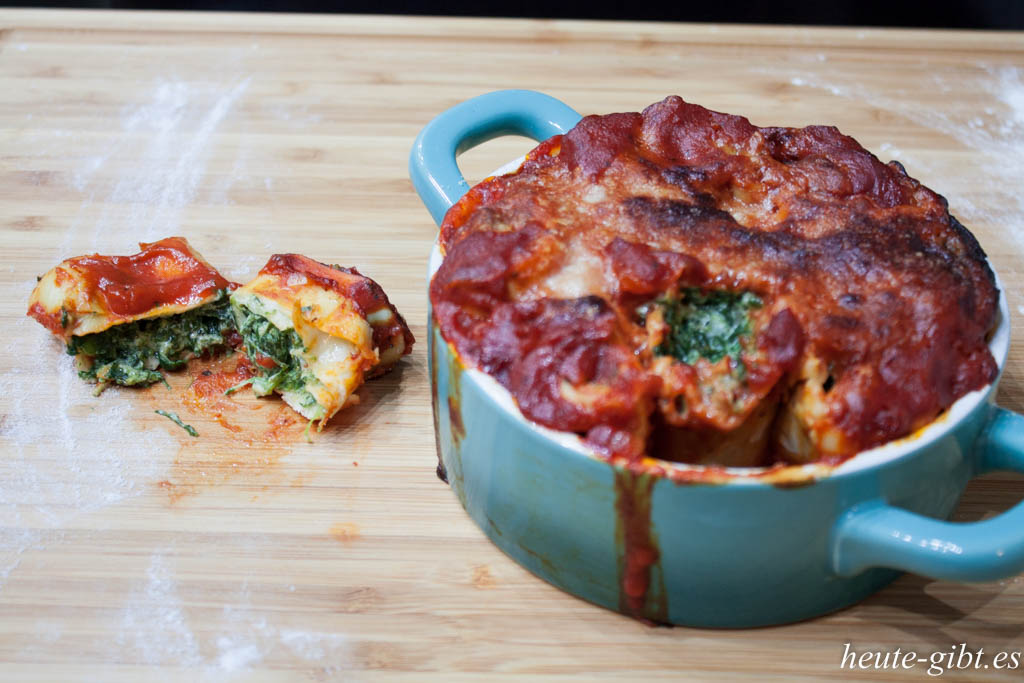 recipe
Rolls of pasta with spinach and ricotta
Total time
1h 30min
Rolls of pasta with spinach and ricotta
Ingredients

: (For 4 people)
500ml tomato puree
1 onion
500g fresh pasta dough
500g TK-Spinat
500g Ricotta
Parmesan
olive oil
nutmeg
basil
Salt and pepper
Preparation

:
Peel onion, chop and fry until soft in a pan with some olive oil.
The tomato puree add, add salt to taste, add some basil leaves and simmer for about 10 minutes. Once this is done set aside.
Thaw in the meantime the frozen spinach in a saucepan over low heat for about 10 minutes while stirring.
Then squeeze the spinach well, so that excess water is removed.
the spinach and ricotta in a bowl, season with nutmeg, salt and pepper and mix well.
Now, the pasta dough in about 16 strips with cut 10 x 25cm.
Now it goes to the filling:
Place one pasta rectangles with the shorter side to you, leave about 2 cm of space at the top of the rectangle, distribute a generous – about 3 cm wide – Filling strips transversely to the dough, wet with a brush to the end of the rectangle with a little water, roll now – from you – the dough on the empty end. Finished!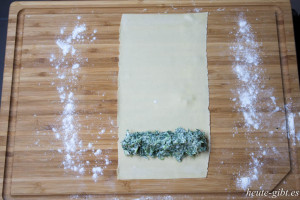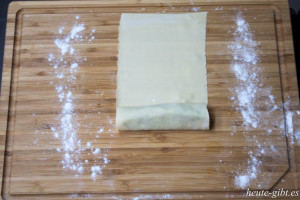 With the remaining dough do the same.
spread half of the tomato sauce in a baking dish with about 20cm in diameter. divide accordingly for the use of 4 smaller forms, the sauce.
Now divide each rolling pin in each case 3 small roles and thus make the dish, that the filling can be seen from above. This makes her now with all roles until the entire mold is full.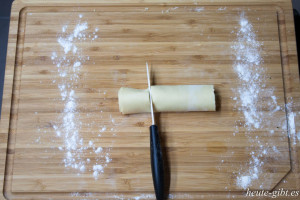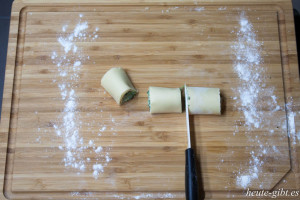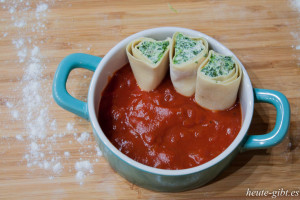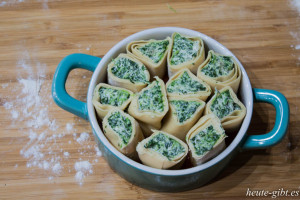 distribute the remaining tomato sauce on the pasta, sprinkle with Parmesan cheese and bake in a preheated oven at 180 ° C for about 25-30 minutes.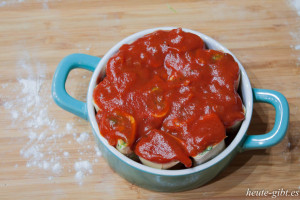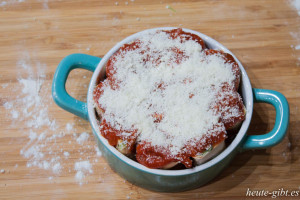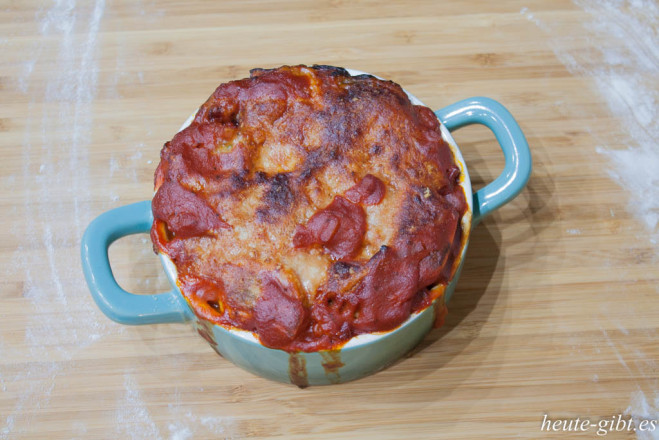 And what do you think: Does this Court the necessary potential to become a family recipe?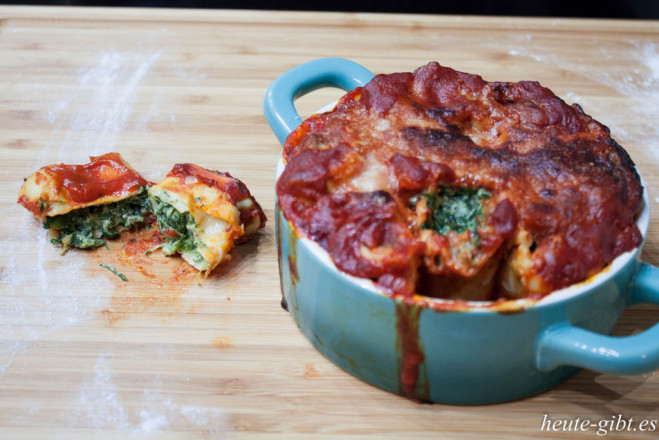 Tasted it at least and that is after all the most important 😉
Goodbye
Elena