September 25th, 2013
Sponge cake
Here's a recipe for a simple and rapid sand cake, the simply eaten so or can be used for further processing.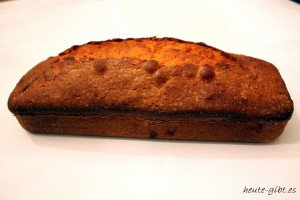 recipe
Total time
1h 10min
Ingredients

:
250g butter (Raumtemperatur)
200g sugar
5 eggs
250g Mehl
1 tsp backing powder
some fat and flour for the baking dish
Preparation

:
Add the butter and sugar in a bowl and beat until fluffy with an electric mixer.
Add eggs one by one and stir.
Flour with the baking powder, add to the butter mixture and work.
Grease, floured and then fill the dough into a loaf shape.
The cake for about 60 minutes at 175 ° C bake. Here, the time will vary depending on oven. With a wooden stick from the 40th minute check if the dough is through.