March 9th, 2015
Spicy Mango Strudels – Backen für Angeber (Baking for showoffs)
I'm among those who go the extra mile as regards cooking and baking, when guests render us a visit. I then like to try new and exceptional dishes, able to impress. Since running a food blog, friends and family expect even more. Though classics – like my tiramisu – are still popular, there's always a crave for something new. Hence I consistently look out and enjoy experimenting.
For this very reason, the book "Backen für Angeber (Baking for showoffs)" by Ruth Moschner, appealed to me at once. I was curious, as there's a little showoff, somewhere inside me, as well – at least when it comes to baking. Conveniently, Rebecca of rehlein backt sent the book off, as an itinerant book From the selection of recipes, I picked out those spicy mango strudels as I was eager to know how the combination of chili and mango, accompanied by the vanilla sauce, tastes.
As my phyllo pastry turned out to be too dry, falling apart while trying to shape, I had to slightly modify the recipe and used flaky pastry, instead. It proved not to harm the outcome, which was very delicious, regardless. So without any further ado, my take on the spacy mango strudels: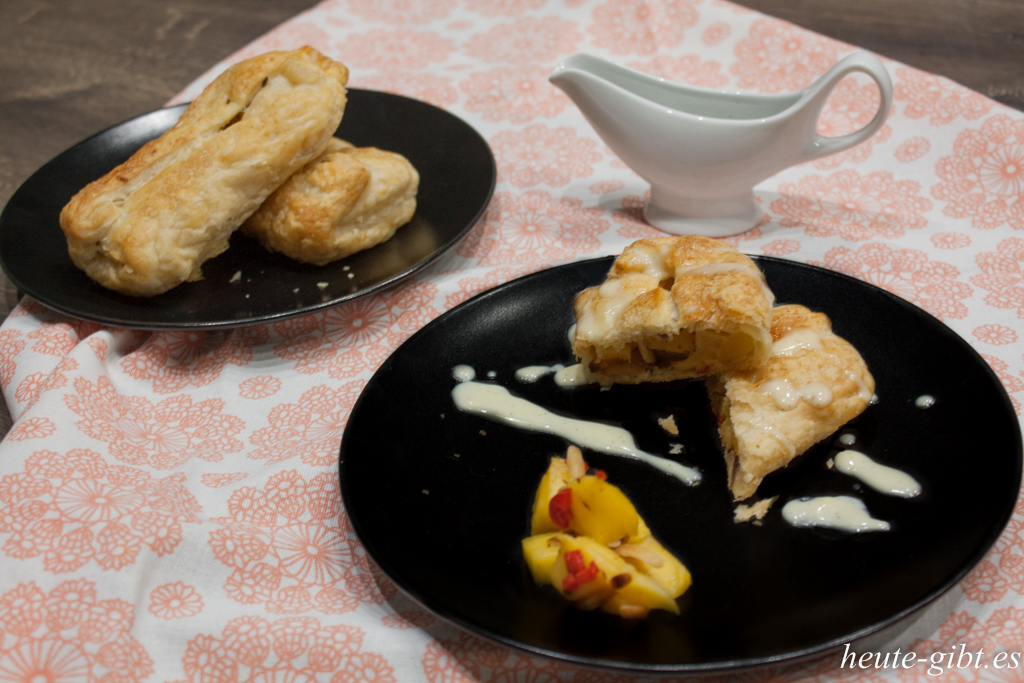 Spicy Mango Strudels
Ingredients

: (for 6 small strudels)
Dough:
25g butter
1 reel flaky pastry
Filling:
50g chopped almonds
1 ripe mango
1 red chili pepper
1 egg white
2 tbsp. vanilla sugar
Serve with:
Preparation

:
Fry the chopped almonds in a pan (without adding oil) until they're golden brown. Then put aside.
Peel the mango and cube the pulp.
Halve the chili pepper, remove kernels and white parts and chop the pepper very finely.
mix chili, mango and almonds together.
Preheat the oven to 155°C (fan).
Dissect the pastry into 6 squares.
Put a stripe of the filling on every square and dab the edges with egg white.
Fold the pastry from the short side of the fruit stripe and then furl the other sides to gain a strudel.
Put the strudels, with the seam facing down, on griddle with baking paper.
Melt the butter, distribute it with a brush on the strudels and scatter the vanilla sugar on top.
Let the strudels bake for 20-30 minutes until they're golden brown and serve with vanilla sauce, afterwards.
Going forward, this dessert will be offered to my guests, as the combination of ingredients is simply delicious. Next time, I'll stick to the original recipe to get a comparison to my version. Here's the recipe for four small strudels, as found in the book:
3 sheets phyllo pastry, 30g each
Melt 50g butter in total
Cut the pastry into eight 15x15cm squares.
Stick any two squares together with melted butter and proceed with filling, brushing and baking like mentioned above.
Do you like the combination of fruity and spicy, like I do?
Fruity-Spicy Greetings
Elena