December 24th, 2015
Melting Snowman biscuits – Last minute gift or souvenir
Only a few hours and then is already Christmas. All gifts are concerned and are nicely packaged in our living room – on sofa, coffee table and floor. There are over 15 gifts, even though only the closest family members are gifted. A Christmas tree we did not this time because we booked spontaneously a short break a few days and fly to New Year's Eve.
Thanks to the weather I am this year anyway not really in the Christmas mood. My relationship from Sicily who visited here, had indeed been hoping for snow. None of them have ever seen snow, which has not changed after the visit. Even my grandma says it that it's not so cold here, as they always say. Find the error!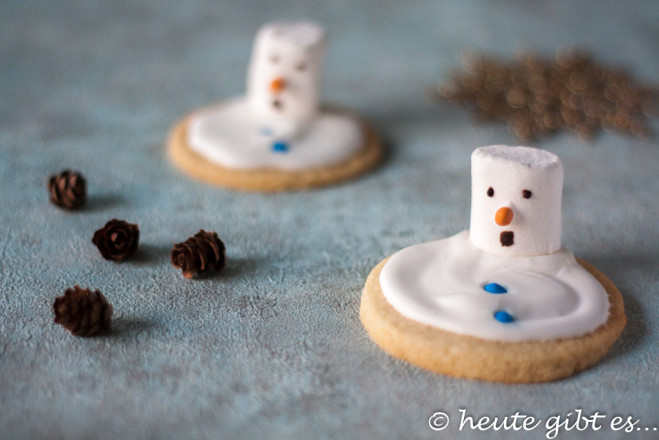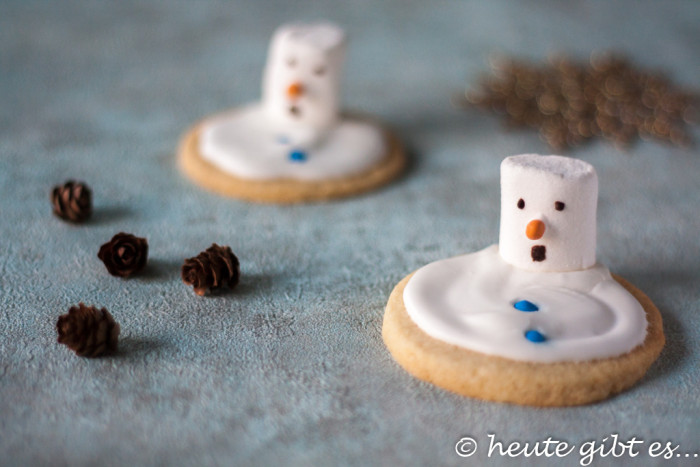 That's why I found the following cookies already so fitting for St. Nicholas, and I have given away instead of chocolate to the relationship. They are extremely popular, are made relatively quickly and are therefore very suitable as a last minute gift if you're looking for just a little something for someone. The recipe for this sweet melting snowmen so there's a little late, but perhaps for one or the other but in time 😉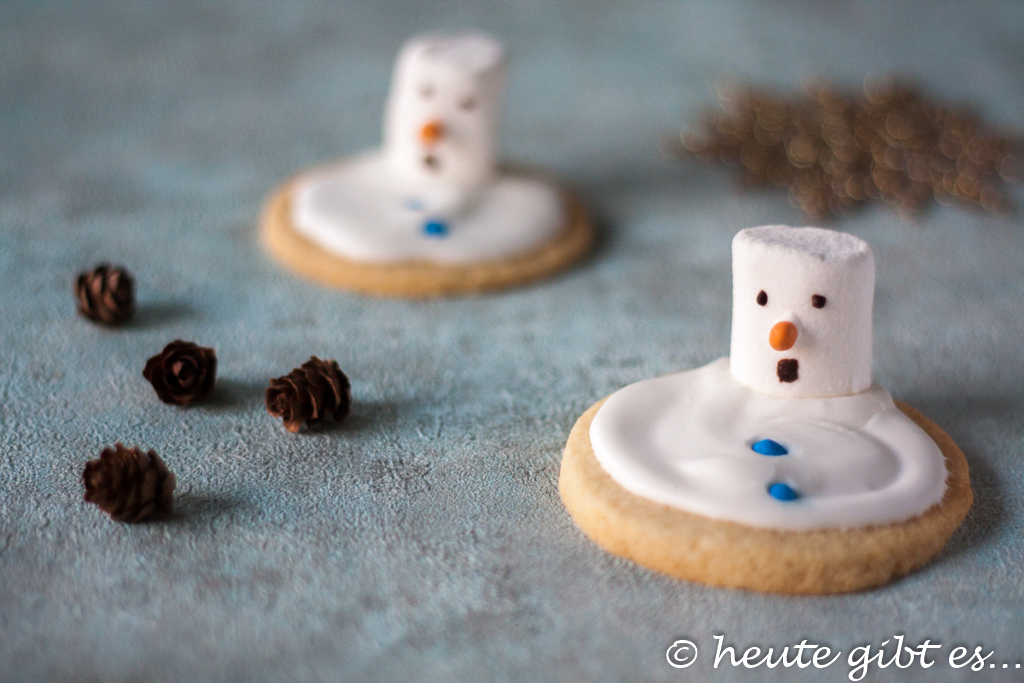 Melting Snowman biscuits
Ingredients

: (For about 16 pcs)
For the dough:
250g Mehl
125g sugar
1 tbsp vanilla sugar
1 egg
50g ground almonds
125g cold butter
1 pinch salt
For the decoration:
350g icing sugar
1 egg white
2 tsp lemon juice
16 Marshmallows
colored sugar pearls or Schokolinsen to decorate
Preparation:
The ingredients for the dough – it cut the butter into small pieces – knead until smooth to a ball and place them in plastic wrap is wound for 30 minutes in the refrigerator.
Preheat the oven to 175 ° C (fan) Preheat.
Roll out the dough about 4 mm thick on a floured work surface. (7.5 cm diameter) cut out from the entire dough about 16 circles – Knead dough residue again and again and again cut out.
Place the cookies on a lined baking tray and bake until golden for about 10 minutes. Leave to cool then.
Powdered sugar, egg whites and lemon juice mix well, so there are no lumps. With the glaze on the marshmallow attach the sugar pearls for the face of the snowman.
With a pastry bag to distribute the glaze loose on the biscuits, immediately put the marshmallow on an edge and then let everything dry well.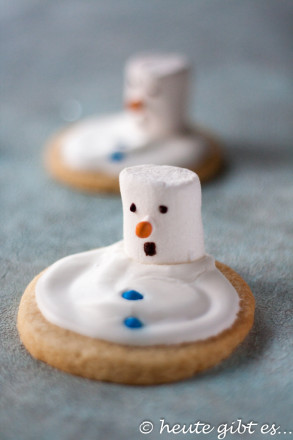 Not so hard, right? I am sure that your loved one will be happy about it!
I wish you all a happy and peaceful Christmas holidays! Enjoying time with your family, and do not stress you!
Merry Christmas!
Elena