March 18th, 2017
Selbstgemachte Schoko Crossies – use chocolate Santas and bunny easy
Every year I always experience the same phenomenon: at Christmas or at Easter we get chocolate Santa Clauses or bunny, and most remain for a long time in the candy closet. Although we like chocolate, but since we usually have a small amount of the chocolate pleasure enough to satisfy.
not infrequently we have several chocolate figures in the house that are not touched for several months and sometimes forgotten.
Somehow I seem to have an internal clock that reminds me every time on time because the chocolate must be eaten last.
Last week it happened again then: The last two Santa Clauses were brought out of the closet and the expiry date indicated that they are preserved only until the end of March.
Lust chocolate to eat that? Very clear No!
But for several years, I know how I have to process it, so they usually within a few days away (!): Selbstgemachte Schoko Crossies!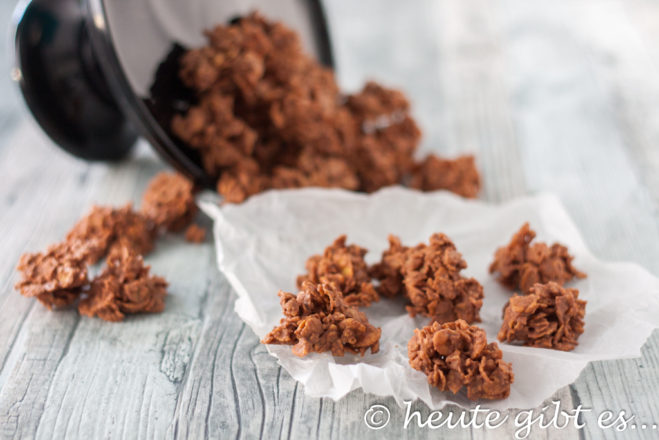 served on the table in a small bowl, these are very popular, attracting guests. Here, you can use any chocolate, whether white or bittersweet.
I have long wondered whether I should reins out this recipe here at all because it's really easy and in some cases self-explanatory.
But perhaps one or the other of you also still in the farthest corners of the cabinet chocolate, which must be processed and will be remembered by the fact that recipe or even inspired.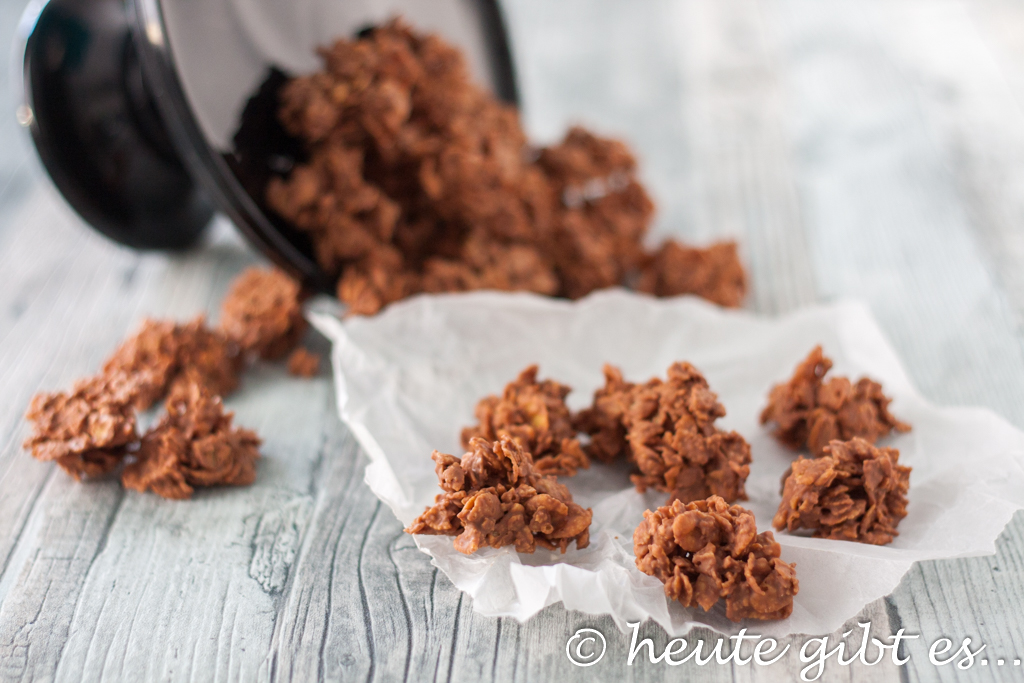 Schoko Crossies
Ingredients

(About 30 pieces)
200g chocolate
100g Cornflakes (ungezuckert!)
Preparation

:
Chop chocolate into chunks or break and melt in a double boiler.
The cornflakes in a bowl filling, add the melted chocolate and everything mix well with a spoon, so that the corn flakes are completely coated with chocolate.
Hint: At this point you can decide how coarse your chocolate Crossies to be himself later. Depending on their crushed when mixing the flakes slightly more or less.
always take a small amount of chocolate mass now with the spoon and onto the work surface mold the chocolate Crossies.
It is important only that touch the chocolate-coated cornflakes a confection.
Once the chocolate has dried, the chocolate Crossies can e.g. be removed by a spatula from the work surface and best stored in a cookie jar.
Of course, you can use that is not left over from Christmas or Easter and chocolate. Maybe you does not come in the same situation as me and just have only so fancy chocolate Crossies.
Then simply selects a chocolate of your choice and processes it into a popular chocolate confection.
So, get the chocolate!
Chocolaty Greetings
Elena