November 15th, 2015
Chocolate espresso cookies – and why this contribution is only now online
make a decision – at least if I have unlimited time for this – is not my great strength. If time is short, I will simply decide my gut feeling and this is usually reliable.
For this reason I left you in deciding whether my next blog post should include a cookie or a pasta recipe. The choice on Facebook and Twitter have won by a wide margin the sweet biscuits.
The recipe would have to go Friday evening or Saturday morning online. But when I learned of the terrible news in Paris, my gut feeling has immediately taken the decision: I can not publish the article and tell of chocolate as a problem solver. because, unfortunately, – and that is covered up by many times – is not always everything perfect and rosy. So do why as if nothing had happened?
today – later just over one day – the world is still not in order and chocolate no solution. Nevertheless, I would publish the promised recipe for delicious chocolate espresso cookies that one or the other, perhaps as early as May in our Pop-Up-Bakery has tried.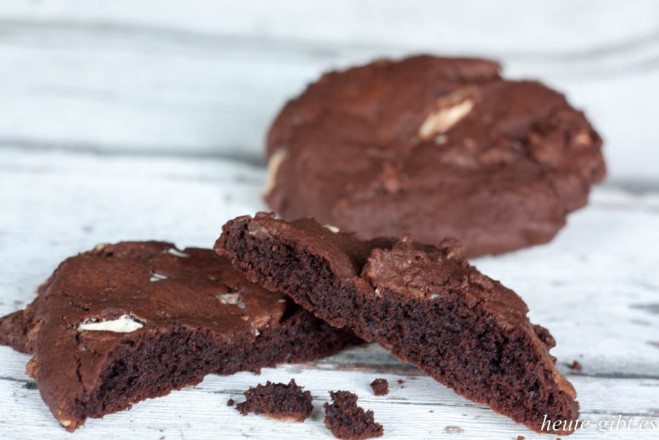 Are you chocoholics?
Do you love the consistency of brownies?
Examined her now and for an alternative to classic brownies?
but the jaws should still go quickly and easily?
AND?
Then, these cookies are just the thing for you. The recipe – me with a tablespoon more espresso powder – is from the book "Cookies" Cynthia Barcomi, I'll introduce you here soon. There, the cookies are as "Espresso Wake-ups" referred to, wherein the espresso taste – even with my doubled amount of powder – is not really in the foreground. It is rather an absolute Schokodröhnung! Nevertheless Cynthia has convinced me with this recipe again and these cookies are now part of my standard repertoire.
The baking is strongly recommended: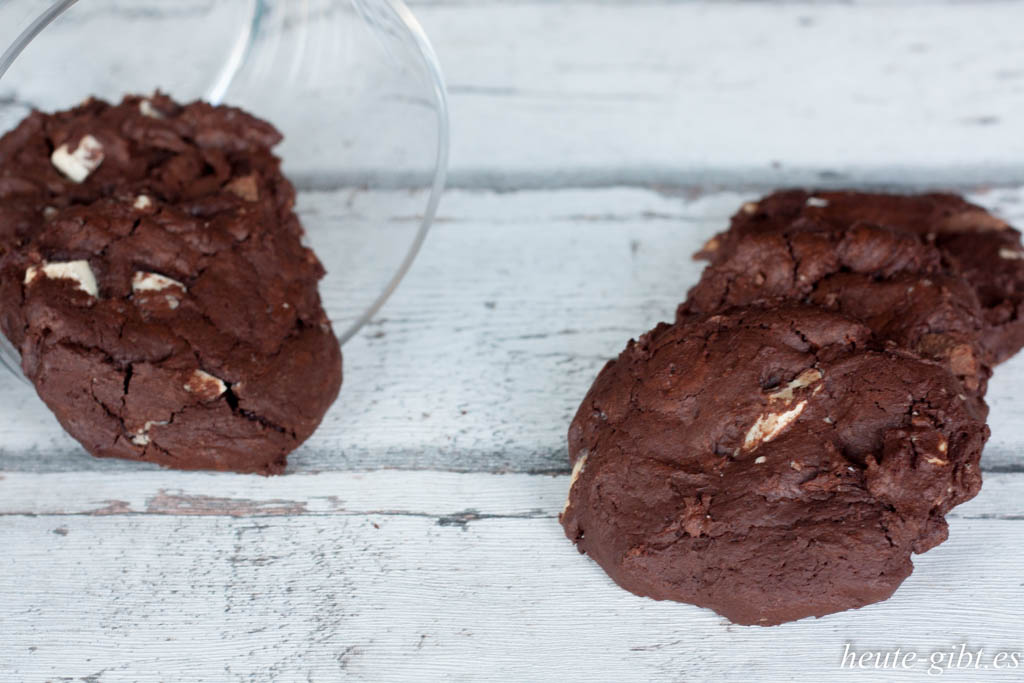 recipe
Chocolate espresso cookies
Total time
45min
Chocolate espresso cookies
Ingredients

(For about 18 pieces – depending on size)
150g dark chocolate
2 Instant-Espressopulver
125g Butter
210g flour
60g cocoa powder, unsweetened
1/2 TL Natron
1/4 teaspoon baking powder
1/2 tsp salt
2 eggs
100g sugar
75g Muscovado – or brown sugar
100g white chocolate
100g milk chocolate
Preparation

:
Preheat oven to 170 ° C (circulation) Preheat.
Chop the dark chocolate, melted together with the espresso powder and the butter in a pan and let cool slightly.
The two types of sugar with the eggs hit a few minutes with an electric mixer or food processor.
Then add the chocolate butter mixture and continue stirring.
, Mix flour cocoa, baking soda, baking powder and salt in a bowl. Gradually stir into the batter. Once everything is well blended, stop stirring, because otherwise the desired consistency is not obtained.
The white and coarsely chop milk chocolate, scattered pieces aside to do (to decorate the cookies) and mix both types into the batter.
Caution: Do not touch too long, as the dough is too tight otherwise!
Set on a lined baking tray with a spoon dough balls, press lightly flat and decorate with chocolate pieces. Let there ever a distance of about 5 cm between the cookies.
Bake the cookies for about 10 minutes, then remove from the oven, let cool for 10 minutes on the baking sheet and then set down gently onto a wire rack.
Do you want to know the best? These cookies keep in an airtight container up to 2 weeks without any loss of quality – provided there are still any left 😉
I wish you all a good Sunday! Take care of yourselves!
Kisses
Elena