November 22nd, 2013
Schoko-Knusper-Granola
While I was scrolling through "Gift ideas from the kitchen" came across this recipe, I initially had a question mark on his face: What is you please granola? A glance at the accompanying picture and I knew: muesli. To be more precise a crunchy granola. In our home main consumer is in terms of breakfast cereal rather my husband. Since I do not drink pure milk – soooo there 😉 – I eat cereal only in combination with yogurt and fresh fruit. If I'm honest it was not that long time. I love to eat breakfast, but there are more sandwiches or if time something such as my New York BlintzesOn the menu.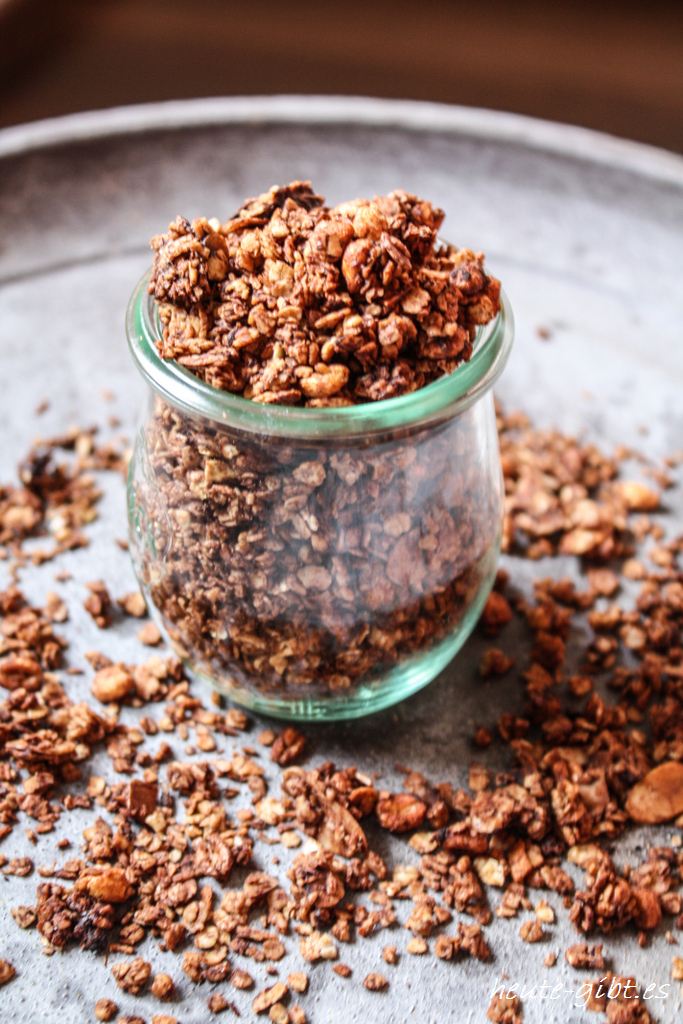 Nevertheless me the idea of ​​homemade granola irritated. It happens so that one or the other ingredient drinsteckt in finished cereal that you do not necessarily like. In such cases mymuesli is certainly a good alternative. but I wanted it even try and tell you already a first: It was worth it 😉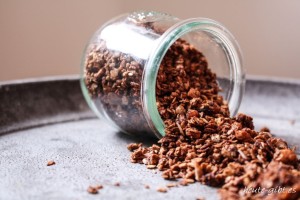 Schoko-Knusper-Granola
Zutaten: (für ca. 750g)
100g Zarbitterschokolade
125g brown sugar
125ml Wasser
50ml Sonnenblumenöl
3 THE Ahornsirup
500g fine oatmeal
50g Dinkel (gepufft)
50g Kokosraspel
50g Mandelblättchen
3EL Kakaopulver
1/2 TL Zimt
1 Prise jobs Meersalz
Preparation:
Preheat oven to 175 ° C (fan) Preheat.
Chop chocolate finely and set aside.
Boil the sugar with the water in a saucepan, stirring constantly, until the sugar has completely dissolved. The pot then remove from heat.
Oil, maple syrup and chopped chocolate and cook stir until the chocolate has completely dissolved.
The remaining ingredients then mix in a bowl, add the chocolate syrup mixture and mix well.
Now a baking sheet is – best to take if any one with a higher edge – lined with parchment paper, so some paper overlap the edges.
Spread the finished mass evenly in the baking sheet and bake on a middle shelf at 175 ° (forced air) for 30-40 minutes.
Important: For the granola dries uniformly, you should take every 10 minutes, the sheet just out of the oven and stir.
Once your granola is dry and crispy, remove from the oven and leave to cool in the baking tray. Then store in an airtight sealed container.
I must say that chocolate crunchy granola tastes like I just find delicious even! If you like, after cooling, still mix in grated chocolate or dried fruit to vary it a bit. The first charge is already eaten with us, which is why I have to keep supplies coming again soon, which then a portion is also given away. Incidentally, it is also a great gift for the common breakfast or brunch with friends. Since everyone certainly pleased 🙂
Crunchy Greetings
Elena