February 13th, 2014
Chocolate Hearts – Cookies for Valentine's Day
Hello everybody,
heute werdet ihr um das Rezept herum nicht sehr viel von mir lesen. Dies hat einfach damit zu tun, dass ich immer noch in einer stressigen Phase bin und kaum Zeit für meinen geliebten Blog habe 🙁 Ich hoffe das wird bald wieder mehr, was ich durch Optimierung meines Zeitmanagements erreichen möchte.
In my opinion is one that is on your blog for the recipe rum and some text, or I see it too tight?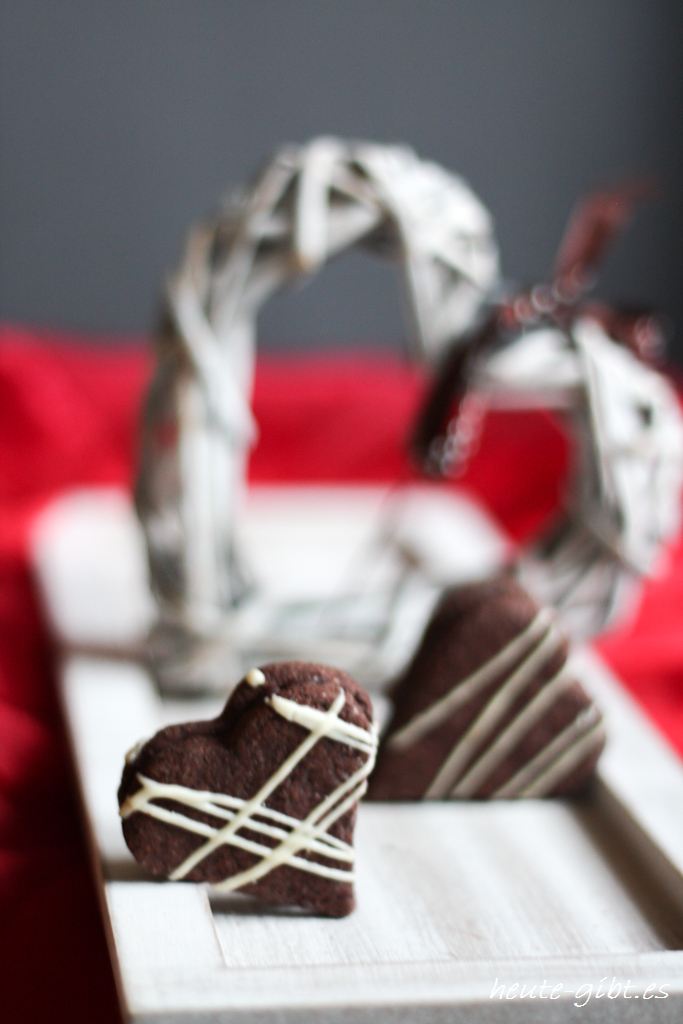 Nun aber zum heutigen Blogpost: Obwohl mir bewusst ist, dass die Meisten von euch wahrscheinlich keine Valentinstag-Rezepte mehr sehen können und ich doch recht spät mit meinem Beitrag dazu bin, habe ich mich entschlossen euch trotzdem dieses Rezept hier vorzustellen. Leider habe ich es zeitlich nicht geschafft, dieses hier früher zu veröffentlichen, da ich mir aber bei den Fotos viel Mühe gegeben habe und dieses Rezept gut zu diesem Tag im Jahr passt, kommt ihr dieses Mal nicht drumrum 😉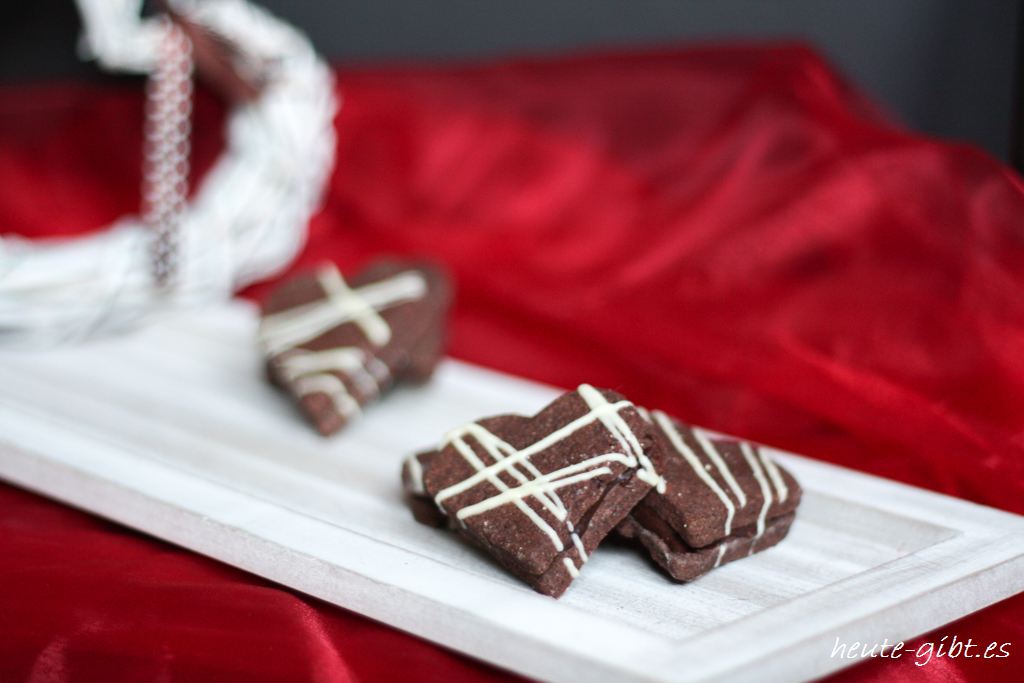 recipe
Total time
1h 30min
Chocolate Hearts
Ingredients

(For about 20 pieces)
125g Zartbitterschokolade
50ml Sahne
250g some flour
1 pinch salt
100g sugar
Cocoa 50g
1 egg
200g Butter
100g white chocolate
Preparation

:
Chop the dark chocolate coarsely and melt together with the cream in a saucepan. This then remove from heat, allow to cool the chocolate cream and place for 1 hour in the refrigerator.
In the meantime, the dough of flour, salt, sugar, cocoa, egg and the chopped butter first mix with dough hook of the hand mixer and then knead with hands until smooth. Shape it into a ball, wrap in plastic wrap and place in the refrigerator for 30 minutes.
Roll out the dough after the cooling time on a lightly floured surface about 5mm thick, cut out the heart and place on a lined baking tray. The cookies in a preheated oven at 160 ° C (fan) Bake for 10-12 minutes. These take the baking time from the oven and let cool on wire rack.
Half of heart sprinkle with the chocolate cream, each place a second heart on it and this pressing lightly.
The white chocolate in a water bath melt, let cool slightly and decorate the chocolate heart with it.
I wish you and your loved ones / your loved one a nice Valentine's Day! And to those of you who currently no partner on their side: Spends time with a good friend or other special people. This person will certainly also appreciate the cookies, it must after all be the partner does not always 😉

Best wishes and see you soon
Elena